You can also create your own Custom Policies in Egnyte Protect to identify content specific to your organization.
1) Click the Add Custom Policy button under the Custom Policies section to start creating a new policy.

2) Start by giving your new policy a name. This name will be used to auto-generate a policy tag - you can change the tag if you like. This tag will be shown against all files and folders that match the policy.
3) You can add an optional description for the policy, which will be displayed underneath the policy in the Custom Policies section.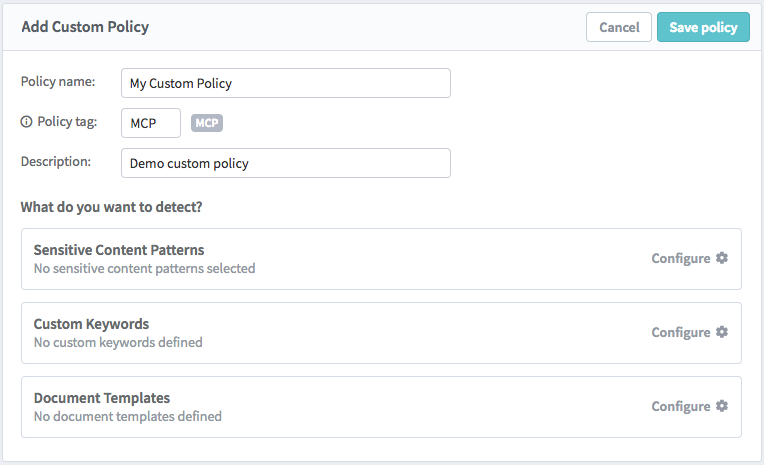 Please follow these guidelines for the policy name and tag:
The policy name must be less than 50 characters and can contain only alphabetic characters (a-z, A-Z), spaces and periods.

The tag can contain only 2 to 4 alphabetic characters and must be unique among your policies' tags.

The optional policy description can be up to 100 characters.
4) Select at least one built-in pattern or keyword dictionary from the Sensitive Content Patterns pane.
5) Alternatively, you can provide your own list of custom keywords to be either exactly or approximately matched.
6) Save the custom policy. If you try to save a policy with an invalid field or without selecting any patterns or keywords, an error message will be displayed. You'll need to fix all the highlighted errors before you can save the policy.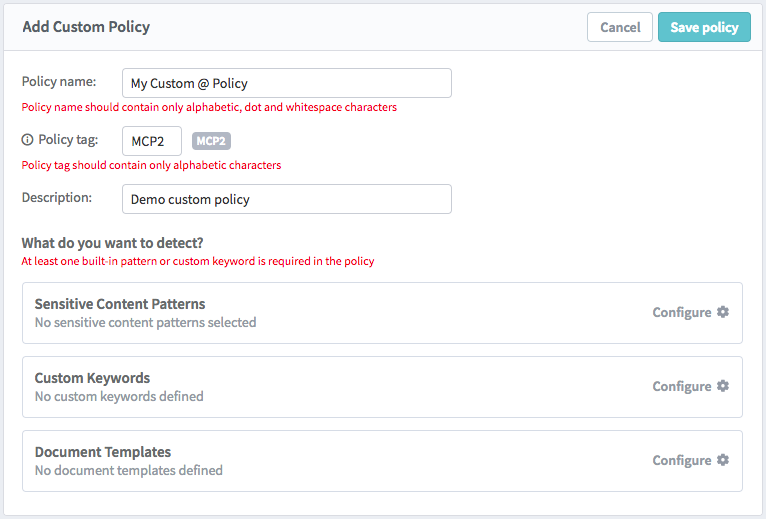 7) The new policy will be automatically selected for content classification. You can edit the policy or delete it at any time from the options dropdown displayed next to the policy.

Egnyte Protect immediately starts matching your new custom policy against the content in the tenant and results are eventually surfaced in the Sensitive Content tab. Any existing locations in the Sensitive Content tab that also match the new policy will also be updated. If you create a new custom policy containing custom keywords, then all files will have to be rescanned against the new keywords, which can take some time.