Co-Editing via Links
Co-Editable links allow recipients to co-edit the target files in Microsoft Office Online, regardless of what permissions they have in the containing folder. It is intended to facilitate collaboration in cases where the sharing user may not want to grant permissions to recipients for the entire folder.
Pre-Requisites and Limitations
Co-Editable links are only supported for Microsoft Word, PowerPoint, and Excel files. In addition, Microsoft Office Online integration must be enabled for the domain.
Creating Co-Editable Links
In order to create a co-editable link, the user can enable the 'Allow co-editing' checkbox as shown below.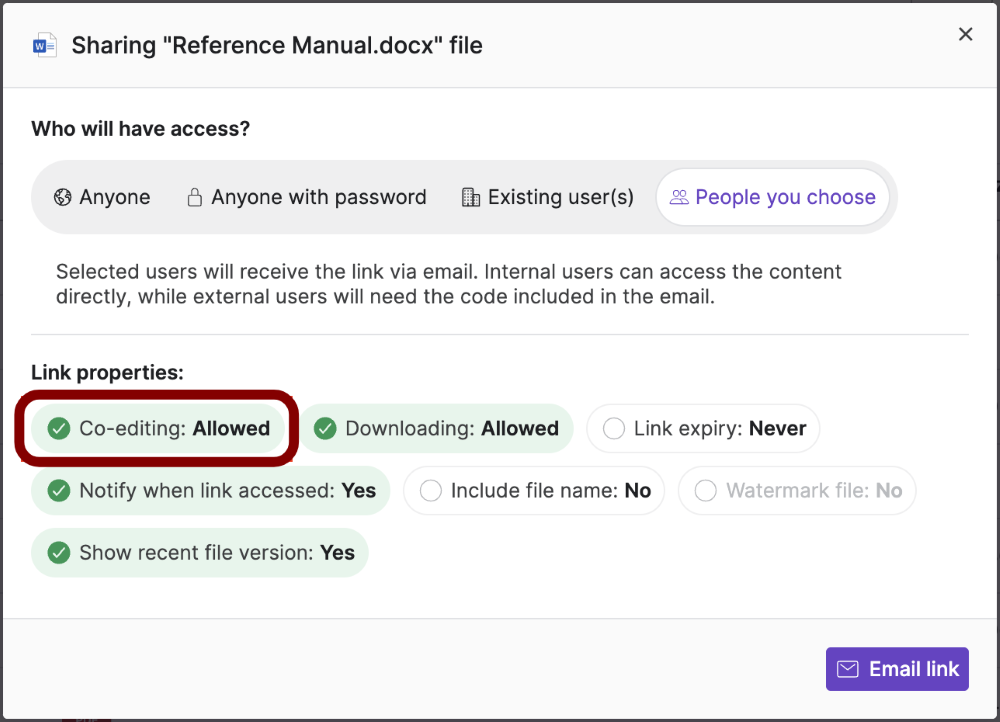 When a recipient clicks on the link, they get an option to co-edit the file via Microsoft Office Online.
Warning: Creating a co-editable link that can be accessed by 'Anyone' will allow anonymous users to edit the file. Consider using 'Specific recipients' or 'Domain users only' settings instead of 'Anyone'.
Co-Edit via Preview-Only Links
Users can allow recipients to co-edit files that are shared via preview-only links, by setting 'Allow Downloads' to 'No' and enabling the 'Allow Co-editing' checkbox. When a recipient clicks on a Preview-only link that is co-editable, they are able to make changes to the file via Microsoft Office Online but can not save the file locally or download the file.
Co-Edit via Preview-Only Links is only available in Enterprise Lite and Enterprise plans.
Administrator Settings
An administrator can control what types of co-editable links are allowed. The configuration item can be accessed via the Settings menu (Settings -> Configuration -> General).
Warning: Enabling this feature for public links will allow anonymous editing access to the files being shared. Consider restricting this feature to only the Private links unless public access is explicitly needed.

This setting is 'Disabled' by default and an administrator must enable the setting.