Overview
An Egnyte account has three different types of users. A person's user type governs whether they have access to a broad array of Egnyte features including audit reports, user management, FTP upload capabilities, and private folders.
Please note that user types are different from folder access levels, which determine the set of actions that a user can perform on a particular folder (downloading or deleting files, moving the folder, etc.). User Groups are a convenient way to cluster users for assigning common permissions to folders.
Click on the links below to learn more:
Administrators
By default, the person who registers for an Egnyte account is the administrator of that account. Additional administrator accounts can be created or deleted as necessary. Administrators can perform the following actions.
Create Power Users, Standard Users, and Groups from the "Users & Groups" menu: This is essential to provide other users with access to Egnyte.
Create root-level folders under the Shared Folder: This is the first step in creating a folder scheme that is customized for your business needs.
Control license & subscription settings: The administrator can purchase more Power User licenses and provide credit card information for managing the subscription to the Egnyte service.
Run reports to see the status of active file links from your account, how folder permissions have changed, and more.
Mandate security controls like two step log-in verification, password rotation requirements, and minimum password length.
Delegate permissions like Plan Details page access or Standard User management using Role-based Administration.
Power Users (Employees)
Assign the Power User permission level to your company's employees. Power Users are given full use of Egnyte's access methods and advanced features.  Depending on your plan, Power Users can access files using the web browser, FTP, Egnyte Drive, mobile apps, and can also use both the desktop and server sync products. Power Users also receive a personal sub-folder, /Private, that is accessible only to them (and the account admins).
Admins can assign some administrative rights to Power Users using the Role-based Administration feature. Plan Details page access, standard user management, and top level folder creation are a few of the functions that can be delegated to Power Users.
Standard Users (Business Partners)
Assign the Standard User permission level to your company's customers, vendors, and other outside partners. Standard Users can be given access to shared folders (but do not have their own private folders) and are able to log into Egnyte through a web browser or mobile app.  Standard users have limited access to advanced Egnyte features and cannot share folder or file links. They are also not granted access to Egnyte Drive, Desktop Sync, Storage Sync, or FTP.  In addition, Standard Users cannot be authenticated using an external directory service or SSO. 
For a quick comparison of Standard and Power Users, refer to this table.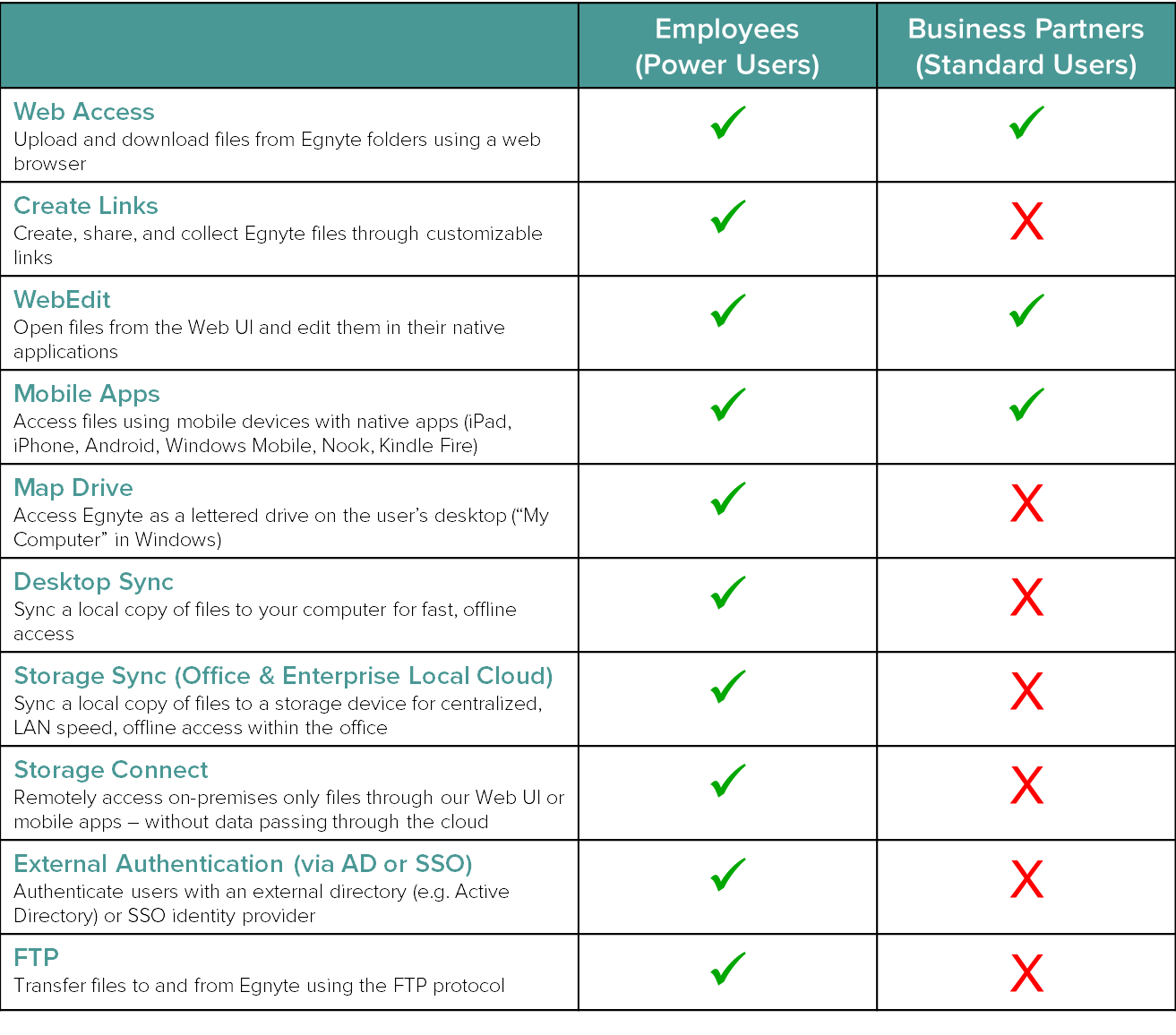 Adding users of either type is easy. 
1.  Navigate to "Settings" / "Users & Groups" 
2.  Choose the "Add New User" option at the top right of the screen, and pick your user type.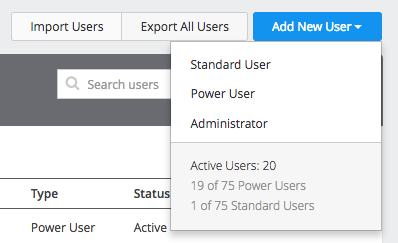 3. Enter the relevant information for the user. Please note that you will not be able to change the user's username after their account is created.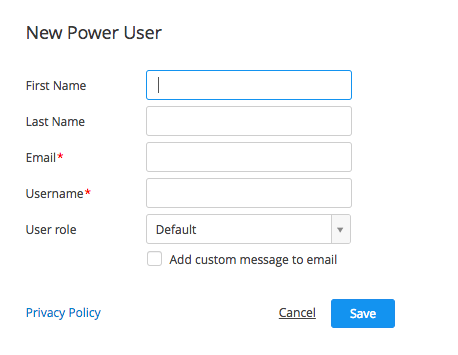 User Groups
User Groups are a convenient way to organize users based on departments and projects.   A User Group consists of multiple employees or business partners grouped together under one set of folder permissions.  It's a fast and easy way to assign permissions to multiple users at once. For example, you can create a Finance group composed of all finance department employees and assign this group access to the finance folders.  These employees now have Finance group permissions in addition to their existing, individual folder permissions. 
Admins may create groups from the "Users and Groups" screen in the "Settings" page. 
1.  Navigate to "Settings" / "Users & Groups" / Groups
2.  Click the "Groups" option at the top of the screen.

3. Select "Add a Group" from the top right corner of the screen.

3.  Give the group a name, then add users to the group. If your account has a small number of users, you'll be able to select the users you want to include from a list of all your existing users. If you have a large number of users, you can add users by entering their names in a search box.