MS Outlook v 1.0. 1.2, 1.3 March, April, June 2nd, 2022.
Egnyte for Outlook brings Egnyte content directly into Outlook installed on your PC, Mac or Outlook on the web. With this integration, Egnyte Users will be able to share links to files or folders to others securely and will be able to store emails, as well as email attachments directly into the Egnyte. Since users are sending shared links in their email messages – not actual files – you preserve any security restrictions and keep Egnyte as a source of truth for your enterprise content.
This integration is located under Apps & Integrations and is named "Egnyte for Outlook".
Prerequisites
For the setup you need:
Microsoft Office 365 Global Admin Account to Deploy Add-in via Enterprise Integrated Apps

Egnyte Account and Users to have an

active Outlook Email client

installed or on the web.
Supported Outlook Client Configurations by Microsoft
The Microsoft Outlook client must be one of the supported applications which supports Outlook add-ins. For supported Outlook Clients, Please check Microsoft documentation here.
Microsoft Limitation - The client must be connected to an Exchange server or Microsoft 365 using a direct connection. When configuring the client, the user must choose an Exchange, Office, or Outlook.com account type. If the client is configured to connect with POP3 or IMAP, add-ins will NOT load.
Supported Office Licenses by Microsoft
Microsoft Side - If you have a valid Microsoft 365 subscription and you do not have access to the Outlook Client, you can download and install the latest version of Office.
Microsoft 365 Business licenses (Business Basic, Business Standard, Business Premium), Office 365 Enterprise licenses, or Microsoft 365 Enterprise licenses (E3/E5/F3).

Version 1808 or later of Office Professional Plus 2019 or Office Standard 2019.
Third-Party Contact Disclaimer
Egnyte provides third-party contact information to help you find technical support within the external product. This contact information may change without notice. Egnyte does not guarantee the accuracy of this third-party contact information.
Egnyte only supports the three most recent versions of the client software.
Configuring Outlook Add-in as an Admin
1. In Egnyte, as an Admin, navigate to Apps & Integrations
2. Scroll down to the Individual Tiles and look for the Egnyte for Outlook App.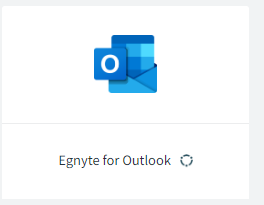 3. This integration requires external configuration in the Microsoft environment. Please see below section.
Sections below will provide a guide on how to install this add-in within Microsoft Environment during and provide options as a best practice guide.
Deploy Egnyte for Outlook as an Admin.
For O365 Admins:
1. Outlook add-in is certified and can be installed from the Microsoft 365 AppSource here. Click Get it now and follow the wizard to get this deployed to your organization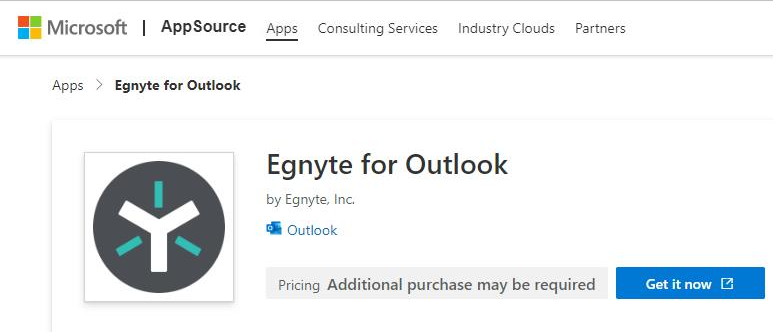 Admins who deployed Egnyte for Outlook in Beta should Remove app the app as deployed per this step, and re-deploy it from the Microsoft 365 AppSource as mentioned above per link.
It is only required once, and only if you enrolled and provisioned this app during Beta. Any subsequent changes will be auto-deployed to organization users.
2. The system displays a screen describing the Egnyte Add-in. Click Next.
3. In the Add Users - when the Assign Users screen displays, choose the option from below.
Just me

The entire organization (recommended)

Specific users/groups
Verify if everything is okay and confirm and go to the next step. Click Next.

4. Review Permissions for the Egnyte for Outlook App permissions and select Next.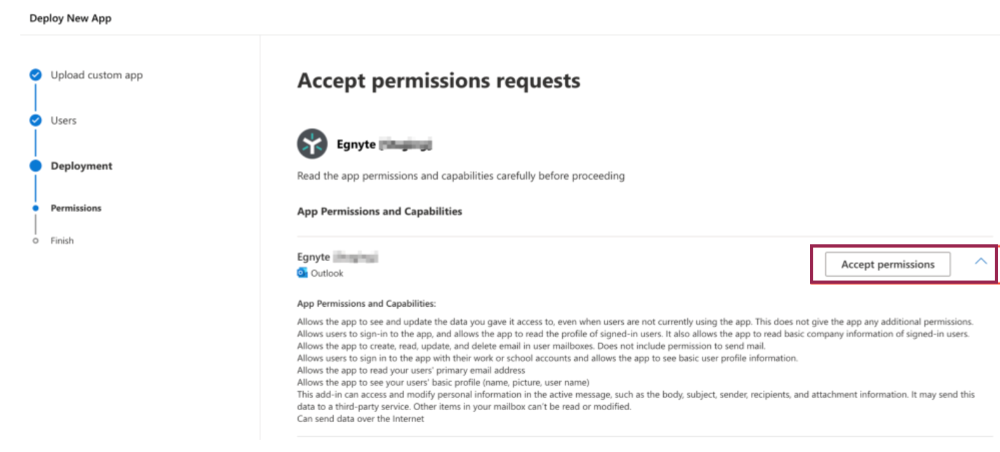 5. Agree to the App permissions and select Accept.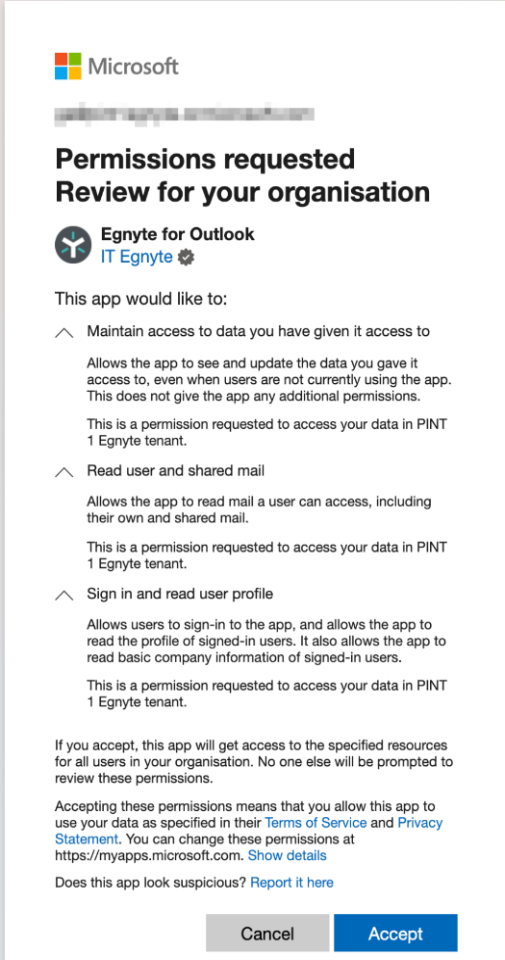 Administrator consent for Microsoft Outlook Integration - Microsoft graph explained here.
| | | |
| --- | --- | --- |
| Permission | Details | Why does the app need this? |
| Read user and shared mail | Allows the app to read mail a user can access, including their own and shared mail. | Required to read mail subject, content and attachments to perform upload to Egnyte |
| Maintain access to data you have given it access to | Allows the app to see and update the data you gave it access to, even when users are not currently using the app. This does not give the app any additional permissions | Required to reliably perform the transfer operation in a backend service rather than on a device |
| Sign in and read user profile | Allows users to sign-in to the app, and allows the app to read the profile of signed-in users. It also allows the app to read basic company information of signed-in users | Required to authenticate the user |
6. Review the settings. Click the Finish deployment at bottom of the screen.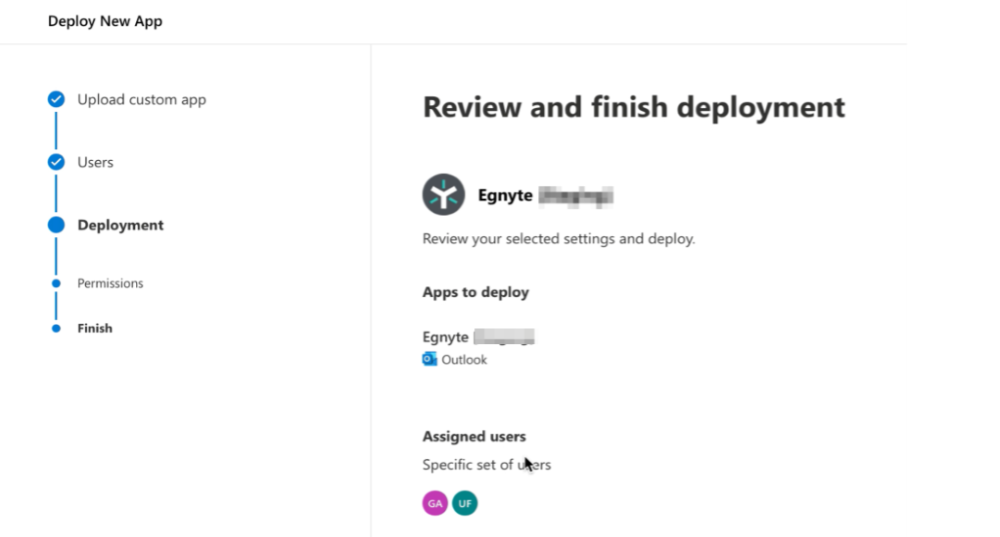 7. Once the deployment process is completed, click Done. It may take up to 6 hours for the add-in to appear in the Outlook Mail client or even up to 24 hours. See Microsoft's documentation for more details.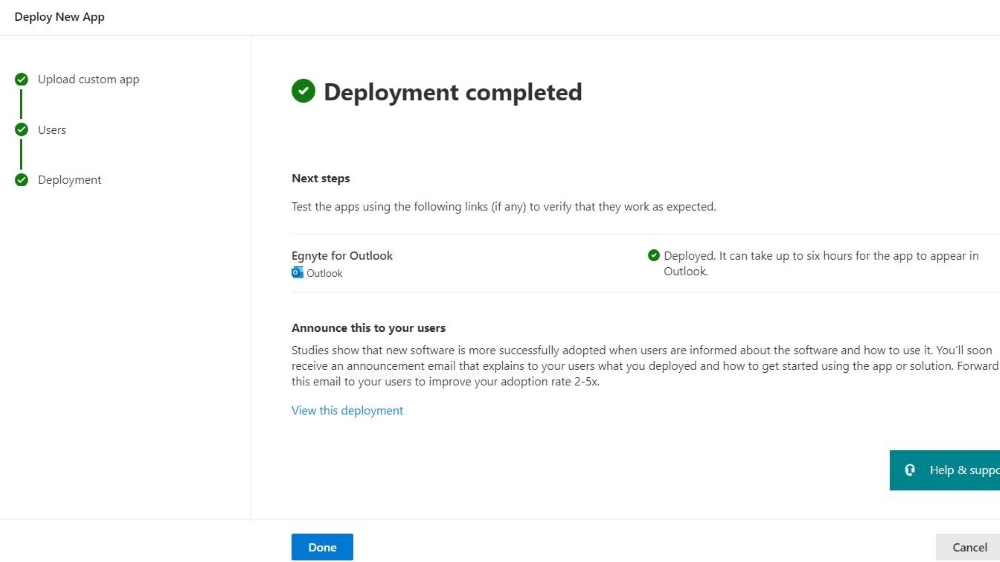 The Egnyte add-in button displays for everyone you've added. Everyone using this add-in for the first time must complete a one-time authentication when the system prompts them to log in to Egnyte and grant access. This is only needed once per client and is explained in the user guide.
Manage or Remove Egnyte for Outlook
For O365 Admins
1. Go to the Office 365 admin center and navigate to Settings > Services and Add-ins.
2. Click Egnyte for Outlook App. Click Edit Users or Edit Configuration options.

3. It would pop up on the screen on the side. Admin can also add/edit users from here.
Any changes will take effect in 6-24 hours per Microsoft documentation to show up in Outlook clients.
Known Limitations
Egnyte for Outlook integration works only for Office365 customers.

The integration cannot detect when you are dragging and dropping a file from your local device into an email. To attach a file, you must double-click to select it.

Outlook add-ins are different from COM or VSTO add-ins, which are older integrations specific to Outlook running on Windows. Unlike COM add-ins, Outlook add-ins don't have any code physically installed on the user's device or Outlook and are supported via the Office Store and add-in program. So if you have installed Outlook.COM Add-in on windows, we recommend

disabling

it to avoid user confusion.

Egnyte for Outlook integration will not be supported on on-premises implementations of Exchange.



Admins who deployed "Egnyte for Outlook" in Beta should remove the app from the Integrated store per this article, and re-deploy it from the Microsoft 365 AppSource per Step A. It is only required once, and only if you enrolled in Beta previously. All subsequent changes can be auto-deployed to organization users, as this is recommended option by Microsoft for certified applications.
Useful Links
Egnyte for Outlook - User Guide
Egnyte for Outlook Add-in: Metadata for Saved emails (new)
Uninstall Guide for Egnyte for Microsoft Office Desktop (Older .COM-based Integration for Windows)
More details on Microsoft Deployment Guide for Office Admins via Integrated Apps
This integration is available to all Egnyte plans If you have questions. If you have questions, please reach out to your CSMs and report issues to support@egnyte.com.