MS Outlook v 1.2.0. April, 2022.
Egnyte for Outlook brings Egnyte content directly into Outlook installed on your PC, Mac or Outlook on the web. With this integration, Egnyte Users will be able to share links to files or folders with others securely and now will be able to store emails with metadata in Egnyte.
Since users are saving emails with metadata in Egnyte, they can use the Collaborate platform and advanced search functionality to locate emails using supported fields easily and quickly. Egnyte users will also be able to open saved email (.EML file) using the Egnyte Desktop product, which will open it in the installed Outlook client to take further actions.
This integration is located under Apps & Integrations and is named Egnyte for Outlook. Currently, this Add-in is available to all under all plans.
Prerequisites
Add-in is configured and added by Admin per Egnyte for Outlook Admin Guide
Enabling Metadata for Email in the Outlook Add-in as an Admin
1. Open the web client or the installed Outlook on a Windows or Mac machine.
2. Log in to Egnyte for Outlook Add-in, navigate to the side panel and click on Settings.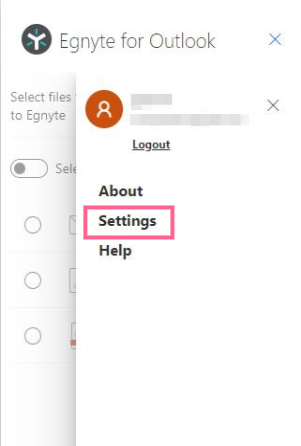 3. Admin can click on Enable and ensure to click the box. Click Save.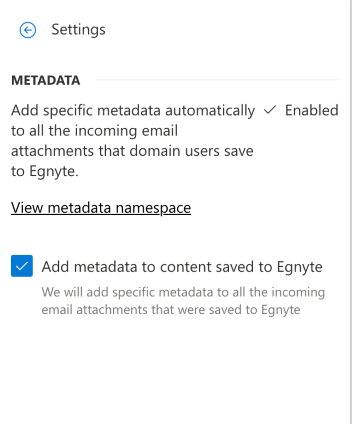 End User Experience with the Added Metadata to Saved Emails
Once users save emails to Egnyte, they will now automatically see metadata with saved emails in Egnyte, if it's enabled by an admin. This will light up advanced search functions in the platform.

If user does not see the metadata with the saved email (.EML) file, please check first with IT /Admin to ensure that it was Enabled, by going to the Egnyte for Outlook Add-in -> Settings.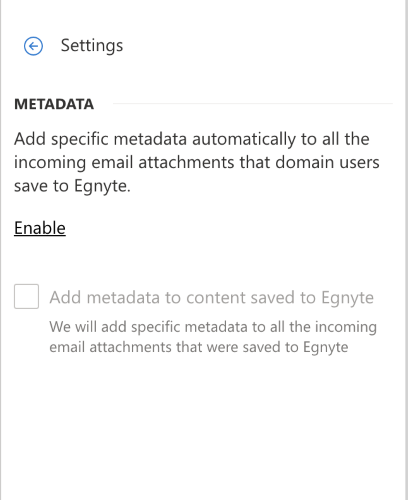 Known Limitations