MS Outlook v 1.0. 1.2, 1.3 March, April, June 2nd, 2022.
Egnyte for Outlook brings Egnyte content directly into Outlook installed on your PC or Outlook on the Web. With this integration, you can:
Select files from Egnyte and send them as links anywhere within the body of your email.

Save attachments directly from your email message into the Egnyte folder of your choice.
Save the body of your email message into the Egnyte folder of your choice.
This integration is located under Apps & Integrations and is named "Egnyte for Outlook".
Prerequisites
Before you can use Microsoft Outlook Add-in, it needs to be set up by Office Admin.
As a user, you need:
Egnyte Account
An

active Outlook Email client

installed on your laptop or to use on the Web.
Supported Outlook Client Configurations by Microsoft
The Microsoft Outlook client must be one of the supported applications which supports Outlook add-ins. For supported Outlook Clients, Please check Microsoft documentation here.
Microsoft Limitation - The client must be connected to an Exchange server or Microsoft 365 using a direct connection. When configuring the client, the user must choose an Exchange, Office, or Outlook.com account type. If the client is configured to connect with POP3 or IMAP, add-ins will NOT load.
Supported Office Licenses by Microsoft
Microsoft Side - If you have a valid Microsoft 365 subscription and you do not have access to the Outlook Client, you can download and install the latest version of Office.
Microsoft 365 Business licenses (Business Basic, Business Standard, Business Premium), Office 365 Enterprise licenses, or Microsoft 365 Enterprise licenses (E3/E5/F3).

Version 1808 or later of Office Professional Plus 2019 or Office Standard 2019.
Third-Party Contact Disclaimer
Egnyte provides third-party contact information to help you find technical support within the external product. This contact information may change without notice. Egnyte does not guarantee the accuracy of this third-party contact information.
Egnyte supports the last three active versions of the client software.
Using Egnyte for Outlook for the First Time.
1. Open Outlook and create or open a message.
2. After a few hours (it can take up to 24 hours) of deployment, Egnyte add-in should appear in Outlook clients. The example below is on the Outlook Web and Desktop clients, which shows Egnyte for Outlook in the office taskbar.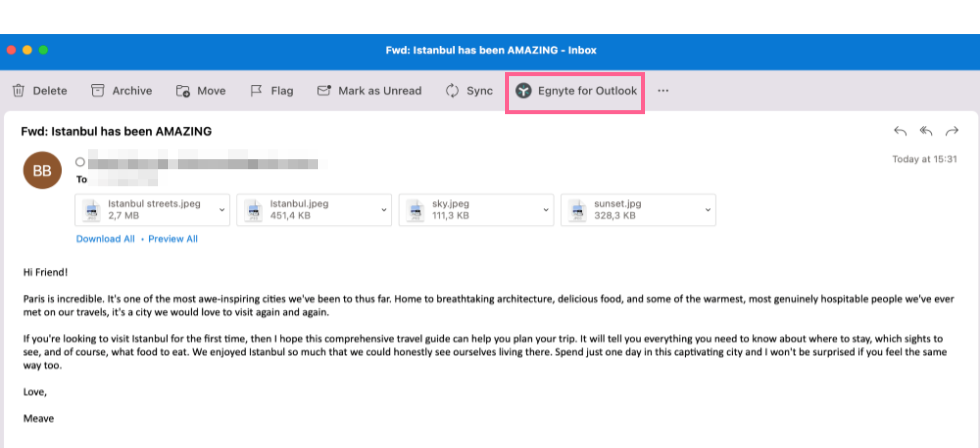 The screenshot is shown in Outlook Web UI
The screenshot is shown in Desktop Outlook Client
3. Click the Egnyte icon. A new window opens.
4. When prompted, please Allow Access. It is required one-time only.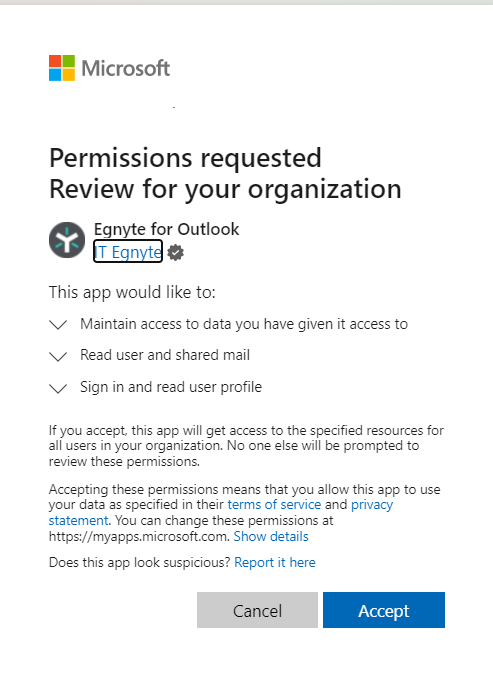 5. At the next prompt, go to AUTH process to Sign in to your Egnyte and Allow Access.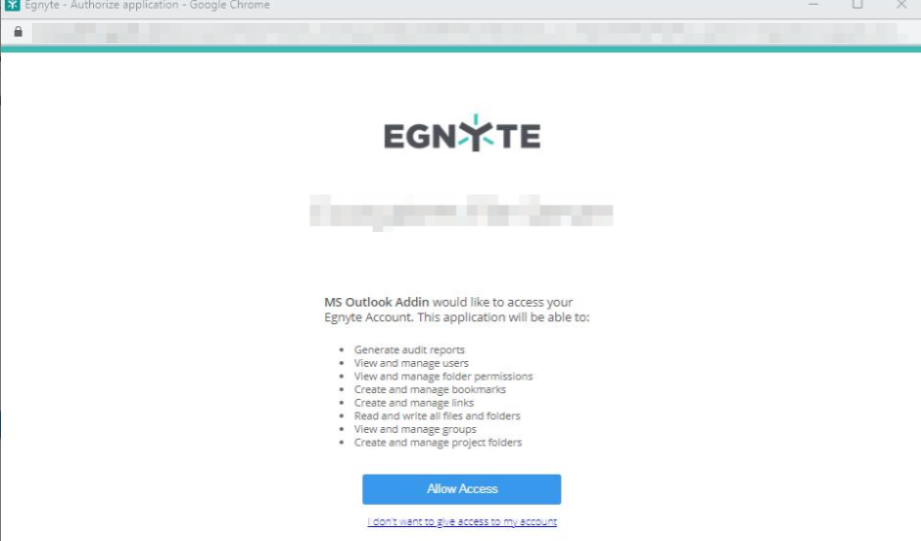 6. You are now logged in Egnyte. The user's login details will be remembered until they log out. However, if you haven't used Outlook Add-in for 15 days, you may be asked to authorize again.
7. Optional: If you'd like to Pin Egnyte for Outlook for ease of access then you can do it from: Settings > View all Outlook settings > Mail > Customize actions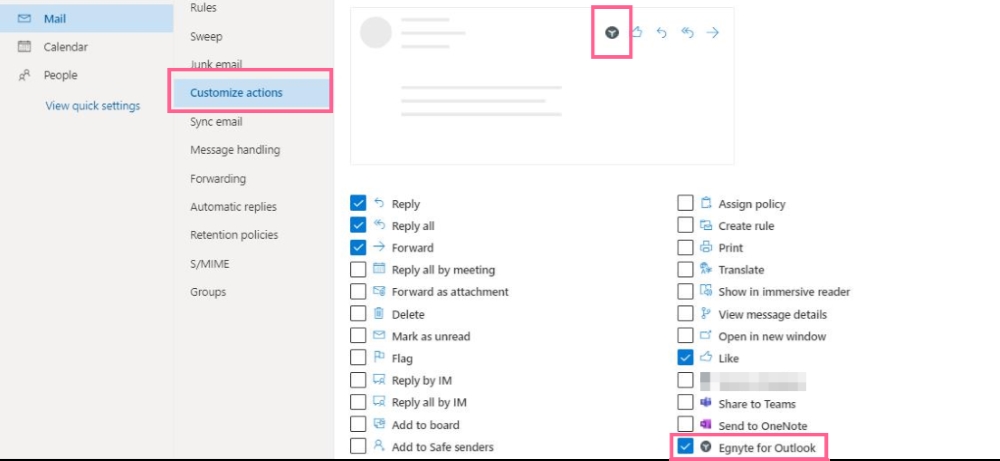 This will show in client UI as shown in the example below in the "Compose New email" view. The Egnyte icon displays to the right of the message header if pinned, or from the (…) menu.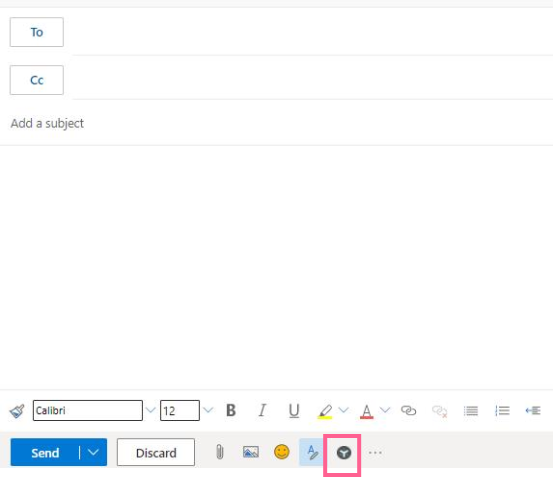 Saving Email Messages and Attachments to Egnyte
1. In Outlook, open an email. The Egnyte for Outlook icon displays to the right of the message header if pinned, or from the (…) menu as shown below.

The screenshot is shown in Outlook Web UI
2. Click Egnyte for Outlook. A separate pane opens, displaying the email with the subject name as .eml file, and file names of the attachments, with checkboxes. By default, if you choose "Select All," all attachments are chosen. If you do not want to save all the attachments, clear the checkboxes next to the files you do not wish to save to Egnyte.

3. For the first time, you need to select Save to the location and select a folder at the bottom of the screen. You can change that folder, by clicking the edit icon. Proceed with Save to Egnyte.
4. The pane redisplays. Showing Progress bar next to each file. Once all files are saved, you can see the summary screen. If any attachments failed to upload, you could also see a retry mechanism next to the file with the correct status.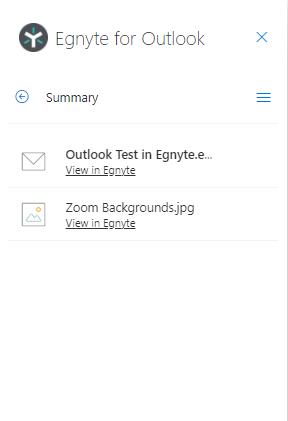 5. Once all attachments are saved, you can preview them by clicking the View in Egnyte link, which would take the user to the new tab in the browser. If you want to open the email message in Outlook or any installed Mail client, you will need to use Egnyte Desktop Drive and double-click on the saved email file. It will open an email with attachments that can be further acted upon.
Sending Shared Links to your Egnyte Files/Folders via Email
You can use Outlook to send any of your Egnyte files to anyone else safely and securely. Current folder permissions and privacy settings persist, so no one can access the file that is not authorized. You cannot send a shared link to a file you don't have permission to share.
1. Open Outlook and click Compose.
2. In the third-party application bar at the bottom of the new message, window click Egnyte in a Pinned bar. Or, if you have not pinned it yet, then you can access it from the office ribbon as shown here.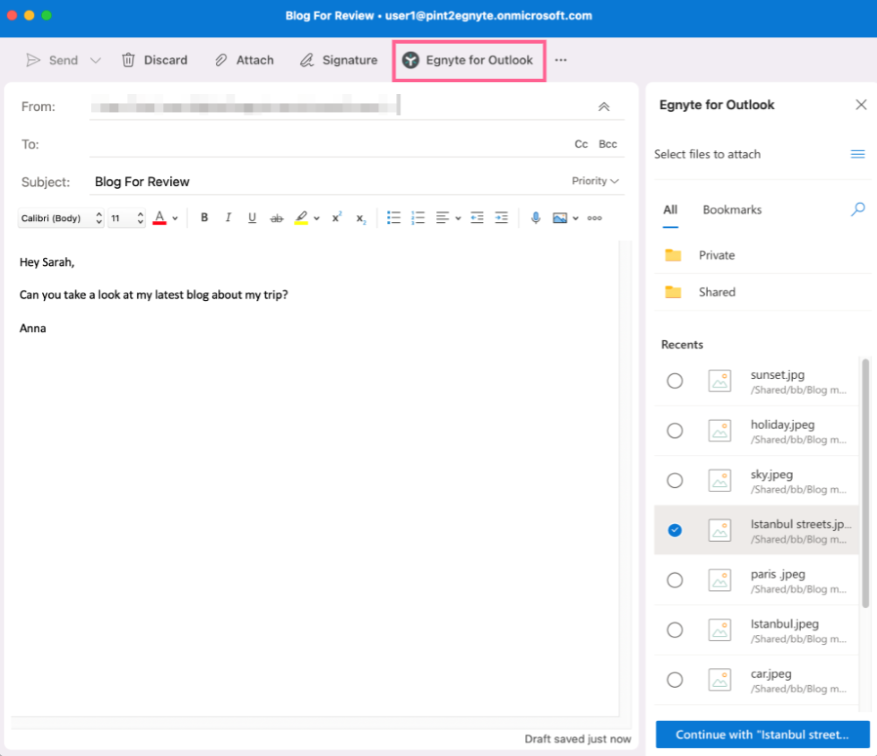 The screenshot is shown in Outlook Web UI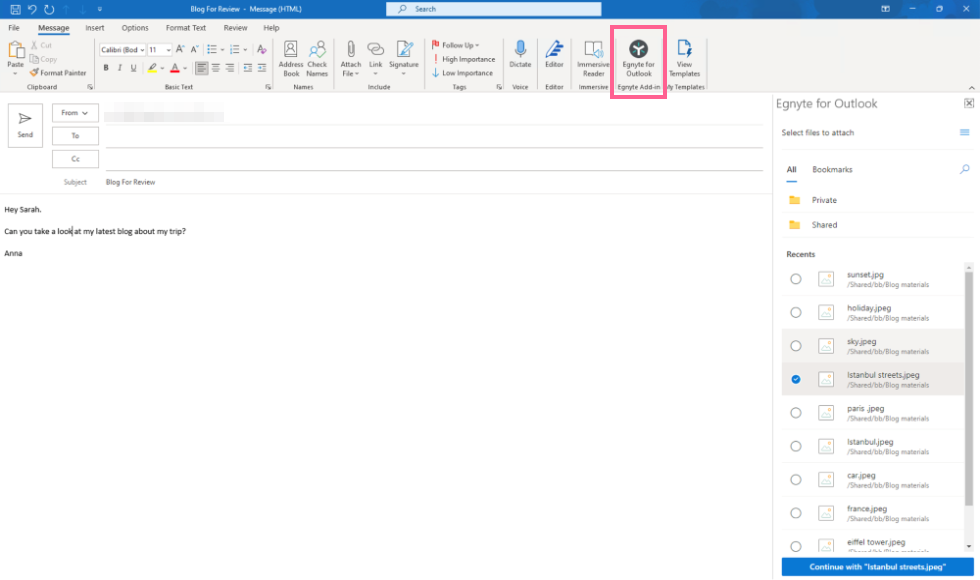 The screenshot is shown in Desktop Outlook Client
3. An Egnyte dialog box opens, displaying your Egnyte folders in one long list. Scroll down until you locate the folder you want. Click the folder to open it, then click the file you want. For ease of access, you also are shown the last ten recent files and bookmarked folders. Users can also do a search for file names.
4. Select a file or folder to share (only one file and one folder at a time can be shared).
By default, the shared link permissions are set to your enterprise default settings.

You can adjust which permission you want the shared link to send as. To do this, click Select to choose a file or folder, and on

Sharing Parameters

screen, choose available options

.
Anyone

Anyone with password (NEW)

Egnyte File Server Users
Domain users with permission
Specific Recipients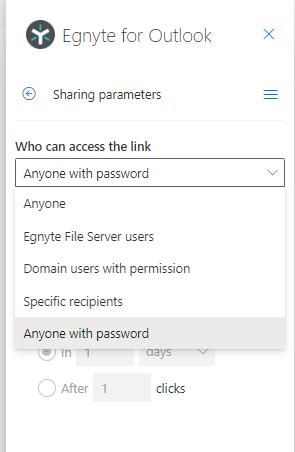 5. The message redisplays, and you see Egnyte links within the Email body inserted.

6. Click Send when you are done. The recipient receives this email with Egnyte's shared link (s). The recipient will need permission to view files shared in the Egnyte Collaborate platform.
The link displays as an icon that you can move around within the body of the email message -- for example, to place between paragraphs or just above your signature. The location of the Egnyte (Add-in) icon varies, depending on the Microsoft platform you use, such as Web Outlook Client, Desktop on Windows, or Mac. If you use the new Outlook Web app, the Egnyte icon displays within a drop-down menu from the lower toolbar (creating a new message) or the top-right toolbar (opening a message) if pinned, or via bar with (…) overflow menu.
Additional Features within Egnyte for Outlook Add-in.
1. Outlook Version Information is provided in the About screen in settings. Settings will show more admin options. Help will let users submit bugs /defects regarding outlook add-in with Egnyte support.
2. Users can change domains as well if needed first using Logout and then going to log in.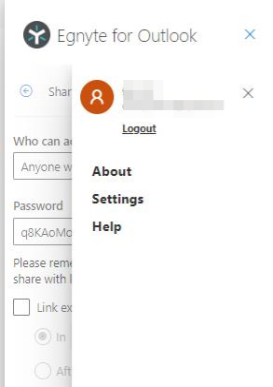 Known Limitations
Egnyte for Outlook integration works only for Office365 customers.

Egnyte Standard users can upload attachments, and upload files to Egnyte., but they can share Direct links (only).

Outlook add-ins are different from COM or VSTO add-ins, which are older integrations specific to Outlook running on Windows. Unlike COM add-ins, Outlook add-ins don't have any code physically installed on the user's device or Outlook and are supported via Office Store and add-in program. So if you have installed Outlook.COM Add-in on windows, we recommend

disabling

it.

Egnyte for Outlook integration is NOT supported with on-premises implementations of Exchange.



Related links
Egnyte for Outlook Admin Guide
Egnyte for Outlook Add-in: Metadata for saved emails (new)
Egnyte for Outlook Add-In: Upload a Local File
This integration is available to all Egnyte plans If you have questions. If you have questions, please reach out to your CSMs and report issues to support@egnyte.com.