Content is being created by users across industries at a rate that has never been seen before. Users increasingly create more content as they collaborate with others, create files, backups, and store photos, training videos, logs, and reports. When content is created, it is valuable and purposeful. However, with time, as circumstances evolve, information tends to lose business value, but the risk of sensitive information always remains. Most privacy regulations such as GDPR and CCPA mandate organizations that data should only be retained for as long as it is required to achieve the purpose for which data were collected and are being processed. Privacy regulations also require organizations to adhere to the minimization principle, which applies to the amount of personal data stored and the length of time the information is retained.
The Content Lifecycle view was designed to provide a quick, scalable, and easy to use way to address such needs of our customers. The view provides detailed analytics about the type of content that is contained within each folder. It enables users to quantify and visualize the precise locations of files based on key file attributes, files affected by the lifecycle policies which are currently in effect, and sensitive files based on regulatory compliance policies.
View Folder Details
Navigate to the Content Lifecycle tab.



You can, by default, view the details of the root folder:

Shared. You can view detailed folder analytics, including the total number of files and versions, total size, number of files currently under retention, files with retention policies expiring this month, and files with retention expired last month.




Click on the dropdown to see an expanded list of the entire folder structure in your source. You can view the same details as mentioned above for each folder.


By default, the numbers always include details from the sub-folders. Remember to turn it off if you wish to see details just for a particular folder.
Visualize Folder Usage
You can view the growth of content based on file size and the total number of files in your folder over the last twelve months or the last ten years.




You can also view the distribution on the files over the last ten years by clicking on the dropdown: Period and selecting the "Last 10 years" option.




The number of files created is a good indicator of whether the folder is being actively used by a user and can be viewed using the "Files by Age" widget.


Visualize Lifecycle Policy Impact on Folders
Navigate to the Content Lifecycle tab.


Scroll down to the Content Lifecycle widget to view the distribution of files by number or size that fall under a lifecycle policy (e.g., retention, deletion, archival) and the time period in which those policies take effect. For retention policies, you can view the total number of files/size of files that would be held under retention at any given time. And, for archive and deletion policies you can view all the total number/size of files that would be deleted or archived in a given time period.





You can also view the number of files matching a particular lifecycle policy that is effective on a particular folder by using the "Files by Policy" widget.
Heatmaps and Filtered locations
These filters can help you visualize the distribution of all your files in your locations by helping you quickly drill-down and find content distributed by file size, count, or age. You can select either one of them as a criterion by clicking on the dropdown.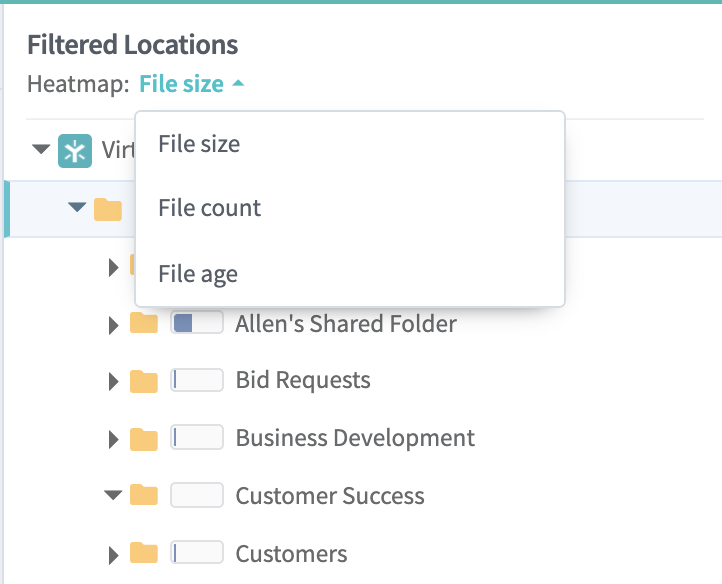 Quick filters and Filtered Locations
You can easily filter the locations where files are stored within your content source. Filters can be based on built-in regulatory compliance policies that you have enabled, file creation date, and file size.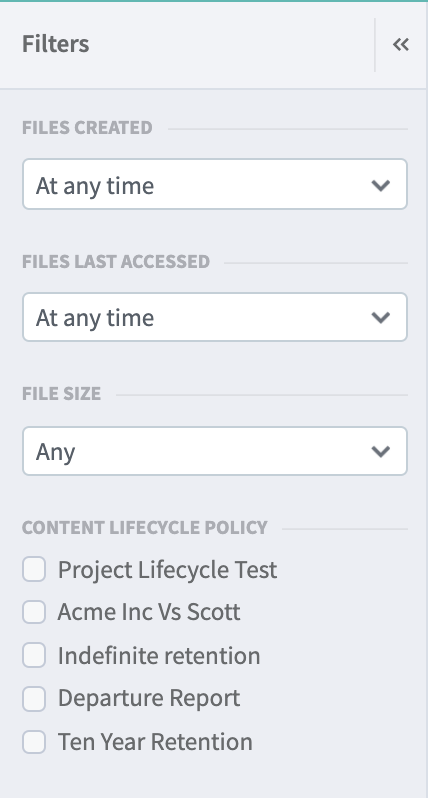 Filters are applied only to the list of filtered locations. Visualizations in the rightmost pane include all files within those locations.