In this article, Administrators will learn how to configure Egnyte for Adobe Sign within Egnyte as well as connecting the app to Adobe and Egnyte.
To learn more about our Integration with Adobe Sign, read the Overview article.
Configure
If you are an Administrator, you may need to first enable Egnyte for Adobe Sign. On the Apps & Integrations page, find the Adobe Sign integration, hover over the tile, and click Enable Integration. Administrators can choose to add the app for all users, certain groups (up to 5), or allow users to add the app themselves.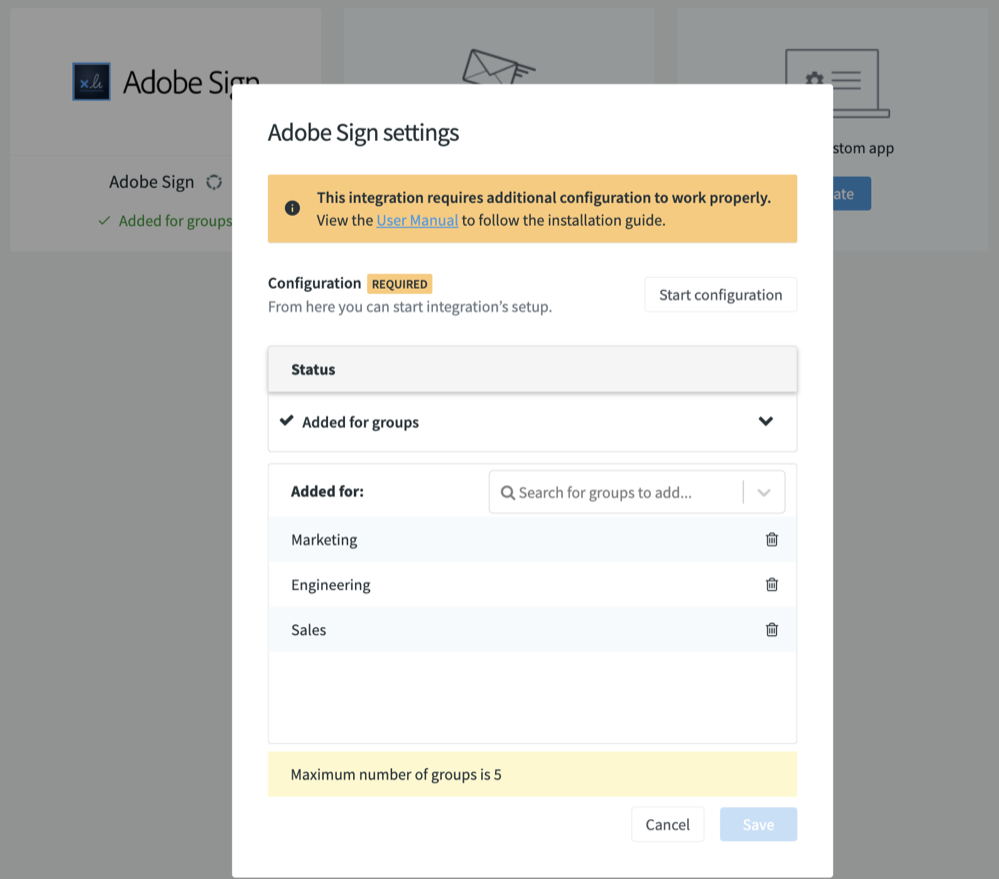 Once the Administrator has enabled the App for your account, your users will be able to add it from the Apps & Integrations page or will automatically have it installed, depending on the option selected.

Connect
To connect Egnyte and Adobe Sign, you need to allow the integration service to connect to both your Egnyte account and your Adobe Sign account.
Connect To Egnyte
Once you have added Adobe Sign, select the gear icon and click Continue. A window will appear to connect your Adobe Sign account to your Egnyte account. Click Allow Access so Egnyte for Adobe Sign can access your Egnyte account.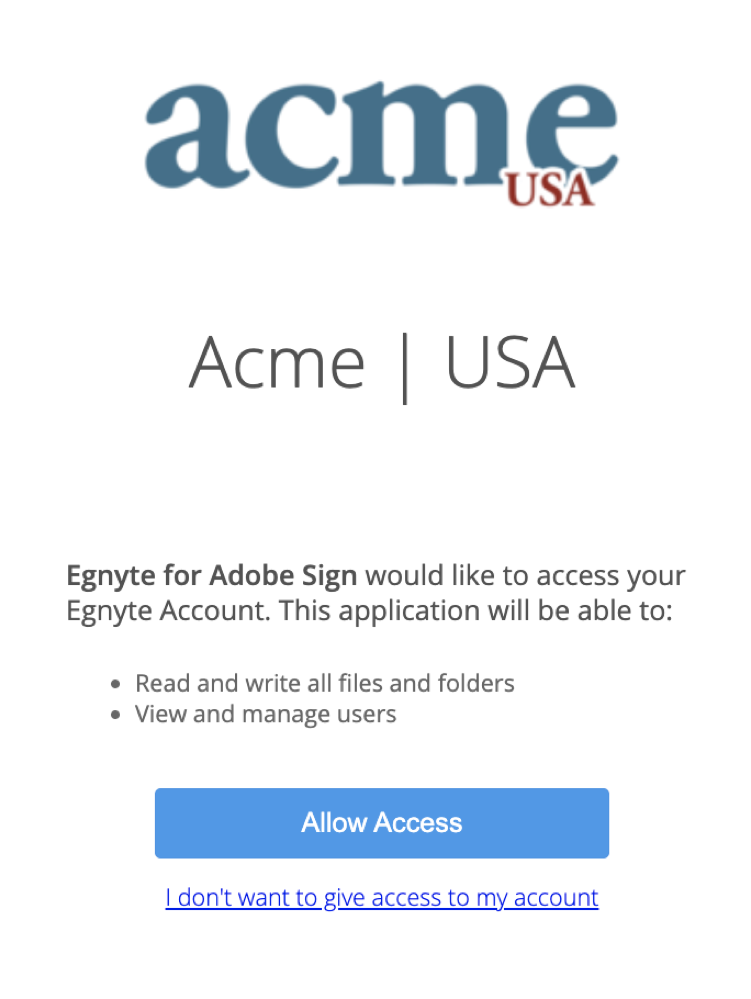 Connect to Adobe Sign
Once you've allowed access, you'll need to decide if all users are going to use the same Adobe Sign account or if each user will access their own account. The checkbox Use my Adobe Sign Credentials for all users on Egnyte domain should only be checked if you are setting up for a service account option where all users in this domain would use your Adobe Sign Service account. If you use SSO with Adobe Sign, you'll need to check this box.
Note: Your Adobe Sign account should have the necessary subscription to use this feature. Do not check the checkbox if you just want to use your own single Adobe Sign account.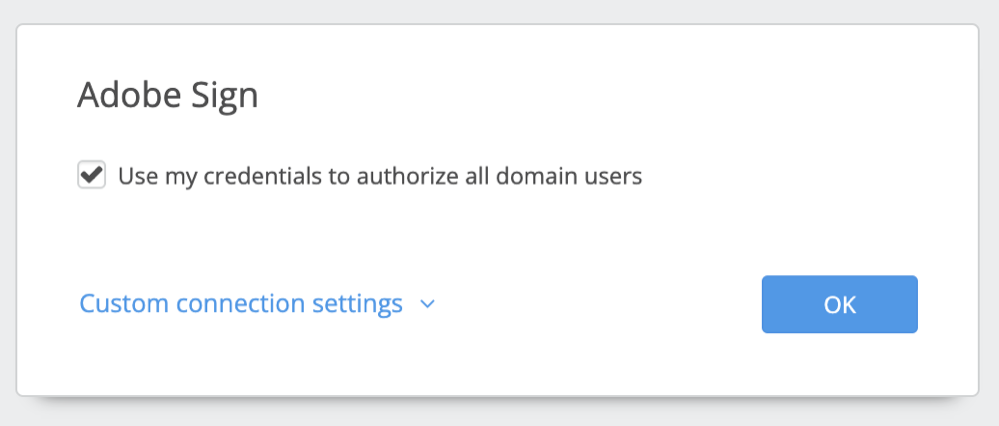 You will be prompted to enter your Adobe Sign username (an email address) and password. You must have an Adobe Sign account to use this feature.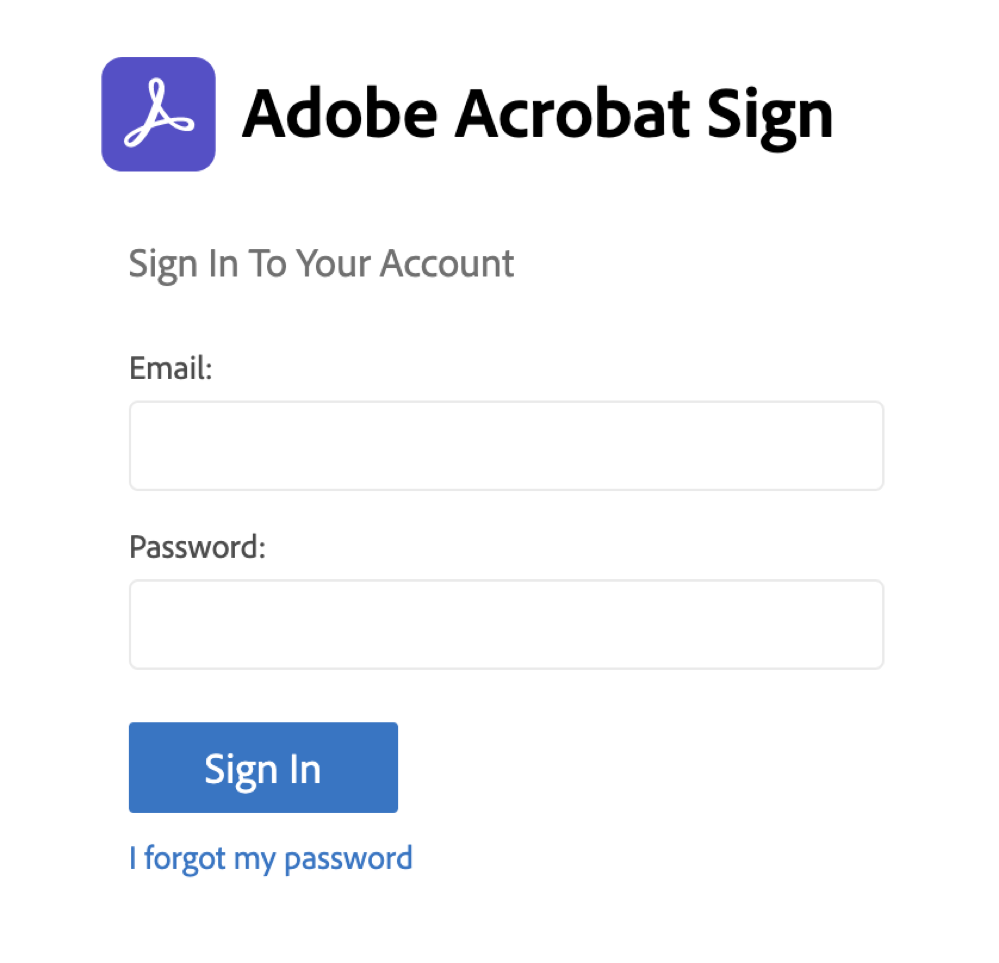 Egnyte for Adobe Sign is now enabled!
Service Account Option
Single Sign-On customers and other customers that may be interested can add support for their users through Adobe Sign's feature, which allows a single service account to handle authentication for all users on the domain.



Verify the Installation
After entering your email address and password, you should see the Adobe Sign app added to the Apps & Integrations page.
If you wish to change the Adobe Sign account connected to your Egnyte user profile, or if you ever want to remove the Web App entirely, you can do so from this part of the UI by clicking the gear icon.

Note: If you close the browser tab/window before logging in or clicking the Cancel button, the app will still show as Added. In this case you can either use change account (as described above) to log in or just log in when prompted when you next attempt to send a document with Adobe Sign.


Next Steps
When you're ready to start using Adobe Sign, this article will walk you through how to send documents for signatures from Egnyte.