Egnyte and Microsoft Office partner to provide a powerful integration that enables a seamless user experience across browsers and devices. This partnership provides smooth workflows for opening, editing, and saving Microsoft Office files in Egnyte's WebUI, mobile apps, and desktop clients.
Skip Ahead to...
Office Online
No matter where team members are located, they can collaborate in real-time using Office Online (Word, Excel, and PowerPoint) with the benefits of Egnyte's secure and easy file-sharing solution.
Features
Co-Authoring
Multiple users can work on a document stored in Egnyte in real-time by utilizing Office Online. When multiple users have the same document open in Office Online, they are able to edit and collaborate.
Although the file will have a lock icon, the file can be worked on in Office Online if it was originally opened in Office Online.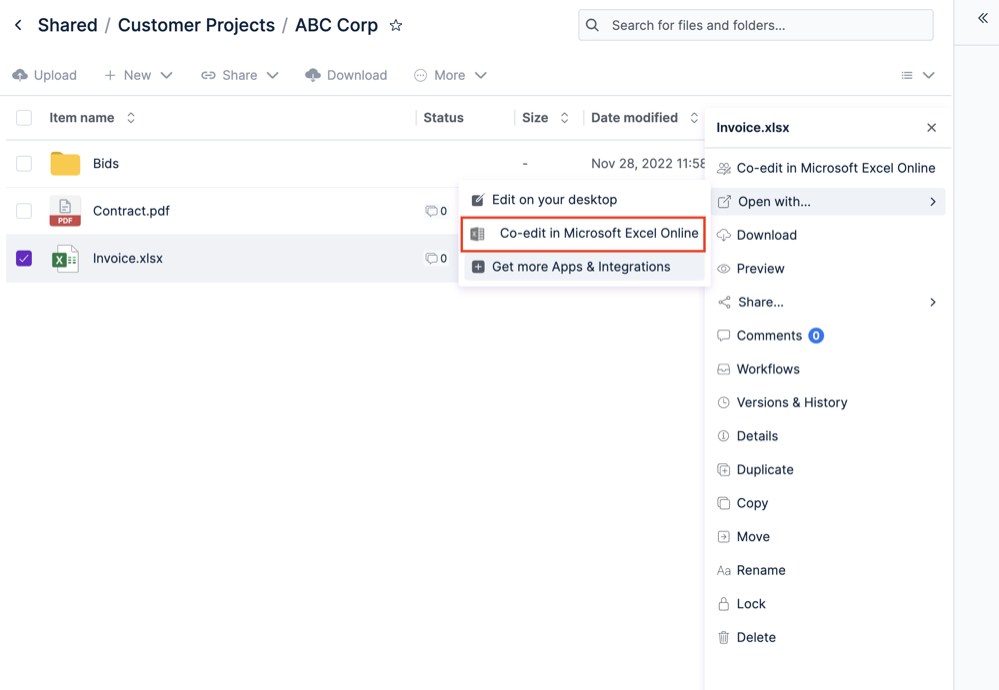 Requirements
Admin permission enabled for Office Online application

Office 365 for Business subscription


Resources

Enable the Microsoft Office Online Integration
Edit Egnyte Files Using Microsoft Office Online
Microsoft Document Collaboration and Co-Authoring
Office Mobile
The Egnyte mobile application allows users to open, edit, and save Microsoft Word, PowerPoint, and Excel files on iOS, Android, and Windows Mobile devices.
Features
iOS Only
Within the Egnyte iOS app, tap on the Open-in button. A pop-up allows the user to open and edit the file directly in the corresponding Office App.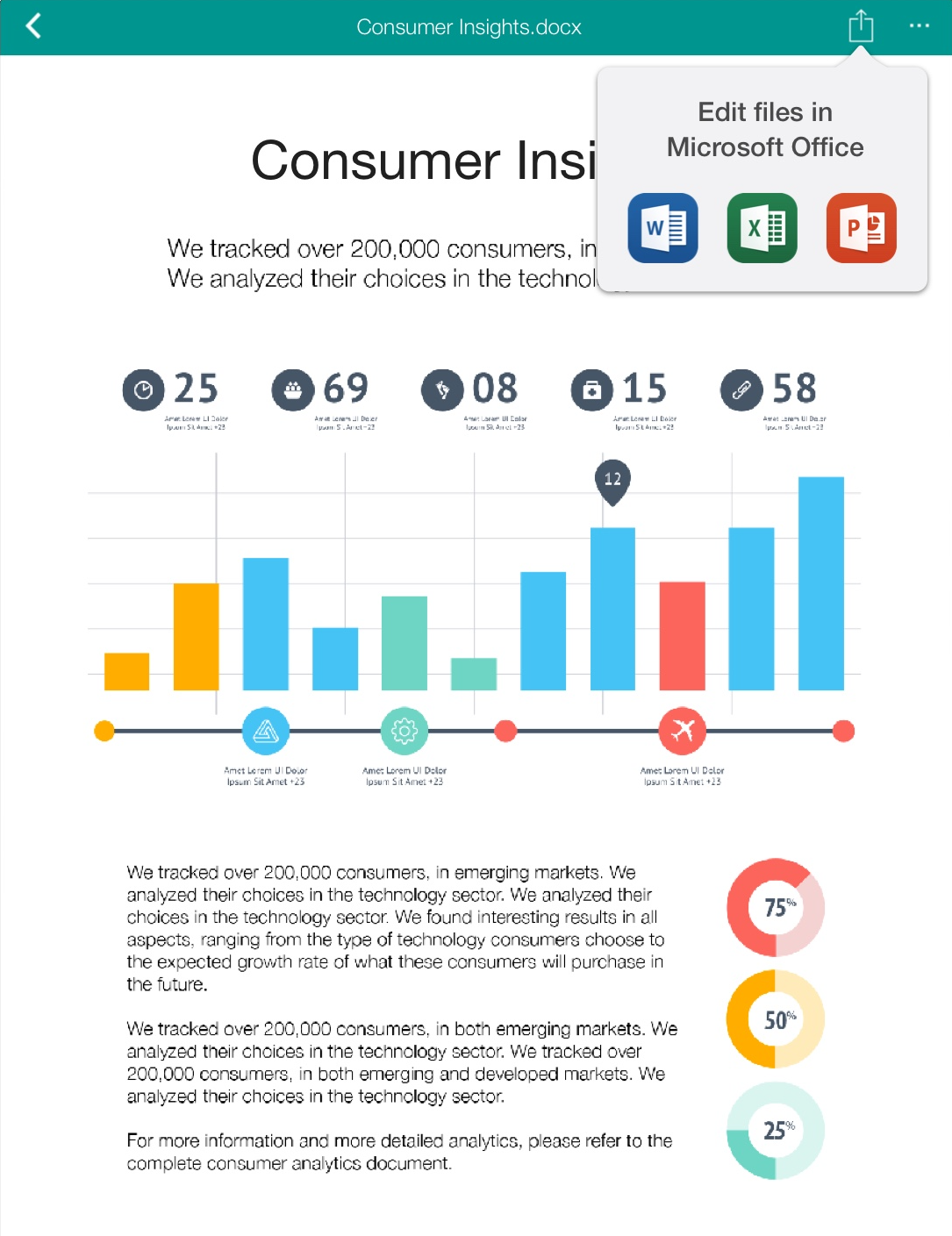 All Supported Mobile Devices
Users can add Egnyte as a document provider within the Office apps, allowing Egnyte files to be browsed, accessed, and edited directly within the Office mobile apps.
Requirements
Latest Egnyte app and Office mobile apps on the user's mobile device

Microsoft requires a paid Office 365 for Business subscription to edit files (read-only preview mode has no charge)


Resources

Egnyte Mobile Apps for Office Integrations
Egnyte for SharePoint Online
The Egnyte for SharePoint Online integration allows you to embed your Egnyte file server within the SharePoint site. Utilize all of the features of the Egnyte Web UI to manage your files. The directly embedded Egnyte interface ensures that your SharePoint documentation always reflects the most up-to-date information without having to constantly replace and re-upload the file to SharePoint.
Embedded View

Embed the Egnyte Web UI on a SharePoint Site page.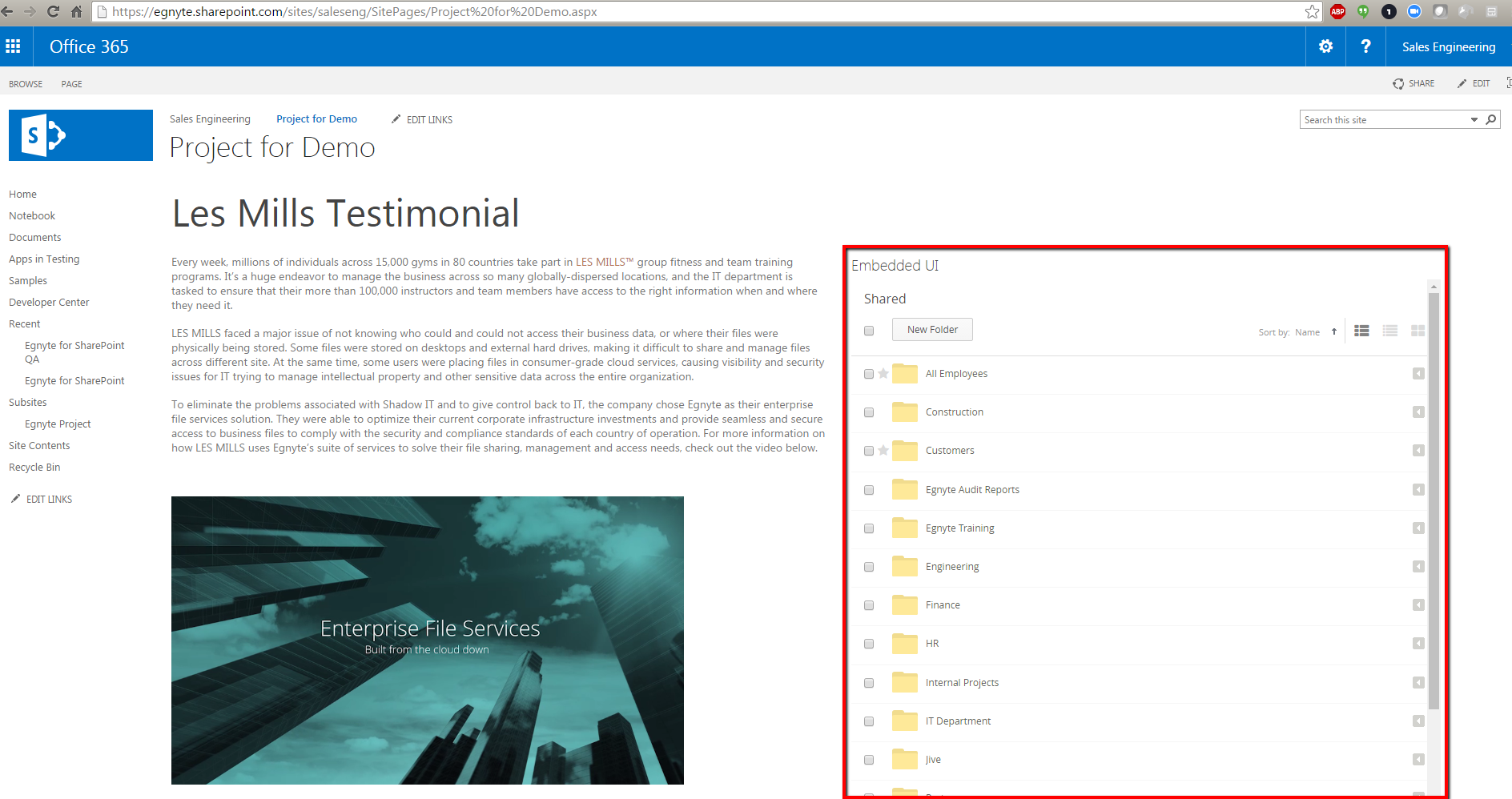 Fullscreen View
Utilize a full-screen view of the Egnyte Web UI by clicking on the Egnyte App in Site Contents.
Requirements
Admin permission enabled for Office Online application

Office 365 for Business subscription


Resources
Egnyte's Microsoft Power Automate Integration