The Egnyte for SharePoint Online integration allows you to embed your Egnyte file server within the SharePoint site to utilize all the features Egnyte has to offer. The directly embedded Egnyte interface ensures that your SharePoint documentation always reflects the most up-to-date information without having to constantly replace and re-upload the file to SharePoint.
For more information please take a look at our Democast!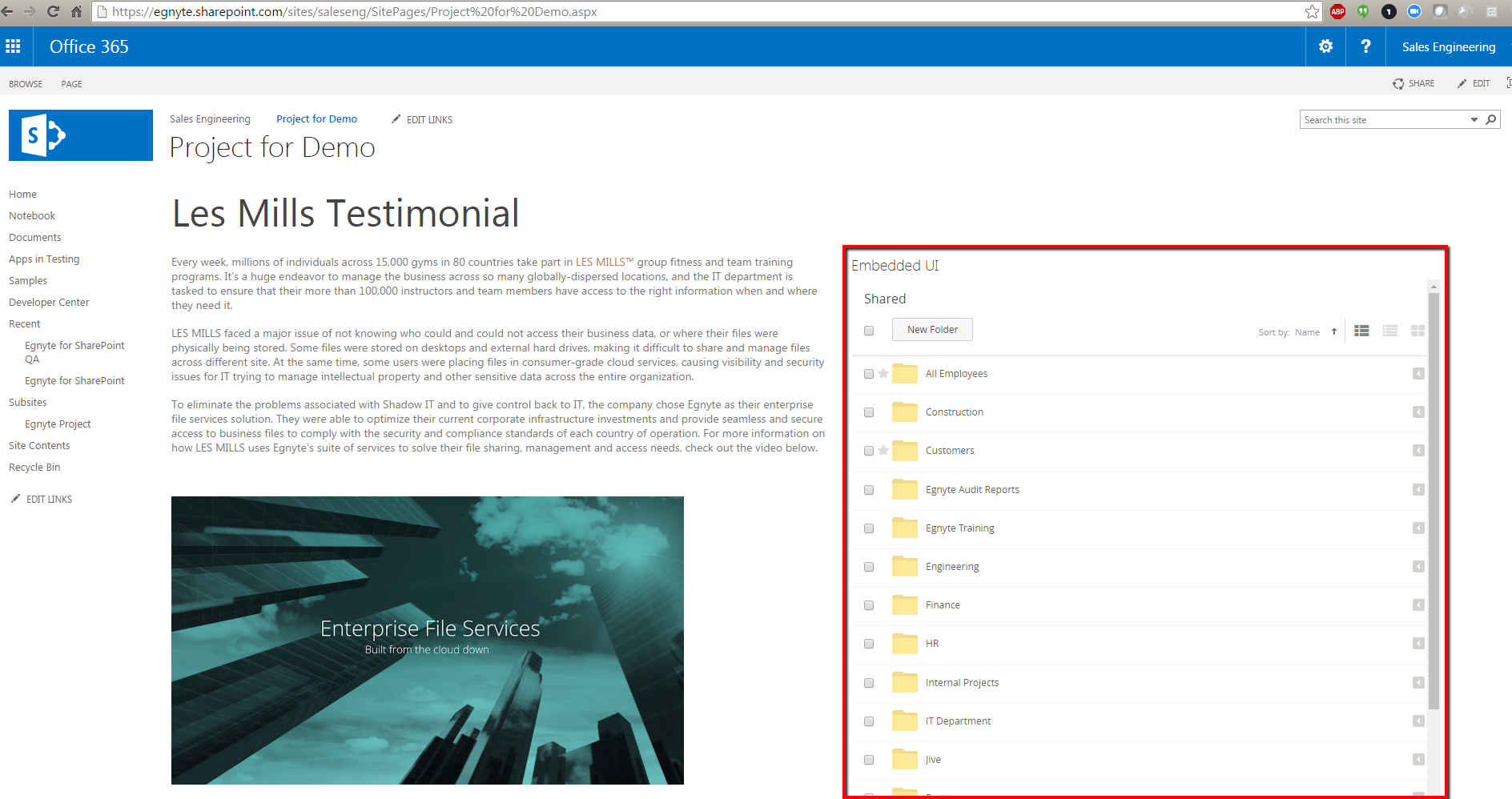 Skip Ahead to...
Features
Utilize a full screen view of the Egnyte Web UI by clicking on the Egnyte App in Site Contents.
Embed the Egnyte Web UI as a Web Part on a SharePoint Site Page.
Perform any Web UI action, including editing files in Office Online.
Keep information up-to-date by embedding the Egnyte folder structure in SharePoint.
Retain Egnyte permissions for your users and groups on the folder structure embedded within the SharePoint site.
All files are easy to manage and remain within Egnyte.
Use Egnyte reports to understand which files are being accessed by users.
Ability to add a customized folder location at a Site Level so that users can directly navigate to their preferred folder.
System Requirements
Admin permission enabled for SharePoint
Office 365 for Business subscription
Installation must be made in Sharepoint Classic Mode
Installation
Download the Egnyte for SharePoint App.
Log in to your Microsoft Office Online Account.
Add and deploy the Egnyte for SharePoint App (as a custom app).
Click on the gear icon in the upper-right corner and select Add an page.




Click Edit and switch the the Insert tab. Click on Web Part.




Under Parts, select Egnyte. Click the Add button.




Connect the your Egnyte account by following the prompts and entering your Egnyte credentials.
Optional step: Use SharePoint settings to customize the Web Part's size and layout.


Configure a Custom Starting Folder
Open a site page with the Egnyte web part in it.
Click Edit in the top right corner.


Under the drop-down in the top right corner of the web part, click Edit Web Part.




Expand Egnyte options and set the Default directory path to the desired Egnyte folder path. Click Apply.




Click Save in the top right corner.