Overview
Conflict Detection is available on Desktop Sync, Storage Sync, and Egnyte's mobile apps. The minimum versions for support are as follows: 8.4 (Mac) and 8.4.1 (Windows) for Desktop Sync, 10.2.7 for Storage Sync, and 6.2 (iOS) and 6.7 (Android) for mobile. 
Prior to the introduction of conflict detection, if a user was editing a version of a file in Desktop Sync that wasn't the latest version, their changes would overwrite any new changes that were made to the file by other users. As an example, this would happen if a user leaves a file open for long periods of time during which other users make updates to the same file.


Conflict Detection Flow
Conflict detection can avoid the confusion that can occur when changes seem to be 'lost' in the latest version due to multiple users editing a file at the same time. Here's what will happen when a conflict is detected on Desktop Sync:
1. The user will see a notification saying that a conflict was resolved with the name of the file.
2. The user's changes (and any subsequent changes as long as the file remains open) are written to a new file with text '(conflict copy from <user's email address>)' appended to the end of the name. For example, if you were working on a file named "Spring, Newsletter.docx," your changes would be saved into a copy named "Spring, Newsletter (conflict copy from <your email address>).docx."
3. The user will also receive an email specifying the name of the original doc and conflict copy with instructions on how they can resolve the conflict.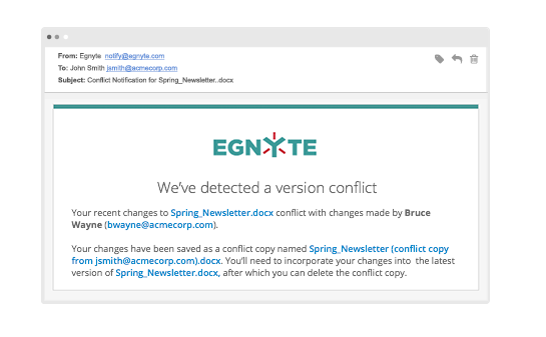 4. Upon closing the document the original document is updated so the user sees two documents which will be up to date - the original document and the conflict copy.


Disable Conflict Detection
Conflict detection can be enabled or disabled from the Web UI. Navigate to "Configuration Settings" --> "General" and set the "Conflict Detection" toggle.
If conflict detection is disabled, any changes made are uploaded to the cloud as new versions of the same file. Versions of a file are ordered based on the 'last modified time' of the file.


Supported File Extensions
Conflict detection is not supported or triggered on the following file extensions:
.backup
.bak
.bpn
.cache
.dat
.db
.db-journal
.dll
.dsn
.dwg
.dwl
.dwl1
.dwl2
.eml
.exe
.ffs_lock
.gz
.ini
.itm
.log
.mdb
.nd
.nwc
.old
.ost
.pdb
.pkgx
.pst
.qbb
.qbw
.sldasm
.snap
.xls