Overview
Egnyte for Salesforce makes it easy to access and share business files in Salesforce with no limits to storage capacity or file size. You can easily upload files such as data sheets, videos, and presentations from within your agents' Salesforce portals. Access rules are enforced consistently, whether users access files in Salesforce or directly through Egnyte.
Key Features and Considerations
The Salesforce integration brings the following powerful features:
Collaborate with team members, even if they are not Salesforce users.
Organize files using folders and sub-folders within the Salesforce hierarchy.
Supports Leads, Cases, Accounts, Contacts, Opportunities, Campaigns as well as any custom Salesforce objects.
Files progress when leads are converted to opportunities through the sales pipeline.
Notes & Attachments in Salesforce can automatically be uploaded to corresponding record folders in Egnyte.
Admins can create folder / sub-folder templates for new Leads, Cases, Accounts, Contacts, Opportunities, Campaigns or custom Salesforce objects.
The Salesforce integration is only available for:
Customers using Salesforce Group, Professional, Enterprise or Unlimited editions.
Customers who have purchased Salesforce Integration licenses for their employee users.
Your power users (employees). The integration is not available for standard users.
Installation
To install Egnyte for Salesforce, you must be the Salesforce system administrator. The installation and admin articles will walk you through installation steps, including adding Egnyte into object page layouts. The installation package is available in the Salesforce AppExchange.
How it Works
Once, the Salesforce integration has been installed, Egnyte will be accessible in two areas. First, you'll see an Egnyte window in the page layout of any objects you have chosen to integrate with (e.g. leads, accounts, etc). Integrating with an object's page layout involves adding the Egnyte Canvas App to the page layout.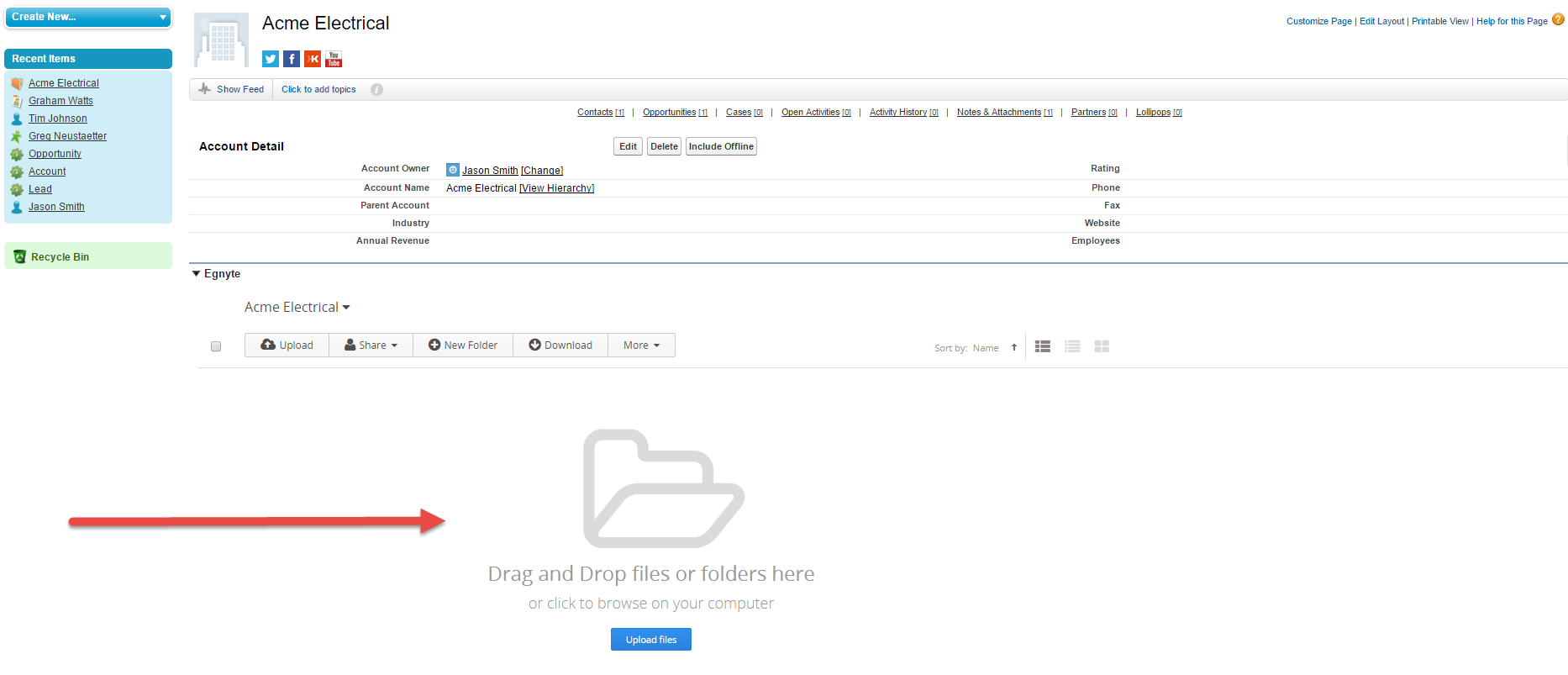 This window lets you attach content to a record, but stores that content in Egnyte instead of Salesforce. The widget uses an embedded view of Egnyte's web interface that allows all the actions that our Web UI allows (drag and drop, creating upload links, managing folder permissions etc.).
You'll also have a new item called My Egnyte in your tabs section. The My Egnyte tab allows you access Egnyte's Web UI without leaving your Salesforce environment. The My Egnyte tab will initially be located in the tabs section of your account. You can add it to your tabs display in a couple of simple steps.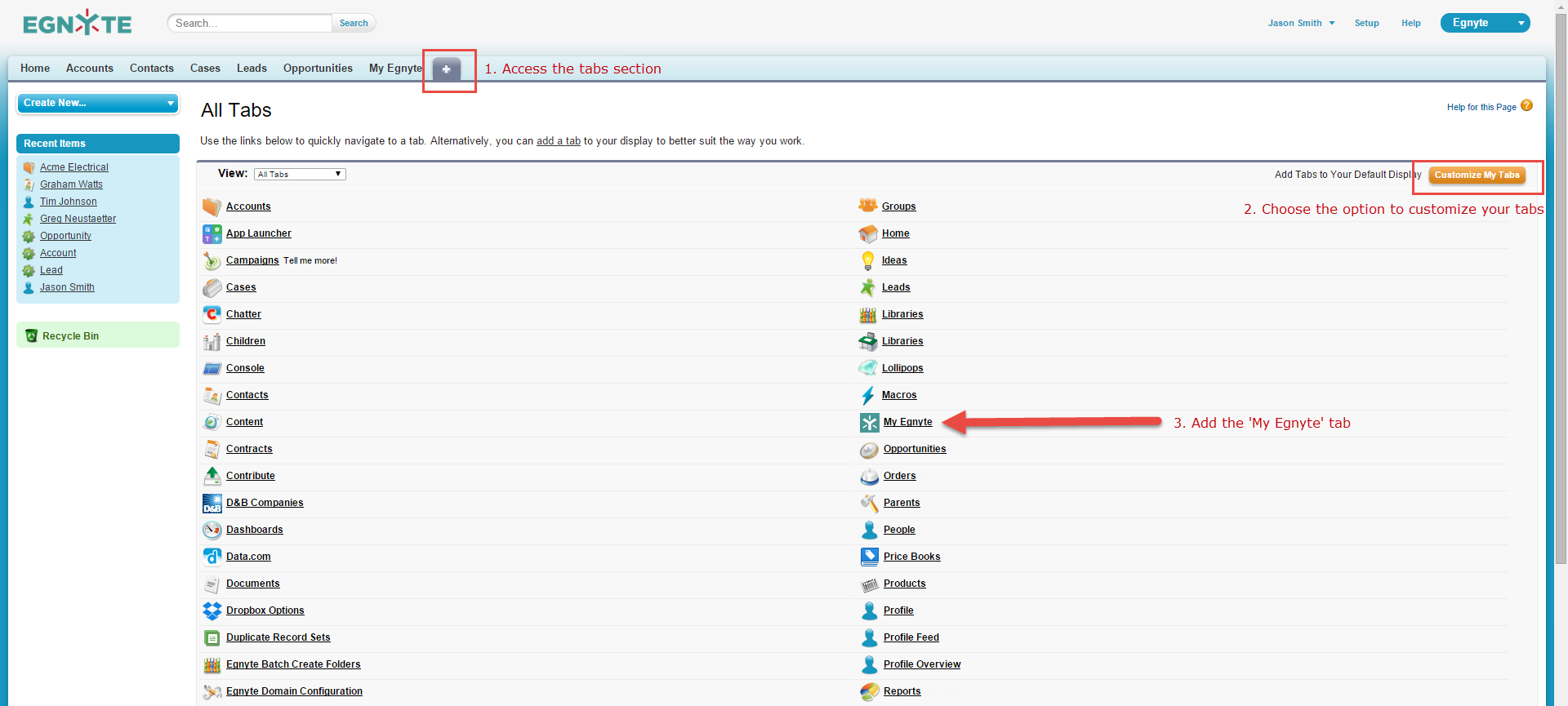 Once you visit a record page with the Egnyte embedded view, a folder will be created in Egnyte and the record will automatically be linked to the folder. The folder will be available in Egnyte under the Salesforce.com folder in your shared directory.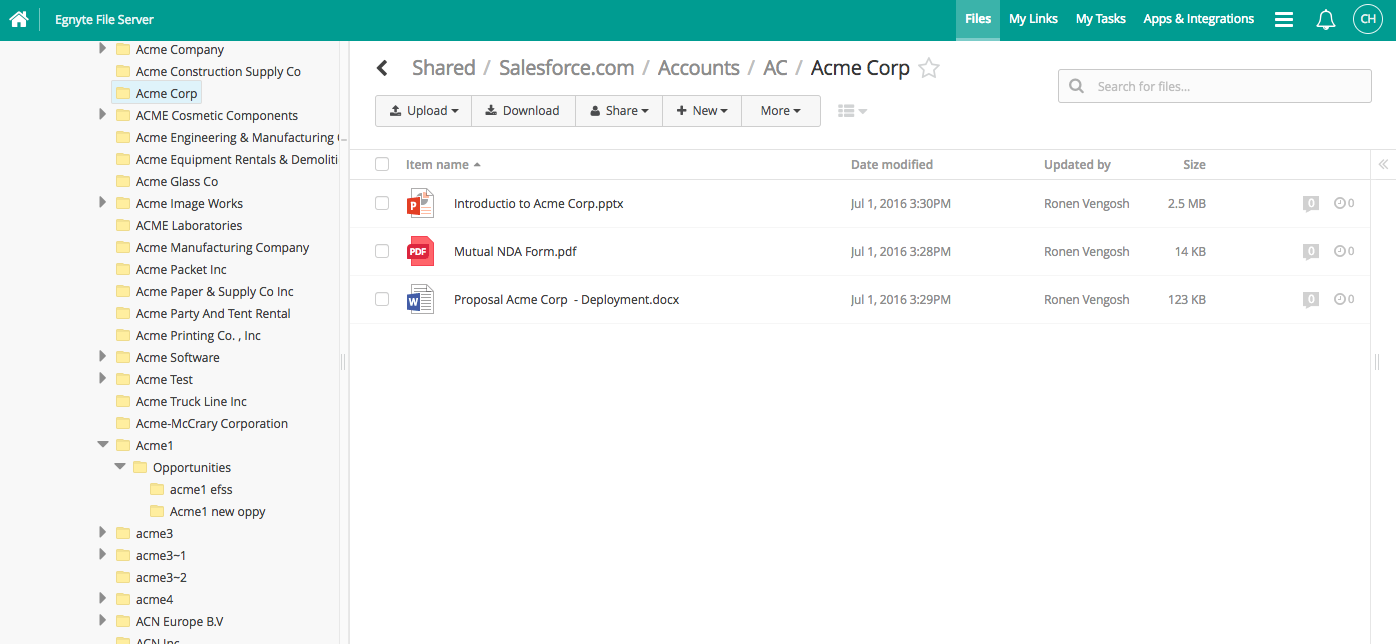 Of course, any new content you add at the record level in Salesforce will become available in Egnyte; similarly, any content you add through Egnyte will appear at the record level in Salesforce.
Once a record is linked with Egnyte, the content associated with it will actually be accessible through any Egnyte access point (Web UI, mobile apps, sync, map drive, etc). Notably, you'll also be able to share that content with any Egnyte users—even if they're not Salesforce users.

Finally, Egnyte's integration follows the standard Salesforce flow when converting leads to opportunities. Any files you've attached to a lead will be copied to the corresponding folder of the opportunity, or the parent account if you choose not to create an opportunity.