Does Smart Cache Work in Offline Mode and Service Users if it is not Connected to Cloud?
Yes, Smart Cache can operate even when it loses network connection with the cloud. Desktop App users can continue to open and modify files on the Smart Cache device and all their file operations get saved to Smart Cache. Smart Cache in Offline Mode serves lock requests locally so that it allows one and only one user to modify a file at a given time. File and folder modifications are synchronized with the cloud when network connectivity to the cloud is restored.
For security reasons, Desktop App users can connect to Smart Cache for up to 7 days of network downtime provided the user was using the Desktop App earlier.
Can I Use Smart Cache as a Migration Tool to Move Data from On-Premise Servers to the Cloud?
No, we don't recommend using Smart Cache as the migration tool instead you should try out Migration App. Get in touch with your account manager for more details.
Do I Need a Special License for Smart Cache?
Since Smart Cache uses the same licenses as Storage Sync, you need to have some available to complete the migration. Contact your Egnyte Account Manager to request temporary licenses.
How Do I Purchase Smart Cache?
Smart Cache is available with every Smart Cache or Storage Sync license that you have purchased.
How Do I Deploy And Enable Smart Cache?
To deploy Smart Cache, you need to have the necessary hardware available in your environment. Then, follow the setup and configuration of Smart Cache, which you can get more details here.
Smart Cache access must be enabled from the WebUI by navigating to the Configuration tab under Settings, selecting the Applications page, and enabling the Allow users to access folders stored on Smart Cache device. For more information, see the video below.

(right click on the image and open it in a new tab for a larger image)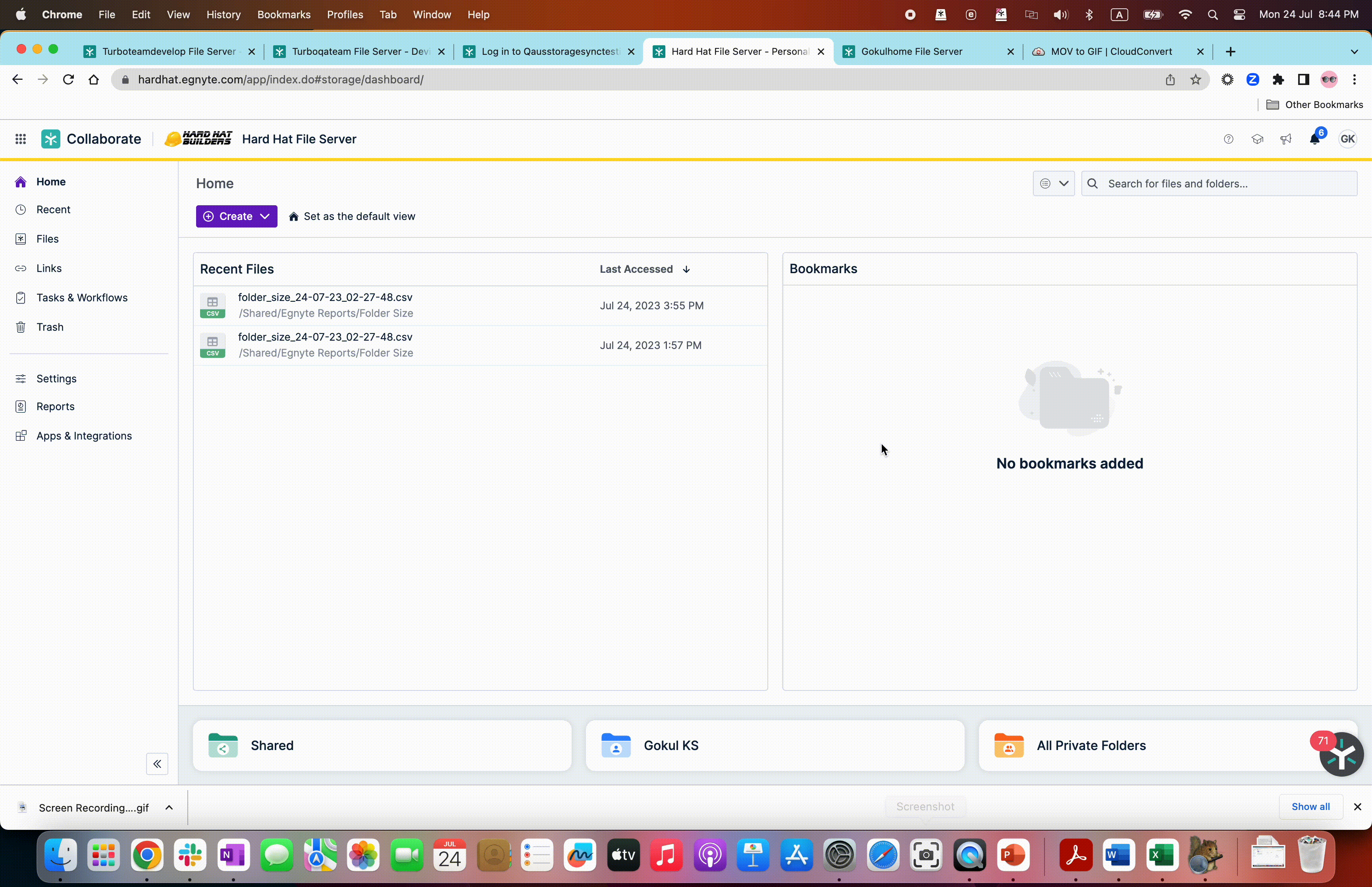 How Do I Determine The Right Size For The Data Disk?
IT administrators are recommended to determine: -
The amount of data that users are expected to access

The amount of new data that users are expected to create over a period of 90 days.
Smart Cache will cache both accessed and new data for at least 14 days. In the future, the duration for which data resides in the cache may change, and you will need to reassess the disk size. Additionally, Smart Cache needs some storage for caching metadata and for its own internal use. Our recommendation is provisioning double of the above estimated storage.
Sizing the disk is an extremely important consideration for Smart Cache. Provisioning a disk that is too small can lead to aggressive eviction of data from the cache and may result in occasional sync failures and errors.
The double recommendation is over and above any storage needed for folders that may have been selected for synchronization.
Are There Any Policies Available For Smart Cache?
As of now, there are two user-defined policies available for Smart Cache:
Storage policy
Persistence policy.
Data eviction and storage optimization are being managed by Smart Cache based on the frequency of data being accessed and the least recently used principle.
Can I Pin Folders with Smart Cache?
This functionality is not yet available via Smart Cache. However, if there are folders that need to be pinned, they can be selected from the folder picker in the cloud device settings and synchronized down to the Smart Cache device data disk.
Does Smart Cache Support Offline Mode?
Smart Cache supports offline mode through Desktop App collaboration mode. However, if certain folders need to be available in offline mode, you can pin them (refer Can I Pin Folders with Smart Cache?).
How Do I Know If Smart Cache Is Enabled?
For Smart Cache enabled devices, the cloud device dashboard settings should show the device status as "Healthy" as shown in the below screenshot.
(right click on the image and open it in a new tab for a larger image)

How Many Users Does Smart Cache Support?
Currently, Smart Cache supports up to 300 users on a single device.
How Do I Add More Users to a Smart Cache Device?
Adding users to use a particular device can be done by creating the user in the CFS Web UI and adding it to a group that has been associated with a particular device of interest. Refer to the Product Guide for more details on the steps to create and attach the group to the Smart Cache device of interest.
How Do I Shutdown or Restart the Smart Cache Device?
Smart Cache can be shut down and restarted from the console by selecting specific options.
For instructions on how to perform these operations, refer to the Shutdown or Reboot Smart Cache Device section in the Product Guide.
How Does the Egnyte Desktop App Decide Which Smart Cache Device to Connect With?
Egnyte Desktop App uses an auto-discovery mechanism to look for all Smart Cache devices in the network that the user has permissions for, compares the latency to each device, and identifies the best Smart Cache device to connect.
Listed below is a high-level sequence of steps of the discovery process done by Egnyte Desktop App:
Get a list of all Smart Cache devices in the domain.

What Smart Cache devices are you authorized to connect to?

Which of those Smart Cache devices is healthy?

Between the cloud and healthy Smart Cache devices, which device has the least latency?

Connect to the best device (or fall back to the cloud if it can't connect).
Will Users Lose Access to the Shared Folders if a Smart Cache Device Fails?
Smart Cache uses the Egnyte Desktop App as a single interface for users, so if a device fails, the Desktop App automatically identifies this and services all requests directly to the cloud without any user interference.
However, if the Smart Cache device fails to connect to the cloud in scenarios where the network connectivity is disrupted between the Smart Cache and the cloud, Desktop App users remain connected to the Smart Cache device (offline mode).