MS WOPI v6.11.0, October, 4, 2022.
Egnyte Sharing Options within Microsoft Office Applications Online
This is for existing Microsoft Office Online, where we have opened up Sharing within Office Apps (Word, PowerPoint, and Excel) for the Egnyte Users who now will get Egnyte Sharing to Co-Edit with other users and can invite while working on the documentation, in real-time, without leaving Office Apps. For Admins, all domain settings and sharing settings that you have set up in the Collaborate Product will be applicable, offering a consistent experience across Egnyte.
Enable Microsoft Office Online:
For new domains, if you haven't enabled Microsoft Office Online Integration for the users, first go to your Egnyte Domain -> Apps & Integrations -> Microsoft Office Online, and enable it for your users.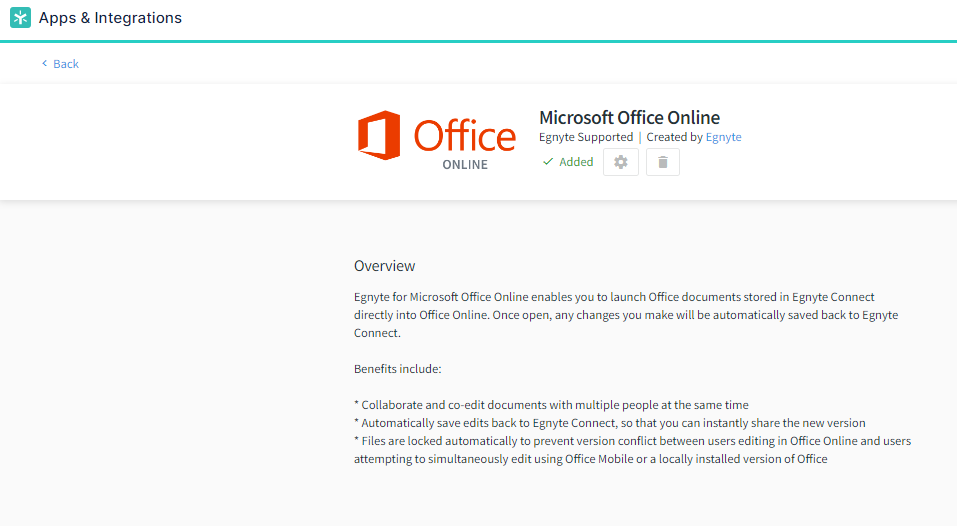 Egnyte Sharing within Microsoft Office Online:
To open and co-edit a file in Office Online, right-click on the file (or click the checkbox next to a file), and if you have edit permissions, then you can hover over Open In..., and choose Co-edit in Microsoft Word Online.

You may need to log in using your Office Business 365 account periodically to verify your Microsoft subscription is active as you will be working with Third party Software.
Next, to edit the file, simply make the desired changes to the file. Any changes are automatically saved to Egnyte as they are made and you can co-edit by inviting other Egnyte users to join you in the document which is a new feature added to Office Online integration.
When you open a Word, PowerPoint, or Excel file on the web, you would likely be seeing the Microsoft Share button on the right top side of the window depending on what Office Client version you have.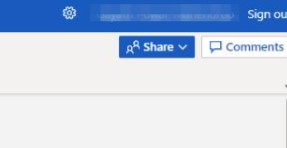 Click Share -> Share, Copy Link or Manage Access.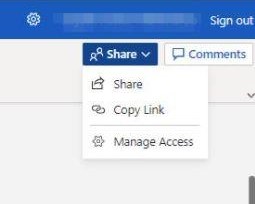 There are some additional options when you click Share. All three options will lead to opening a new browser Tab with the Egnyte Sharing options to another Egnyte user.
Click Email Link, choose who you want to send it too, fill in the short message, and hit Send.
After hitting send, the sender will get a confirmation dialog. Sender needs to close this browser tab after sharing is done, and they can return to working on the office document.
The recipient(s) will get an email with the link to join the sender in the document to co-edit if they have an Egnyte account and correct permissions as it is existing in Collaborate Product.
In your Egnyte domains, if there are any settings, defaults, or restrictions set by the admin, it would be reflected here so, if any questions on chosen options, please do ask your Egnyte admin. Any changes here would need to be done in the Collaborate Product within Settings, and will apply next time.
Standard Users can not share links.