Last Accessed Capability Overview
The File Last Accessed timestamp is a feature specifically visible in the Egnyte Secure & Govern application that can be used to both visualize the aging of your files and folders as well as enforce Retention, Archival, and Deletion policies based on that timestamp.
Files Last Accessed Visibility in Content Lifecycle
The Content Lifecycle application gives you two ways to use the last accessed date to view and manage your data. The option to Filter based on Files Last Accessed is available directly below the Files Created filter from the left navigation pane.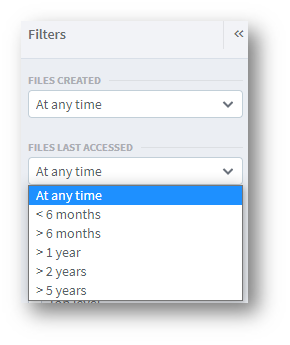 Within the Content Lifecycle dashboard, the Files by last access widget is directly next to the Files by age widget in the middle of the page.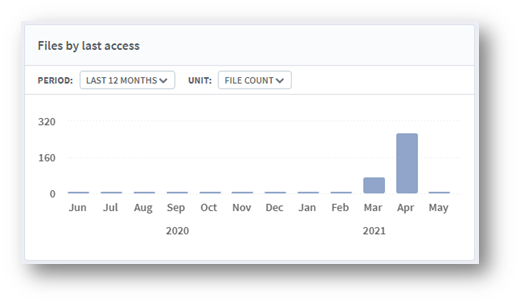 Policies Based on Last Accessed Date
Last accessed based content lifecycle policies allow our customers to efficiently use their storage, retaining regularly used content in active storage and deleting or archiving content that isn't often used.
To create a policy based on the last accessed date, select "last access" from the drop-down menu in any policy creation configuration.
Last Accessed FAQ
Q: What are the requirements for using the last accessed feature?
A: The last accessed feature requires current Egnyte software
No clients using the older Desktop Sync client
Desktop App client versions minimum version of 3.8.0.21 (Windows) or 3.8.1 (Mac)
Storage Sync versions minimum version of 11.4
Q: Why don't I see the last accessed options?
A: If your environment did not meet the requirements listed, the last access capability was not turned on for you. If you would like to have it enabled, reach out to your Customer Success Manager or Egnyte Support to get your infrastructure updated to supported versions.
Q: Why do some files have the same created and accessed date?
A: The last access information on files in the Egnyte system is a functionality strictly within the Secure & Govern application and only tracked there. If no actions have been taken on files after the last access capability was enabled, the system will have no record of when the file was last accessed and will default to the created date (modified date in Collaborate).
Q: What actions will update the last accessed date for a file?
A: Any downloading, viewing or deleting actions will update the last accessed date for a file. Locking from the Desktop App will update the last accessed date but locking from the WebUI will not.
Q: Does the system consider file versions when displaying the last accessed date?
A: If a file has multiple versions, the last accessed date from the current version is used (or current version creation time if no last access date is stamped).
Q: Why don't the Last Accessed filters show any data from my non-Egnyte sources (O365, Box, etc...)?
A: The Last Accessed capability is currently only available for Egnyte sources. Additional sources will be added in the future.