Audience
Any user of the Migration App.
This product is currently in Limited Availability. We invite any Customers interested in using the product to engage Egnyte Professional Services or their Customer Success Manager to have it enabled for their domain.
Context
Sanitization is the function of renaming files and folders to map to Egnyte naming conventions. After the initial scan, you will have the opportunity to review any files and folders that have unsupported or conflicting names. During sanitization, all unsupported characters are replaced with an underscore.
For long-time users of Migration App, please be advised that sanitize is no longer an atomic command but is included with every migration metacommand
Options Dialog Box
When you select Migrate Data or True-Up Data, an options modal will appear: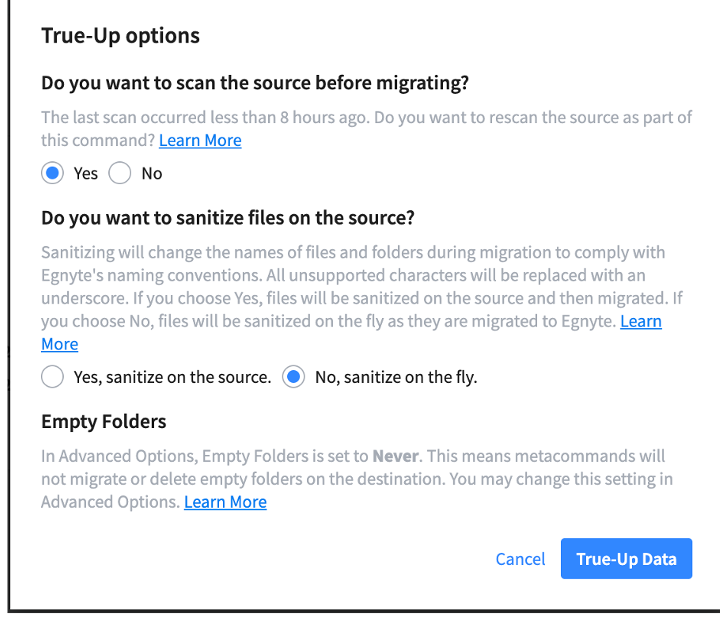 Choosing sanitize on the source means that any unsupported characters in filenames will be changed on the Source to an underscore before migrating.
Choosing to sanitize on the fly means that unsupported characters in filenames will be changed during migration and nothing will be changed on the source.
Once you have made your selections in the modal, click Migrate Data or True-Up Data and your migration job will proceed.
Considerations
If there is nothing on the source that needs to be sanitized, Migration App will skip the step, regardless of what you have selected.
There is currently no option to completely skip sanitization.
Unsupported Characters
By default, after running Sanitize in Migration App, the following unsupported characters in filenames are replaced by an underscore ("_") on the Source:
Unsupported Standard Characters

a space at the beginning or end of a file name

\
:
.
/
"

<

>

|

*

?
Note: Space means an actual space (" ")
Unsupported Unicode Characters

\u2028

\u2029

\u21b9

\u21e4

\u21e5

\u2409

\u240b

\u0001

\u0002

\u0003

\u0004

\u0005

\u0006

\u0007

\u0008

\u0009

\u000A

\u000B

\u000C

\u000D

\u000E

\u000F

\u0010

\u0011

\u0012

\u0013

\u0014

\u0015

\u0017

\u0018

\u0019

\u001A

\u001B

\u001C

\u001D

\u001E

\u001F

\u007F

\u0080

\u0081

\u0082

\u0083

\u0084

\u0085

\u0086

\u0087

\u0088

\u0089

\u008A

\u008B

\u008C

\u008D

\u008E

\u008F

\u0090

\u0091

\u0092

\u0093

\u0094

\u0095

\u0096

\u0097

\u0098

\u0099

\u009A

\u009B

\u009C

\u009D

\u009E

\u009F
These limitations are not imposed by Migration App independently, but rather reflect Egnyte's overall character support and file type limitations. To find out more, see this Helpdesk Article: Unsupported Characters, and File Types.
Questions? Feature Requests? Other Feedback?
If you have feature requests or suggestions, feel free to submit them on our Product Board, and be sure to mention Migration App in the text.
For more complex requests that would benefit from providing screenshots or other attachments, you may submit them to support@egnyte.com. Be sure to include Migration App in the email title. Our Support team will push your comments to the Product team for consideration.