The Risk score is shown in your Secure & Govern instance in the dashboard view if you have at least one issue detected and/or sensitive content location based on your analysis rules and classification policies. The score is based on open issues and sensitive content detected in your content sources. Monitoring and reducing your risk score can help reduce the risk posed by data and how it is exposed and accessed across your content sources.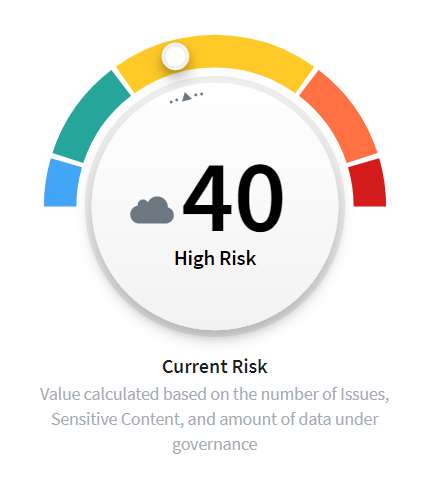 How the risk score is calculated
The risk score is based on a variety of factors:
How to reduce risk
Reduce the number of open issues
Navigate to the Issues tab and choose the option to either 'Fix' or 'Ignore' open issues.
Prioritize resolving high severity and older open issues to have a larger impact on your risk score and security profile.
Reduce the number of unpermitted sensitive content locations
Navigate to the Sensitive Content tab to review sensitive content locations. You can either permit or remediate unpermitted sensitive content.
Turn on the filter to only view locations with unpermitted sensitive content and prioritize resolving high risk locations, older locations and locations which are accessible to many users to have a larger impact on your risk score and security profile.
Create content lifecycle policies
Navigate to the Content Lifecycle section under Settings to create policies that can automatically remove or archive content from sensitive or highly accessible areas.
Creating lifecycle policies for classification policies can reduce your risk on an on-going basis, particularly when targeting high risk classification policies or locations which are known to be accessible to many users.
FAQ
Is it possible for my risk score to be reduced when I add a new content source?
Yes, this is possible because the risk score is adjusted to take into account the total amount of content being scanned. If you add a source with relatively fewer issues and sensitive content locations, you may reduce your overall risk score.
Why do I see a change in risk score despite a lack of significant activity?
Here are some examples of indirect actions or events that can affect your risk score:
leaving open issues or sensitive content in unpermitted locations for extended periods of time (can increase risk over time),
enabling or disabling classification policies which can increase or reduce the amount of sensitive content found (can increase or decrease risk, respectively),
increasing or decreasing the severity of specified issue types by changing analysis rules (can increase or decrease risk, respectively),
adding new content to scanned repositories that is relatively more or less sensitive (can increase or decrease risk, respectively), and
actions from users or content lifecycle policies in your content sources that result in sensitive content being removed or the underlying reasons for issues being resolved (can decrease risk)
How often is my score updated?
The risk score is re-calculated every 24 hours, so any actions can take up to a day to reflect in your risk score.
Learn more about Risk Scores by watching a Quick Tip on Egnyte University: Risk Scores