A Legal Hold retains content related to a legal matter, securing all files created by selected users (referred to as custodians) within the specified date range. Typically, legal holds occur when litigation is pending or anticipated, when your company is subject to a government investigation or internal audits, or when any other matter forces your company to hold on to their records. This article will teach you how to create a legal hold policy and how to make edits to existing legal holds.
Skip Ahead to...


Create a Legal Hold Policy
From Protect, open the Legal Holds tab and select Add Legal Hold.


Enter the Legal Hold Name, Description (optional), and Legal Matter.




If

If you would like to further customize the legal hold, you can enter in a date range so only file versions created during that time will be retained. You can also select a custodian(s), so only file versions last accessed (created, accessed or deleted) by the selected custodian(s) will be retained.
N.B.- Currently, access and delete events only from the Egnyte Connect web interface are accounted for in a Legal Hold.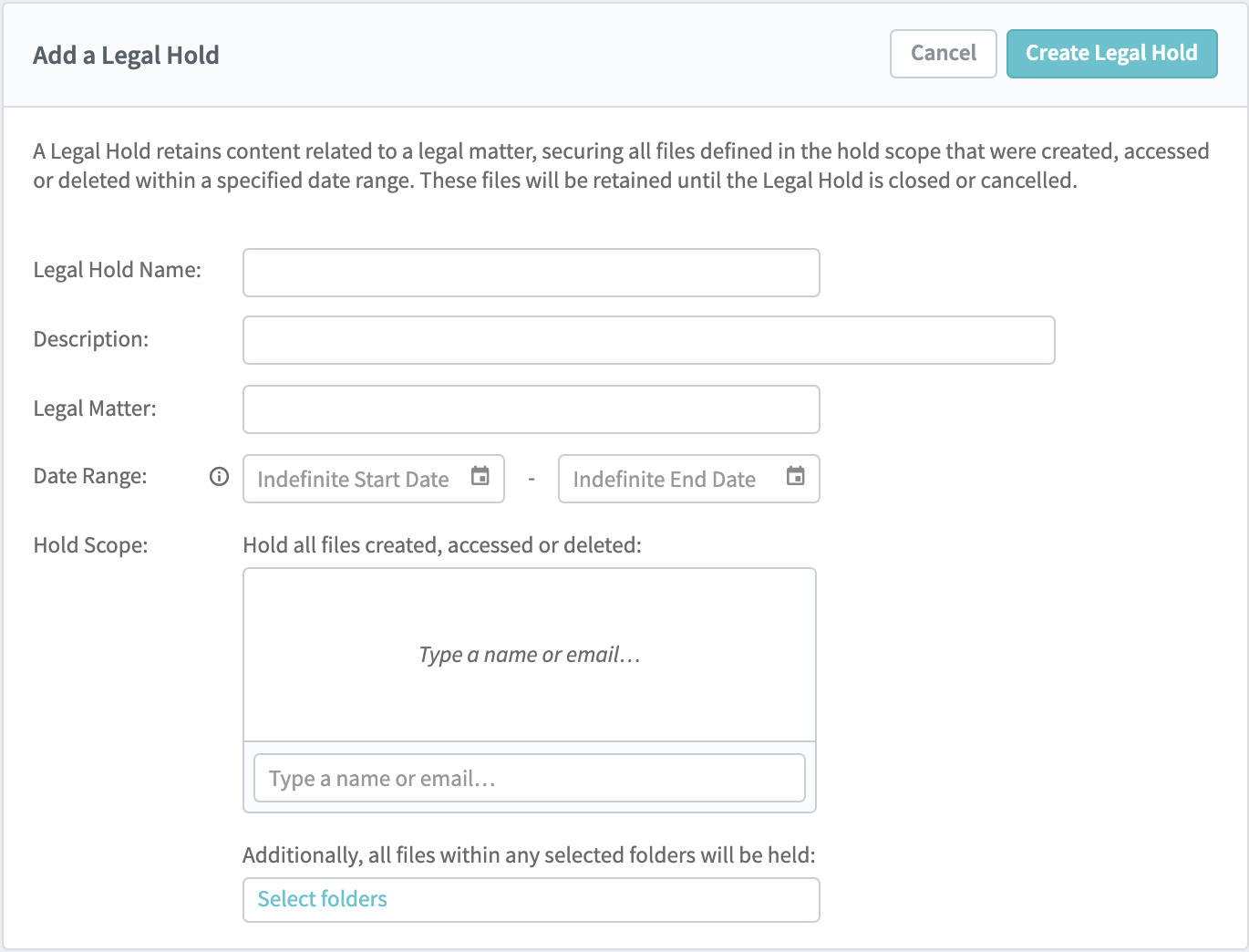 4. Click Create Legal Hold once all of the information has been entered.
Make Changes to a Legal Hold Policy
Open the Legal Holds tab, click the three dots next to the legal hold you'd like to adjust, and select the appropriate option from the drop-down.

Edit: Make changes to the existing legal hold policy
Close: Release the files held in retention under the legal hold policy
Delete: For an Open legal hold policy, it releases all documents that are held in retention and deleted the legal hold policy. For Closed policies, it will only delete the legal hold policy.




If you selected Edit, click Edit Legal Hold once your changes have been made to apply them to the policy.
View Files Under a Legal Hold
Open the Legal Holds tab, click the three dots next to the legal hold you'd like to adjust, and select Show results.




From here, you can select Export File List to download an .xlsx file or click Show file to view the file in Connect.