Product: WebUI v81.8.0 & UI v1.211.0  Release Date: November 08, 2023  
Subject change for Folder Notification Emails
With this release, the subject in the folder notification emails is being updated to include the users' first and last names who are performing various file & folder operations on Egnyte such as adding, updating, etc. This allows the recipients to have better visibility and control of changes being made by others in their Egnyte domain, and therefore not miss important updates. See more about folder notifications here.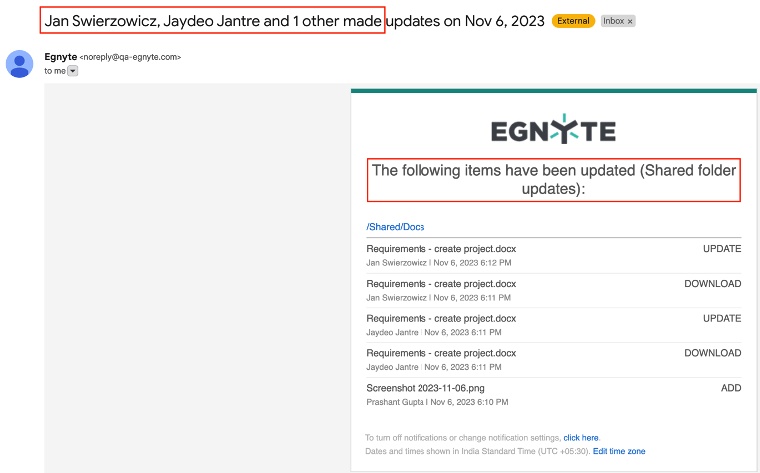 The current subject includes the text Shared folder updates. The updated subject includes a maximum of 2 user names with a count of others whose changes are included in the folder notification email.
Users who've created rules in their email clients (e.g., on Exchange, etc) based on the 'subject and body' will not be impacted as the earlier text Shared folder updates have been added to the body as well
However, the users who've created rules specifically matching the subject only will be impacted as those rules will not catch the updated emails. Such users will need to create and/or update their rules as needed.
Escalations and Key Issues Addressed 
Project Template applying Incorrect Permissions to Project Folder
There was an issue where the permissions were getting assigned randomly to sub-folders during project creation from a template(with permissions pre-configured via JSON). This issue has been resolved.
Unable to Download User and Group Permission Report
There was an issue with the user and group permissions report, where many users were unable to download the report. This issue has been resolved.
Additional Information and Resources  
 The current release contains a few improvements to existing functionality.
Minor performance, security and stability improvements

Minor logging and UI improvements

Minor bug fixes