The powerful integration of Egnyte and Microsoft Office Online enables a seamless user collaboration experience. This article covers how to use the Office Online integration, but you can also leverage the Egnyte Add-in for Microsoft and use Egnyte for Office from your mobile device (iOS, Android, and Windows). In addition, Egnyte's support for Office Online's co-authoring capability enables multiple users to simultaneously edit the same document while viewing changes made by others in real time.
Overview
Many of our customers rely on Microsoft Office to stay productive. Microsoft's Office 365 for Business subscriptions include Office Online, an online version of popular applications like Word, PowerPoint, and Excel.
That's why we're excited to announce Egnyte for Microsoft Office Online, which lets users open Office files into Office Online directly from Egnyte's web interface. Any changes made will automatically be saved back to Egnyte. This means you can edit files natively in Office without needing anything more than a web browser.
Adding the Microsoft Office Online Integration
An admin user on your domain should enter the Egnyte App Store by clicking "Apps & Add-Ons" in the Web UI. Then, hover over the Egnyte for Microsoft Office Online app and click the Settings icon.  Choose either the "Allow users to add" or "Add for all users" option.
Add for all users: This is the simplest way to deploy the app to all users in your organization. This option makes the app instantly available for all users and is best when all of your users have an Office 365 subscription.
Allow users to add: This makes the app visible to all users on the Apps page; but, each user must add the app on their own. This is best for organizations that do not have Office 365 licenses for all users.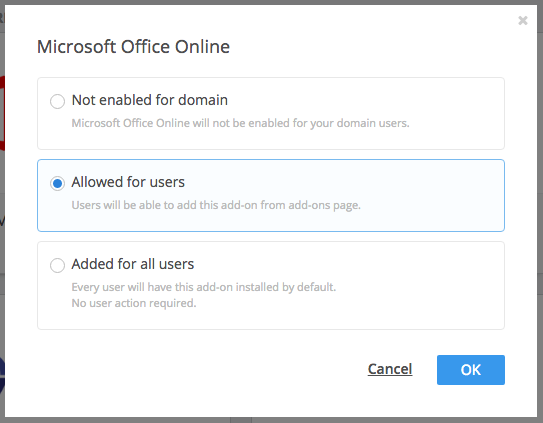 Configuring Office Online Integration to hit a Specific Microsoft Endpoint 
Customers have the choice to utilize a specific Microsoft Endpoint that they want to hit for this integration, it can be a specific Azure Endpoint from a Specific Country from which they want the service to be served or a Microsoft On-Prem End Point which also supports On-Prem Co-Authoring.
If customers want to configure a Customized Microsoft EndPoint for this integration the current process is
1. Send an email to pint@egnyte.com with Domain Name and the Customize URL and a Contact Point from the customer.
We will take care of it on a case by case basis.
Using the Office Online from Egnyte
a. Creating a New Microsoft Office365 File from Egnyte Web UI 
Egnyte now enables you to create a new Office 365 File (Word, Excel, or PPT) directly from your Egnyte Web UI. 
To Create a New Office File, simply navigate to your Egnyte Web UI and click on the "New" Menu as shown below.
Based on the type of document, it will take you to a new tab where you specify the file name as shown below and start working on the new document. All changes are automatically saved back to your Egnyte Cloud Storage.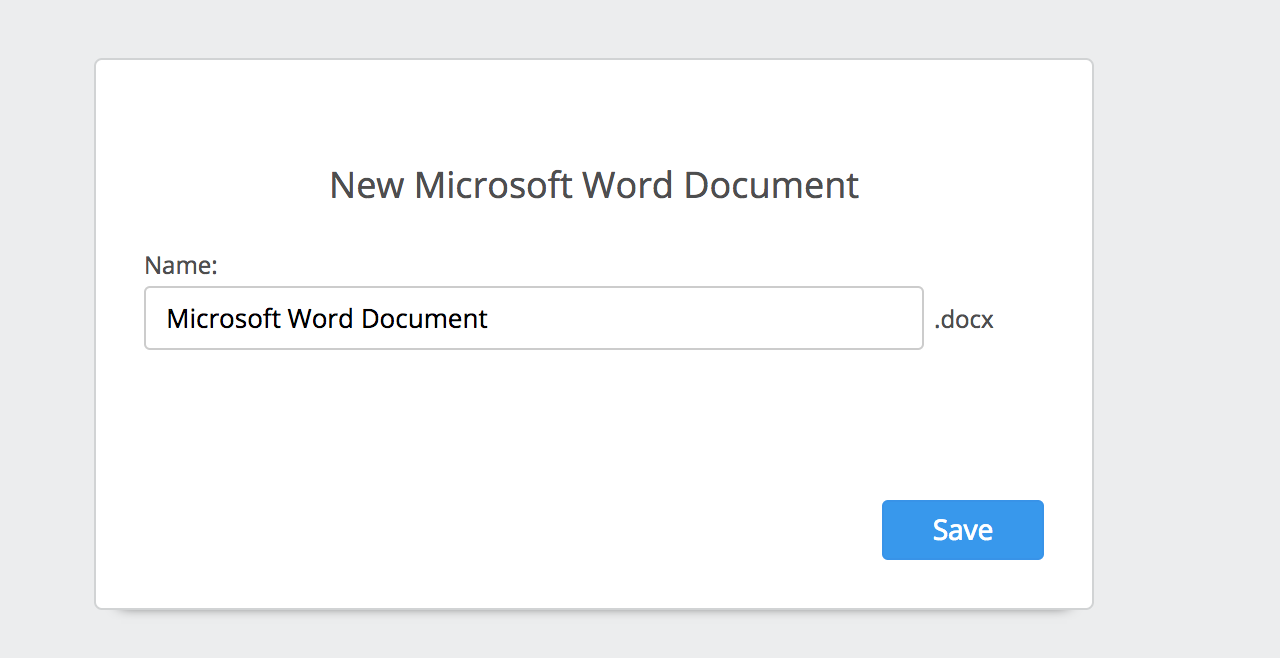 b. Opening and Editing an Existing Office File
To open a file in Office Online, simply right click on the file (or click the checkbox next to a file) and choose the option "Edit in Word Online." 
You may need to log in using your Office 365 account periodically to verify your subscription is active. Once you've done that, you should see your file is ready for editing.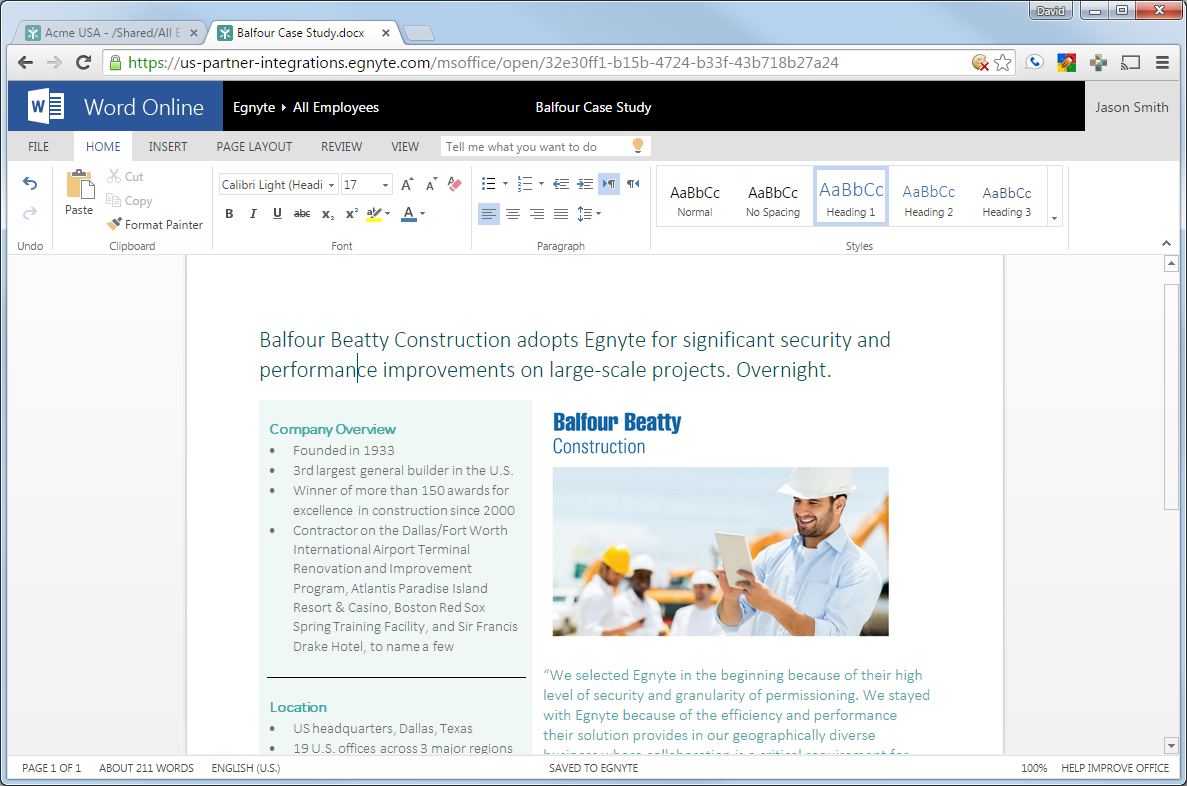 More Information
Office 365 Licensing Requirements
You must have a valid Office 365 for Business subscription to edit files. More information on Office 365 for Business licensing is available here.
Supported File Types
You may notice some Office files have an "Edit" option while others may only have a "View" option. This is because Microsoft Office Online only supports their newer file formats (e.g. docx, pptx, xlsx) for editing in Office Online. Others are supported in a view only mode. A list of supported extensions is available here.
Other Notes
Office Online has a more limited feature set than the installed version of Office. Many special features like forms, advanced document elements, etc. can result in an error message prompting you to use read only mode.
Microsoft imposes API size limits for Office Online files.  API limitations are imposed equally on all of Microsoft's partners.  Egnyte's own API is not limited by these constraints; it will automatically allow larger files to work with Microsoft applications when Microsoft removes or reduces their limitations.  Please refer to this Microsoft article for the specific limits for each Office Online application.