Folder options allow specific users to add descriptions to make the right folders easier to find, limit what other users can do with the folders, and set up notifications when specific actions are taken. We'll review the different options you have to ensure you're getting the most out of our flexible folder options.
Skip Ahead to...


Access Folder Options

Folder Details & Options can be accessed under the More drop-down in the folder action menu.

You can also find them by selecting a folder and choosing Details & Options from the action menu in the Web UI.
Folder Descriptions
If you have Full or Owner permissions to a folder, you can write a folder description. This is a great way to differentiate folders with similar names or provide information about the contents of the folder. The folder description you provide will be seen by all users with access to the folder.

To add a folder description, open Details & Options and scroll down to the Description section. Click the Edit icon, type in your description, and click Save. Descriptions can be seen from the Web UI and mobile apps.
Delete and Move Permissions
Admins and users with Owner permissions can choose to grant or revoke delete and move permission for a folder. The fixed folder setting allows Admins and folder owners to prevent users with full permissions from moving, deleting, or renaming the folder.
These folder settings can be found under the Options tab of the Details & Options dialog box.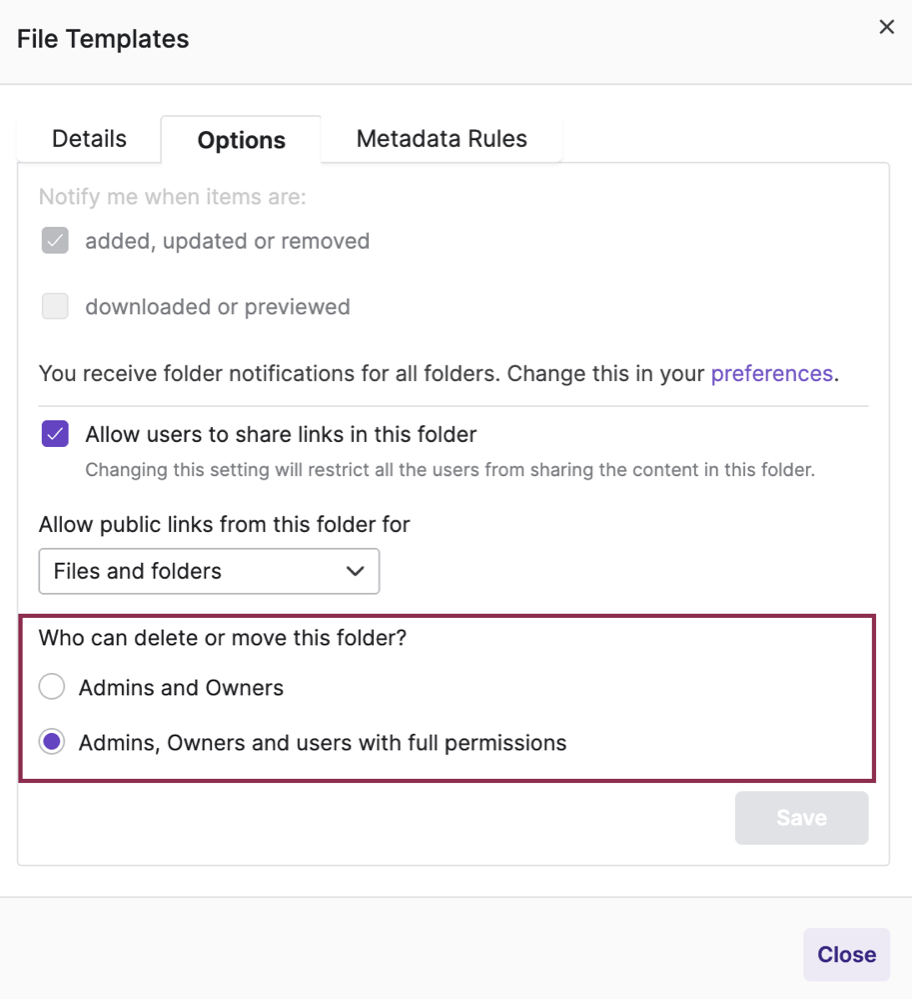 Turning this setting on enables Admins to empower their users while simultaneously protecting against accidental deletions of valuable content.
Keep these details in mind when using this setting:
Egnyte supports four different levels of folder access: Owner (Download/Edit/Upload/Delete + Permissions Management), Full (Download/Edit/Upload/Delete), Editor (Download/Edit/Upload), and Viewer (Preview/Download). You can find more details on Egnyte's permission levels here.
This setting is not enabled by default; Admins or folder owners must allow this setting on a per-folder basis. Unlike some other folder options settings, this setting is not inherited by sub-folders.
Marking a folder as fixed does not prevent a user with Full permissions from deleting files or sub-folders within that folder.
Top-level folders are always fixed, meaning only Admins and users with Owner permissions can move, delete, or rename them.
Users with at least Viewer permissions can copy top-level folders.
Folder Notifications
You can configure folder notifications by selecting Details & Options and clicking on the Options tab. The folder notifications you set here will apply only to you. These and other folder notifications are discussed in-depth in a separate article.