This article describes how Egnyte's mobile apps and Microsoft Intune can be used together for device entitlement, app deployment, and enhanced security. The FAQs clarify the key building blocks of the Microsoft Intune and Egnyte mobile apps blend. The references include links to detailed setup and configuration guides.
Microsoft Intune and Egnyte Mobile Apps
Microsoft Intune is one of the most powerful Mobile Device Management (MDM) and Mobile Application Management (MAM) solutions, enabling seamless device enrollment, configuration, policy enforcement, and control over applications. It can be used with Egnyte Mobile Apps for
Device Entitlement
Application Deployment
Setting Up and Managing Protection Policies.
Using Microsoft Intune for Device Entitlement
In addition to purchasing the Egnyte Device Control package, a configuration policy for enrolling managed devices can be created in the Microsoft Intune Endpoint Manager. Before, such a policy is created in Intune, an admin must enable the Mobile Device Entitlement feature from WebUI and generate the Mobile Device Entitlement Token.
Once saved, the token will not re-appear. Be sure to securely save this token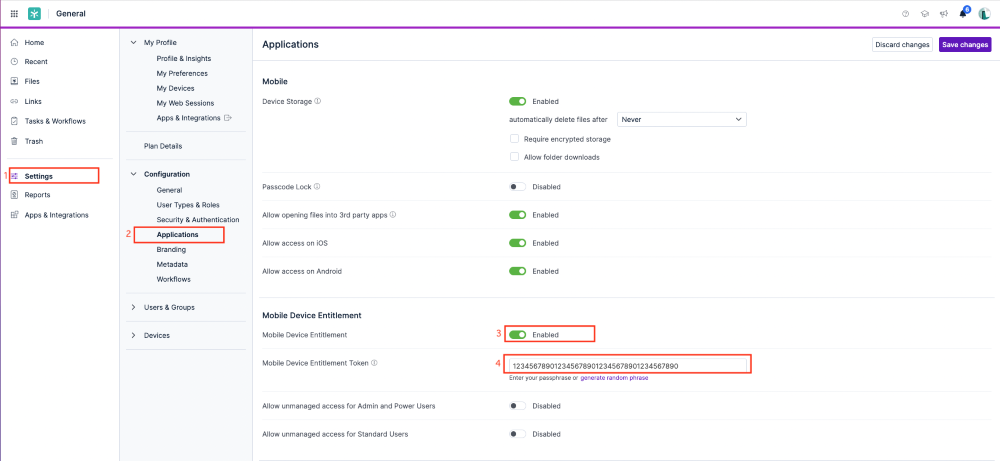 Next, create an App Configuration policy in the Microsoft Intune Endpoint Manager.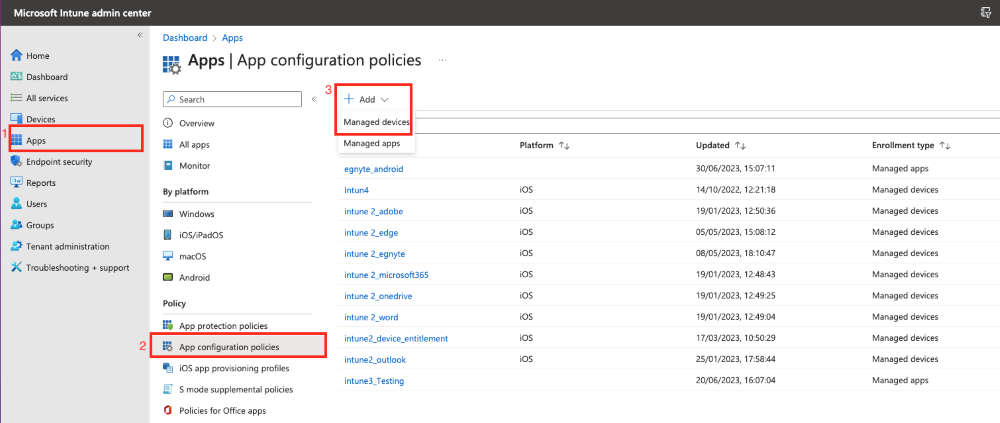 When the Configuration key is requested, enter the Entitlement token generated in the first step in the configuration value slot.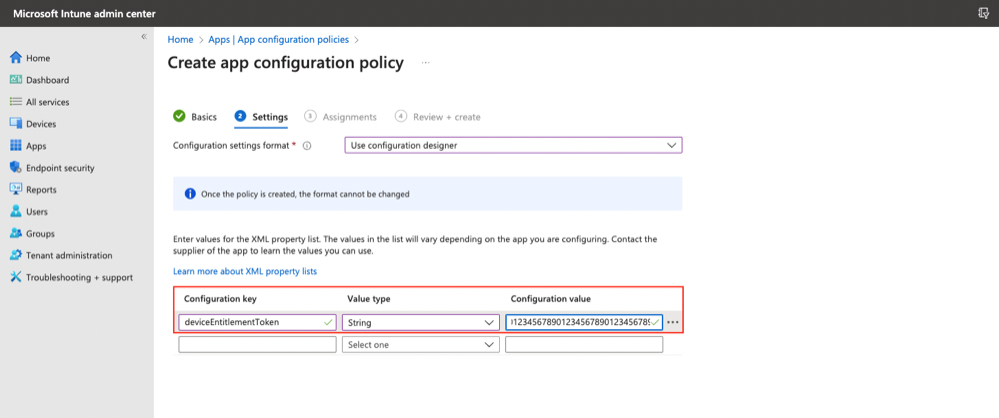 On the next screens, users or groups of users will need to be assigned the policy.
Organizations that use Intune for device entitlement only are recommended to consider the regular version of the Egnyte mobile apps.
Using Intune for Application Deployment
The Egnyte mobile apps can be easily deployed on Intune-managed devices so that employees can access their files while sticking to the security rules set by Intune. Organizations that use Intune for application deployment only are recommended to consider the regular version of the Egnyte mobile apps.
For detailed guidelines regarding the deployment process, refer to Microsoft Intune.
Using Intune with Protection Policies
In a more advanced scenario, protection rules including passcode requirements, encryption settings, restrictions on data sharing, and more can be created and assigned using Intune. Organizations that use Intune with protection policies should choose the Egnyte for Intune version of the app (available for iOS only). It is important to remember that the Egnyte for Intune (iOS) app requires an app protection policy to be set up, otherwise logging into the app might be not possible.
Detailed guidelines describing how to create and assign Intune policies can be found on Microsoft Intune websites.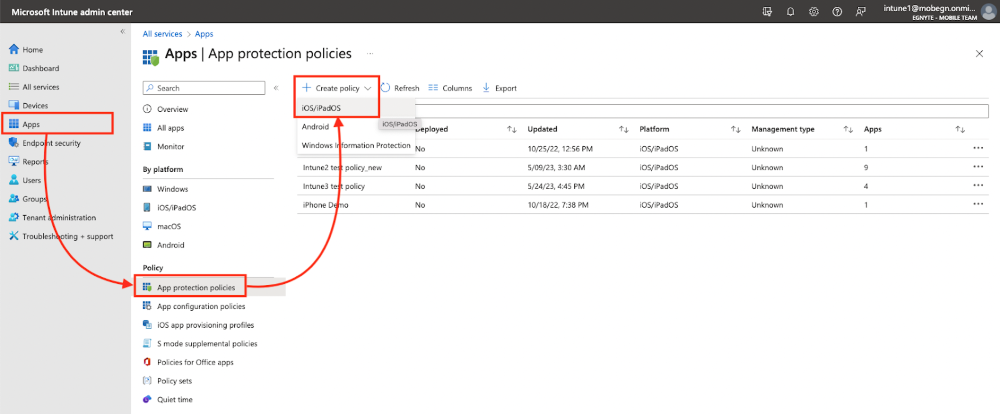 FAQs
What is the Difference Between the Egnyte (Regular) iOS App and the Egnyte for Intune iOS App?
The Egnyte for Intune iOS app is specifically tailored to work in conjunction with Microsoft Intune's mobile application management capabilities.
It includes additional features and integrations that align with Intune's policies, enhancing security and control over how the app interacts with sensitive data.
Egnyte for Intune supports app protection policies enforced by Intune, which can include requirements for passcodes, biometric authentication, data encryption, and restrictions on data sharing between the app and other applications.
This version of the app provides a more granular control over app behavior and security settings
Can the Egnyte Android App Be Used with Microsoft Intune?
While Egnyte doesn't offer an Android app wrapped up in the Intune SDK, you can still use the Egnyte Android app in conjunction with Microsoft Intune to manage device entitlement and application deployment.
Is There a Distinction in Functionality Between the Egnyte for Intune iOS App and Its Regular Counterpart?
While the Intune app introduces enhanced security through app protection policies, which are crucial for seamless login experiences, there are certain aspects to note. Specifically,
features like the File Provider extension, which integrates with the iOS Files app, and the Microsoft Office integration, are disabled in the Egnyte for Intune app.
using both the regular and Intune app concurrently could pose potential challenges due to shared URL schemes and isn't recommended and supported
the Egnyte for Intune app is updated less frequently than the regular app, which may result in new features being added with a delay of up to a few months in comparison to the regular app.
What Do I Need in Order to Use Intune as MAM/MDM?
To use Microsoft Intune as Mobile Application Management (MAM) and Mobile Device Management (MDM) tool, you'll need an active subscription to Microsoft Intune and the compatible devices (such as smartphones and tablets) that you want to manage.
What is Microsoft Intune Endpoint Manager?
Microsoft Intune Endpoint Manager is Intune admin interface designed to simplify and enhance the management of devices and applications within an organization's IT infrastructure. It combines mobile device management (MDM), mobile application management (MAM), and PC management capabilities into a single platform. The goal of Microsoft Intune Endpoint Manager is to provide a unified approach to managing endpoints, which includes mobile devices, computers, and other devices, regardless of their location.
What is Company Portal in the Context of Intune?
In the context of Microsoft Intune, the "Company Portal" refers to a dedicated app that provides users with a centralized hub for accessing corporate resources, applications, and settings on their managed devices. It's essentially an application that allows employees to interact with their organization's IT policies and services from their mobile devices or computers.
What are Protection Policies?
App Protection Policy is a feature within Microsoft Intune that allows you to define a set of rules and restrictions for how apps (especially business apps) should behave on a device. These policies help protect sensitive company data and maintain security while allowing employees to use their devices for work.
Why Do Organizations Create and Implement App Protection Policies?
When you set up an app protection policy, you can control how the Egnyte app interacts with sensitive company data. For instance, you can require the app to prevent data sharing between the app and personal apps or adjust the level of control of the app based on various factors, such as the user's location, network environment, and device status.
Can Microsoft Intune Be Used for Managing the Regular Egnyte Mobile Apps (iOS and Android)?
Intune can be used to a limited extent for managing the regular Egnyte mobile apps (as opposed to the ones wrapped up in Intune SDK), particularly for application deployment or for device entitlement, but not for assigning advanced protection policies.
References
Using Intune for Device Enrollment