Product: Web UI Release Date: August 31 2022.
Differentiated Link Expiration for Public and Private Links (Limited Availability)
Domain admins now have the ability to assign different expiration default policies for links depending on whether the link will be shared with domain users and known third parties, or whether it will be shared with anyone. Links that are shared with domain users or with specific email recipients are considered Private, while links that are shared with 'Anyone' are considered Public. See this helpdesk article for more details on link sharing.
Admins can set the default and max expiration values for Public and Private links via the settings dialog.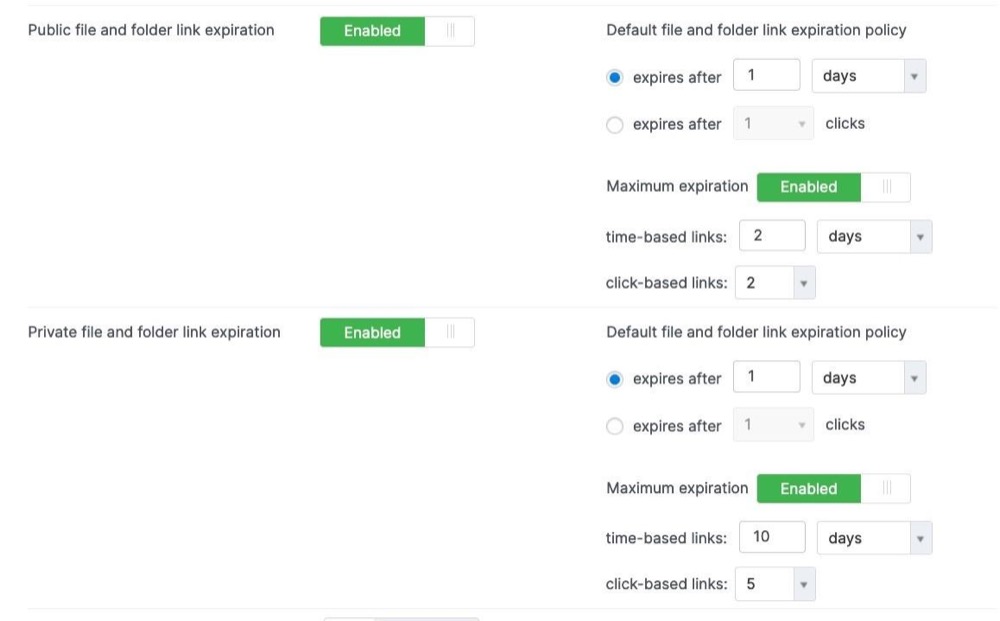 The default values set by the admins are automatically applied when users create links. The users can choose to change these values in the Web UI at creation time. However, they cannot set any value beyond the maximum specified by the admin.
Issues Addressed
Unable to Search with Filter Applied on WebUI
There was an issue where the user could not search with the updated filter applied. This has been resolved.
Unable to Upload Multiple Large Files in One Go on WebUI
There was an issue where the user could not upload multiple large files in one go. This has been resolved.
Additional Information and Resources
The current release contains a few improvements to existing functionality.
Minor performance and stability improvements

Minor logging improvements

Minor UI improvements and bug fixes
The changes will be available to all users on Sep 01, 2022.