The GxP Compliance Portal is an application that provides GxP customers with access to validation packages, risk assessments, and other documents created by Egnyte to help the customer in maintaining GxP compliance.
Accessing the Portal
The GxP Compliance Portal is available to Egnyte domain administrators and can be accessed from the hamburger menu: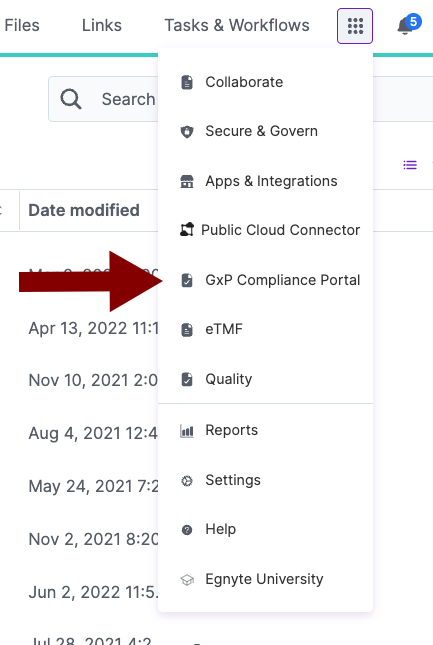 Portal Contents
The portal's dashboard serves as the home page and includes links to the other sections of the portal. The dashboard also includes an inline summary of the latest Production Qualification Report.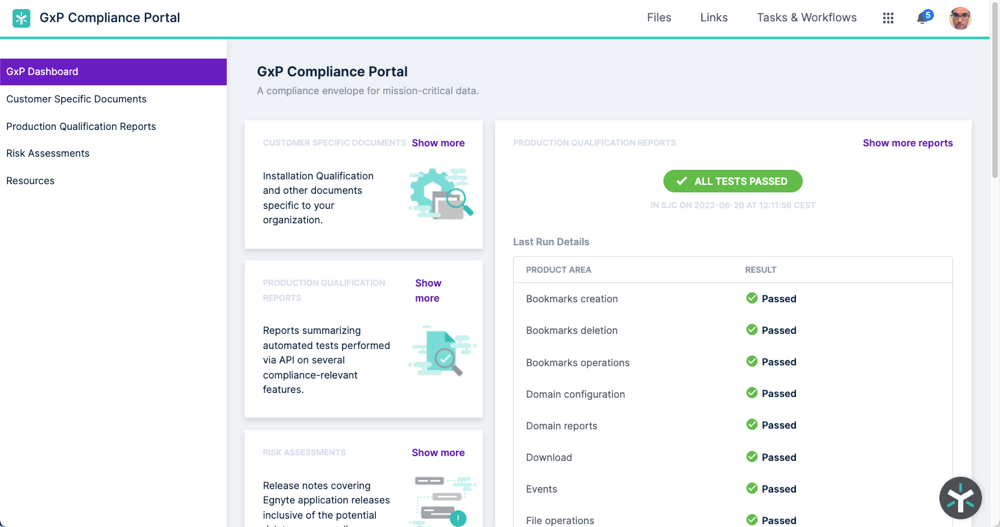 The following are the sections of the GxP Compliance Portal, versions 2 and greater:
| | |
| --- | --- |
| Section | Description |
| Customer Specific Documents | Installation Qualification and any other customer-specific documentation. |
| Production Qualification Reports | Automated daily test results that verify the behavior of core application functionality in the customer data center. |
| Risk Assessments | Release notes for new application versions that include GxP risk assessments. |
| Resources | Helpful documents that may aid in validating Egnyte or understanding the documents in the other sections. |
Each of these sections provides a file browser that allows you to access, search, preview, and download the documents. You can also download entire folders or sections as a zip file.
Files within these folders are read-only and are updated by Egnyte. End-users do not have the ability to add or update documents in the GxP Compliance Portal.