Secure & Govern Role-Based Access Control (RBAC) now supports fine-grained role entitlements. One of the most significant benefits of fine-grained access control is that it allows for varying degrees of access. Administrators can now restrict access and delegate specific responsibilities to other users.
In cases where a user has multiple roles, an administrator should configure how RBAC and role entitlements are applied, so any conflicts between roles are addressed, and a user does not end up with more entitlements than intended. This is one way that organizations can ensure the separation of duties.
Predefined Default Roles
Our solution supports three predefined default roles: Admin Role, Basic User Role, and Data Owner Role. These are the most commonly used roles in most organizations. The entitlements of these roles have been predefined and can be directly assigned to individual users. The Admin Role will have all the privileges and permissions for the entire system. Basic User Role will have the ability to log into Secure & Govern but very limited system access. Data Owner Role will have the ability to log into Secure & Govern but limited to only the folders that were assigned as Data Owner.
For more information on Data Owner restricted view option see Data Owner - Restricted Views in Secure & Govern.
Custom Roles
With Custom Role, administrators can grant precise privileges based on each user's responsibilities and business needs.
Fine-Grained Role Entitlements
Administrators now have more fine-grained control over all user entitlements. The entitlements available, for each Secure & Govern product segment/view, are described below.
There is an on/off toggle switch for each product segment/view. When the toggle is turned off, the role will have no entitlements to access the product segment/view.
Issue Entitlements

User See Options:
All Issues
Issues in locations they have permission to
Sensitive Content Entitlements

User See Options:
All Sensitive Content
Sensitive Content in locations they have permission to
Permissions Entitlements

User See Options:
Permissions in all folders
Permissions in folders they own and where they are Data Owners
Permissions in folders where they are Data Owners
Content Lifecycle Entitlements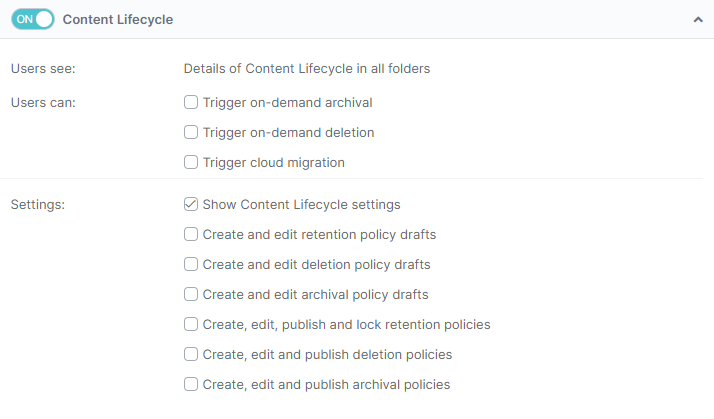 User See Options:
Details of Content Lifecycle in all folders
Legal Hold Entitlements

User See Options:
Compliance Entitlements

User See Options:
Breach Reports
Subject Access Requests
Content Safeguard Entitlements

User see Options:
All Content Safeguard policies
Other Entitlements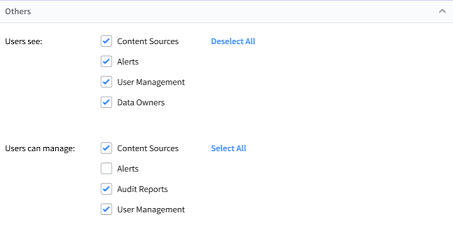 User see Options:
Content Sources
Alerts
Audit Reports
User Management