Administrators in Egnyte can set up a notification for users that exceed a storage size limit within their Private Folder. When this setting is enabled, Admins will receive a weekly summary report with the top 15 users that have exceeded the quota. If a user exceeds the size limit, they will receive a daily notification in their browser and through email until the issue is resolved.
Set Up Private Folder Quota
Sign in as an Admin and navigate to the Configuration tab of Settings and scroll down to the Private Folder Quota section.
Enable the setting, enter a size in GB's, and check the "Notify individual users when the quota has been exceeded" box.
If you would like to exclude certain users from receiving the notification, like C-level executives, check the "Allow specific users to exceed quota" box and select any users that should be excluded.




Once all of your changes are made, scroll to the bottom of the page and click Save.

The Private Folder Size Report gives Admins the opportunity to have a comprehensive overview of Private folders. With the soft storage quota:
Administrators can define a quota for all Private folders
Administrators can receive weekly e-mail notifications with 15 of the largest Private folders exceeding the limit (with an ability to run the whole report)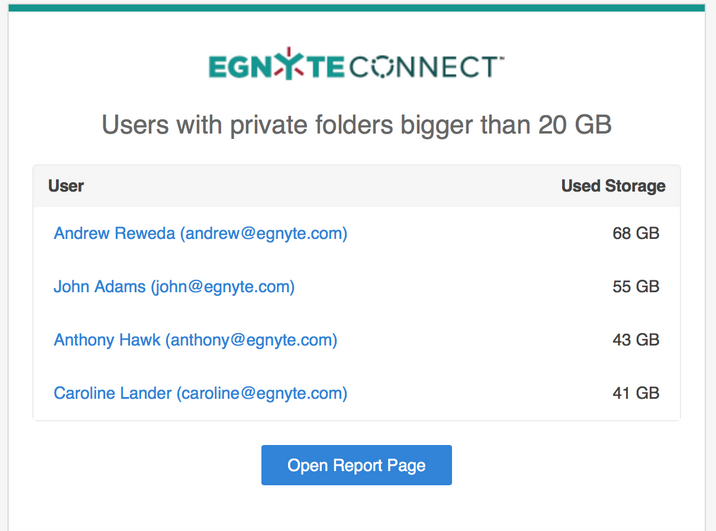 Users will receive a daily notification when entering a Private folder that's over the defined storage quota

Users will also receive daily email notification of their Private folder going above the threshold.

Since we send the daily notification, Administrators do not have to contact each user personally but only those who might not reduce the size of their Private folders from unused and non-work related files.