When you need to create or modify a large number of users or groups, you can use a CSV file to accomplish this. All of these actions can be taken from the Users & Groups tab.
Import Users

Start by clicking the Import Users button.


To create and manage users this way, you need to adhere to a specific template. We recommend that you download the sample CSV file to ensure the users are imported correctly.




This is an example of what your CSV might look like. The table below explains in detail what each column is for.



The order of the columns does not matter when using this feature.


Column Header

Description

Validation

Required

Username

Egnyte username

Only letters and digits

Yes

LastName

User's last name

Any text

No

FirstName

User's first name

Any text

No

Email

User's email address

Valid email address

Yes

Type

User type

power, standard, or admin

Yes

Role

User's role

Any roles created for your account

No

Note: The default selection is the Default role.

AuthType

Authentication authority

Egnyte = Uses Egnyte

AD = active directory

SSO = Uses Single Sign-on

No

Note: The default is Egnyte.

Active

Sets whether user is active or inactive

"yes" or "no"

No

Note: Default is yes.

IdPUserID

Identity Provider user identifier

Any text

No

CreatedBy

Who created the user

Any text

No

LastActive (NEW)

When the user last logged in via Web UI or Mobile, or when they last uploaded or download a file.

MM/DD/YYYY

No

SendInvite

Whether to send an email invitation to a new user, a newly-reactivated user, or resend an email to a user who has never logged in alerting them to account creation and new password. If user is Egnyte authenticated, the invite will always be sent.

"yes" or "no".

No

Note: Default is yes.

UserPrincipleName

Used for Active Directory authentication for child domain or multiple forest environments.

Any valid User Principle Name.

No

Here are some ideas for bulk actions you can perform using the CSV re-import feature:
To add new users, enter the new username as well as an email address and role (e.g., "Standard" or "Power"). Other columns are optional.

To modify existing users, simply change the desired fields as needed

To reset a user's password, type reset in the SpecialAction column

To delete a user, type DELETE in all caps in the SpecialAction column
Periods ('.'), underscores ('_'), and hyphens ('-') can be placed in usernames; however, usernames cannot begin with these symbols, nor can a username end with a period.
Once you've prepared the CSV, you'll need to re-import it. Pick the Choose File action and locate your CSV file. Once the file has been uploaded, be sure to check the appropriate box depending on the type of action you're undertaking.
If creating new users, check the box Allow creation of new users.

If modifying existing users, check the box Allow update of existing users.

If deleting users, check the box Allow deletion of existing users.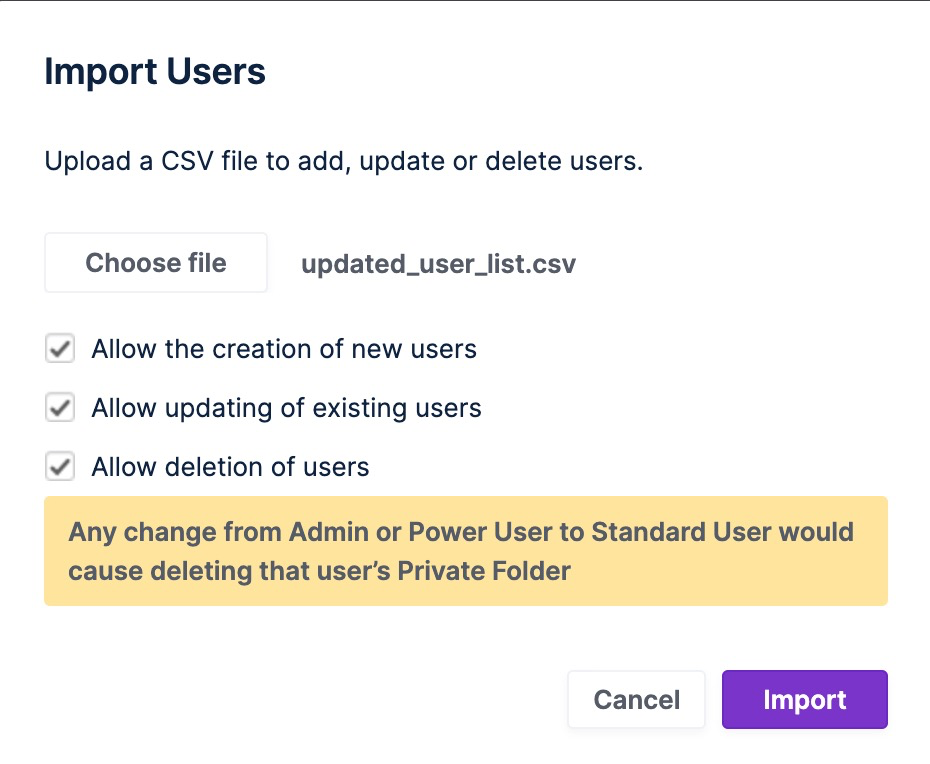 Click on Import to finalize the process and have Egnyte perform your actions.
After you click Import, it may take anywhere from a few minutes to a few hours for Egnyte to process the request. If any errors are found in the CSV file during the import process, you will receive an email with a file outlining the corrections needed for a successful import.
Import Groups
Easily import multiple groups and the users included in those groups at the same time with the Import Groups option. To start the process, switch over to the Group view.
Group owner management is not currently available in the import/export process.
Import a New Group
The same CSV-upload functionality is available for the bulk import of new Groups. Start by downloading the sample file.
Open the CSV file in Microsoft Excel and fill out the spreadsheet. The screenshots below are samples of what your spreadsheet might look like.
In column A under the header Groupname, write the name of the new group(s) you are creating.
For each column next to the group name, write a username that will belong to that group. For example in the screenshot below, groups will be created and users added to each of the groups.
Empty groups will not be imported via this method.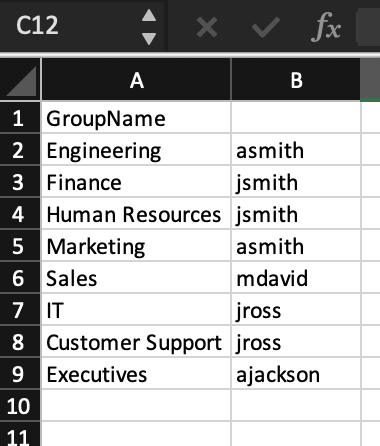 If you list the same group name multiple times with different users, the users will be aggregated into the same group. For example in the screenshot below, a single Engineering group will be created that consists of the users umorris, rcheng, anara, and dlee.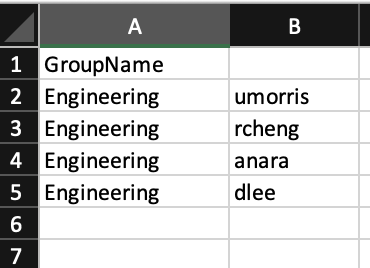 Save the file as a CSV and upload it using the Choose file control. Once you've uploaded the file, be sure to check the Allow creation of new groups option.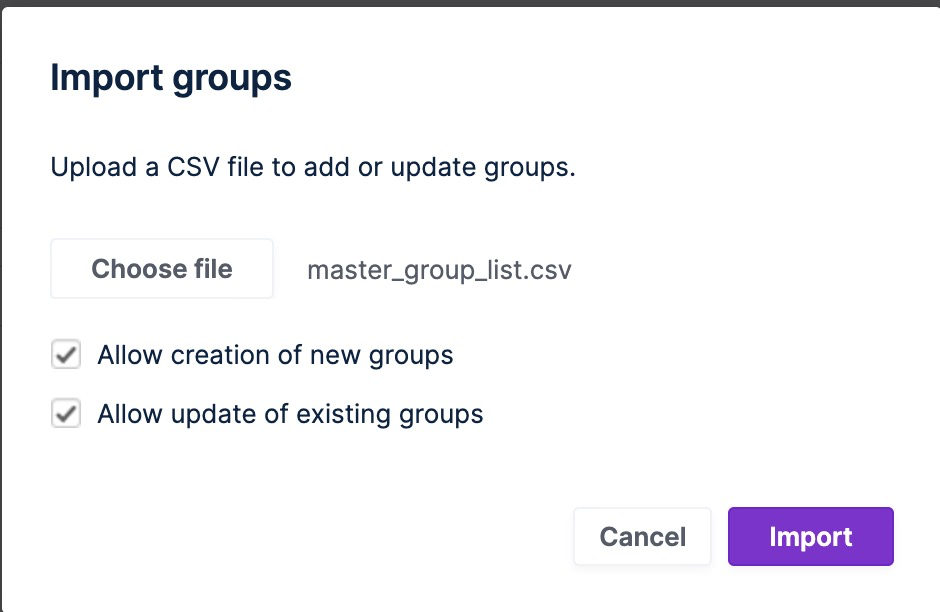 Click Import to finish the process.
Change Groups with Export / Import
You can use the CSV upload capability to change large numbers of existing groups. Start by exporting your current list of groups.

Once you have the CSV opened, you can add or remove groups or users. To remove a user from a group, simply remove the user from that group's row.
To add a new user to an existing group, please be sure to include all of the current users IN ADDITION TO the new user. If you only add the new user, the existing users will be deleted when the modified CSV is uploaded.
When you're done, save the CSV, pick the Import Groups option and upload it with the Choose file action.
Be sure to check the appropriate checkbox if you are adding new groups or updating existing ones.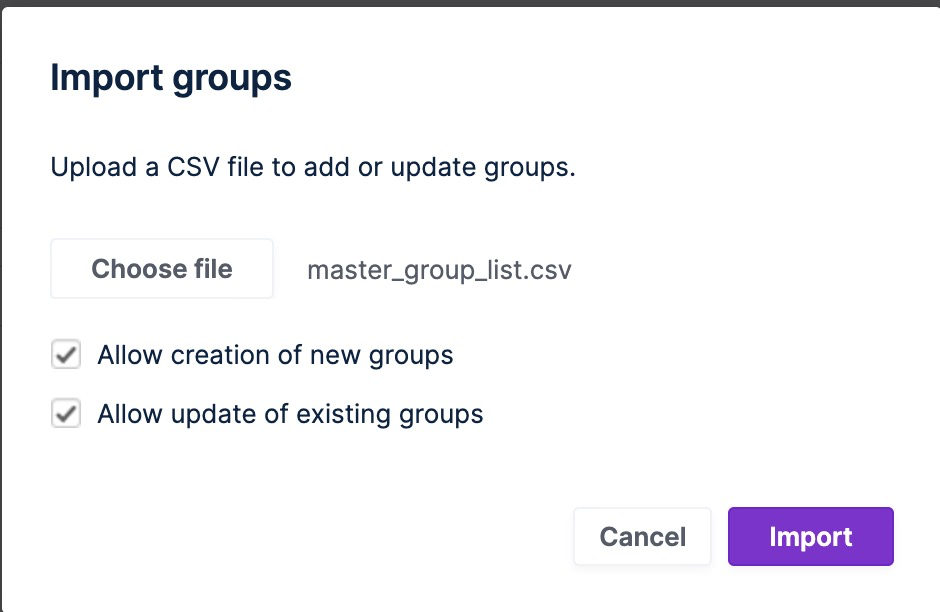 Click Import to finish the job.
FAQ
Can I update emails for many users via bulk user update/import from a CSV file and avoid email validation?
No. SCIM or API can be used to change and automatically have the email address verified. If CSV is used to import users, validation is needed for each email address respectively. For security reasons, when an email address is typed in manually, there should always be a need to validate them while SCIM and API scripts are designed to tie into existing databases.