Admins will learn how to enable and configure the DocuSign app in Egnyte, how to connect the DocuSign app to Egnyte, and how to change the configuration in the future. You can learn more about DocuSign here.
Skip Ahead to...
Enable DocuSign in Egnyte

Administrators will need to enable Egnyte for DocuSign for the appropriate users on their account.
On the Apps & Integrations page, locate the DocuSign app. You can use the Esignature category filter on the left side to quickly narrow your search.
Hover over the tile and click Enable Integration.




Administrators can choose to add the app for all users, certain groups (up to 5), or allow users to add the app themselves.




Click OK to save your changes.



Once the app's enabled, users will be able to add it from the Apps & Integrations page or will automatically have it installed (depending on the option selected).
Connect the Integration
To connect Egnyte and DocuSign, each user will need to allow the integration service to connect to both the Egnyte account and your DocuSign account.

Connect
Navigate to the Apps & Integrations page.



Power Users can skip this step.




Hover over the app's tile and click the gear icon.




You may need to turn off the admin mode to get to the Configure DocuSign window
Click Continue.




A window will appear to connect your DocuSign account to your Egnyte account. Click Allow Access so Egnyte for DocuSign can access your Egnyte account.




You'll be asked to be redirected to DocuSign to authenticate your account. You must have a DocuSign account to use this feature. Click Continue.



If you don't already have a DocuSign account, you can sign up for one via https:/www.docusign.com

Log in with your DocuSign credentials and click Continue.




The Egnyte for DocuSign App is now enabled!



If you close the browser tab/window before logging in or clicking the Cancel button, the app will still show as Added. In this case, you can either use change account to log in or log in when prompted when you next attempt to send a document with DocuSign.
Verify the Installation
After entering your email address and password, you should see the DocuSign app added on the Apps & Integrations page.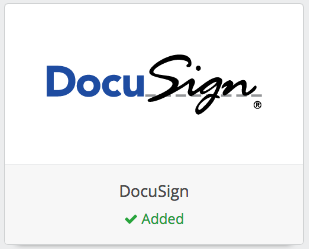 Change Configuration
If you wish to edit the DocuSign account connected to your Egnyte user profile or change who has access to use the app, you can do so from the Apps & Integrations page.
Click the Switch to User Mode button at the top of the page if you're signed in as an Admin User.



Power Users can skip this step.




Hover over the app's tile and click the gear icon.



To change which users can access it, click on the drop-down arrow and select the appropriate option. To remove the app, select Not enabled for domain.
Next Steps