Audience
Any user who is a prior user of the CMM Agent CLI tool wishing to upgrade to the Migration App.
Context
If you are a prior user of the CMM Agent CLI migration tool, and you wish to upgrade to the cloud-based Migration App, you must delete or rename your local egnyte-agent folder before installing the Migration App Agent (the Cloud Migration Manager Agent.)
Error Message
If you installed the Agent and attempted a Scan without first deleting or renaming the egnyte-agent folder, you may have encountered the following error message: Command start error (#1100).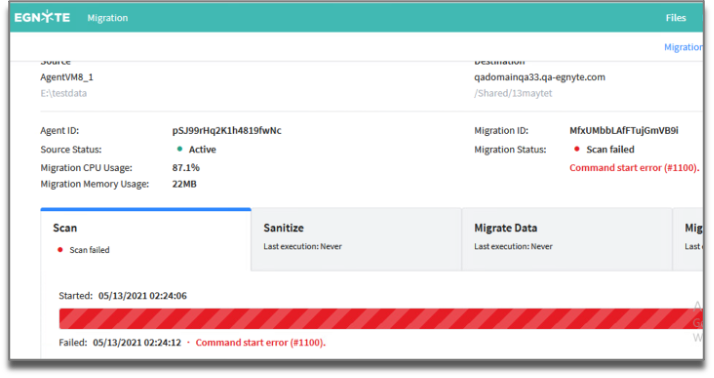 Remedy
Go to the folder where the egnyte-agent folder is located:
C:\Users[username]\AppData\Local\
Rename egnyte-agent to egnyte-agent-old, or delete it.
You will now be able to install the Agent for Migration App successfully.
Questions? Feature Requests? Other Feedback?
If you have feature suggestions or requests, feel free to submit them here, and make sure you mention Migration App in the text.
For more complex requests that would benefit from providing screenshots or other attachments, you may submit them to support@egnyte.com. Be sure to include Migration App in the email title. Our Support team will push your comments to the Product team for consideration.