Document Room capabilities are available only through dedicated Document Room Plans - Document Room and Document Room Enterprise.
Contact your account manager or Egnyte Sales team to get started with the new document room plan.
Before the document rooms can be created, managed, and utilized, the following configurations must be in place to ensure that all the necessary features have been set up.
Branding Configurations
Administrators can customize your Egnyte Document Room domain and create a sense of visual continuity with all your other systems. Your Document Room domain can have a customized color scheme, account URL, email settings, and more. Custom Branding is available by default for all our Document Rooms and other plans.
Click on the following links to learn more about the customization options available:
Document Room Owner Roles
Egnyte's role-based administration enables the creation of custom roles, including assigning administrative capabilities to power users which provides them owner rights including the ability to create and manage the document rooms. To enable this, go Configuration Settings > User Types & Roles.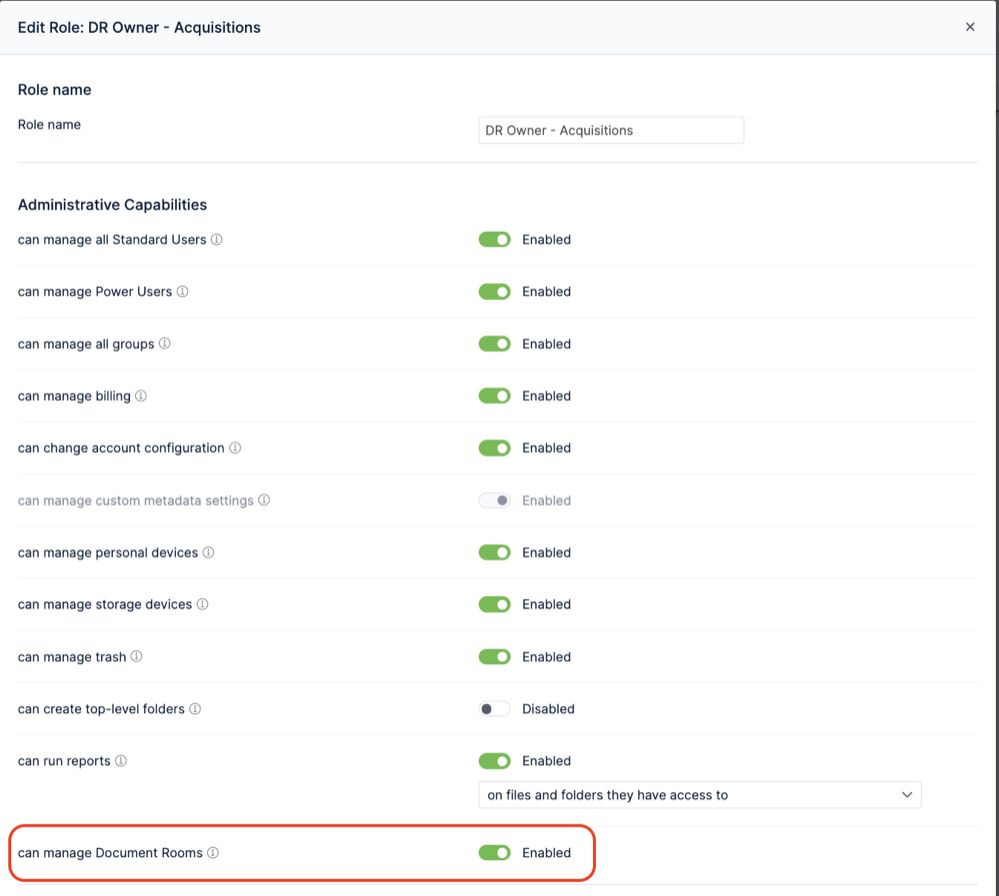 Additional custom roles can be created as needed. Please refer to Role-Based Administration – Egnyte to learn more about how role-based administration works.
User Types Settings
To have complete control over how different stakeholders will interact with document rooms and what they can access, it is important to configure the user-type settings.
These can be configured from Configuration Settings > User Types & Roles > User Types.
Recommended Settings for Power Users
Power users are usually internal collaborators from the organization and in some instances serve as document room owners. Therefore, they need to have user and group management permissions with the ability to invite standard users to the Document Room.

You can choose to either send folder notification emails to power users or disable sending it. Please review your internal security policy and change this setting as per your business needs.
By default, power users have visibility into a folder's activity stream. But it can be disabled by disabling the radio button for the option "can view Activity in folders".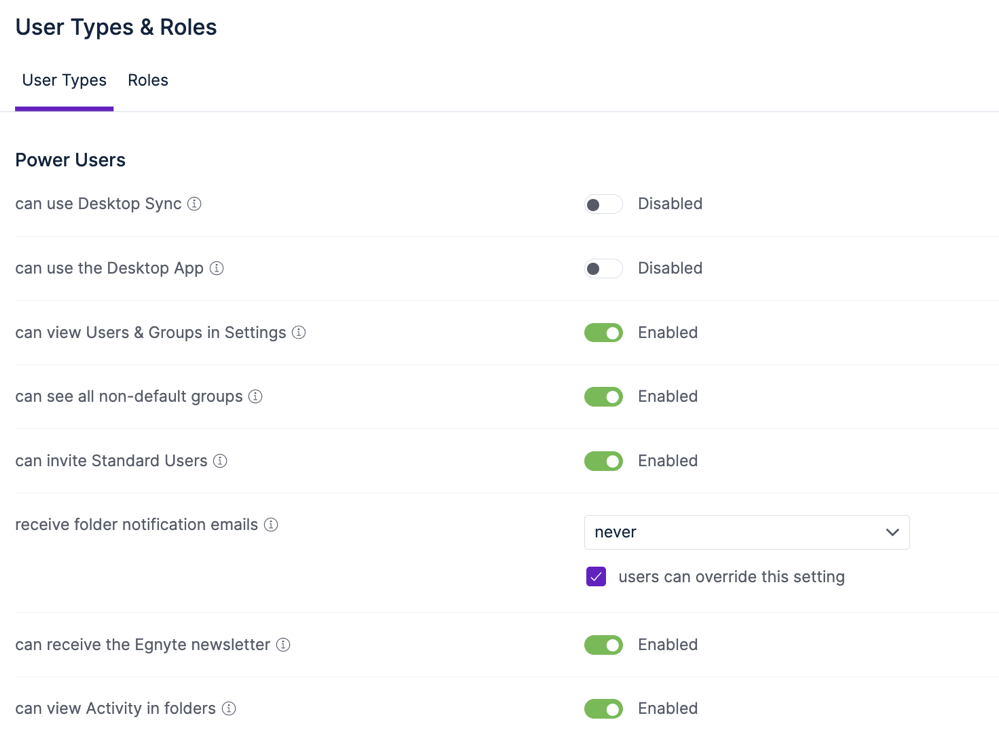 The Desktop App and Desktop Sync are not fully optimized for document rooms and we recommend they not be enabled.
Recommended Settings for Standard Users
Standard users are usually external stakeholders, so it is recommended that you disable visibility into the folder activity stream to ensure that sensitive information is not exposed. In addition, folder notification emails are turned off by default. If you decide to enable it, please be aware that sensitive information such as full folder path and user details could be exposed to external stakeholders via these email notifications.

Watermarking Settings
Watermarking is one of the key features for protecting information from improper dissemination. It is included in the document room plan and will need to be enabled by the administrator.
It can be enabled and configured from Configuration Settings > General > Watermarking.
The following are the recommended settings:
Enable watermarking for files previewed/previewed and downloaded by viewer-only/viewer permission users.
Set the default value for watermarking at "enabled" so watermarking is turned on for new document rooms.
Disable the ability for document room admins to change the settings.
Include the recipient's IP address within the watermark as an additional security feature.

Apps & Integrations
While you are free to configure any of the available integrations under Apps & Integrations, it is highly recommended that each integration is evaluated for any security impacts before enabling it.
Other Administrative Settings/Configurations
Refer to helpdesk pages for other administrative settings/configurations available within Egnyte.