Overview
If you often find yourself collecting signatures for documents like mortgage papers or non-disclosure agreements, you might consider using DocuSign. DocuSign is a web-based electronic signing service that allows you to upload documents that require signatures, specify places on the document where your counter-party needs to sign, and then dispatch the document to them.
We've built a Web App that integrates with DocuSign; you can use it to easily send documents from your Egnyte account for other people to sign.


Configuring the DocuSign Web App
If you are an administrator, you may need to first enable Egnyte for DocuSign. On the Apps & Integrations page, find the DocuSign integration, hover over the tile, and click Enable Integration. Administrators can choose to add the app for all users, certain groups (up to 5), or allow users to add the app themselves.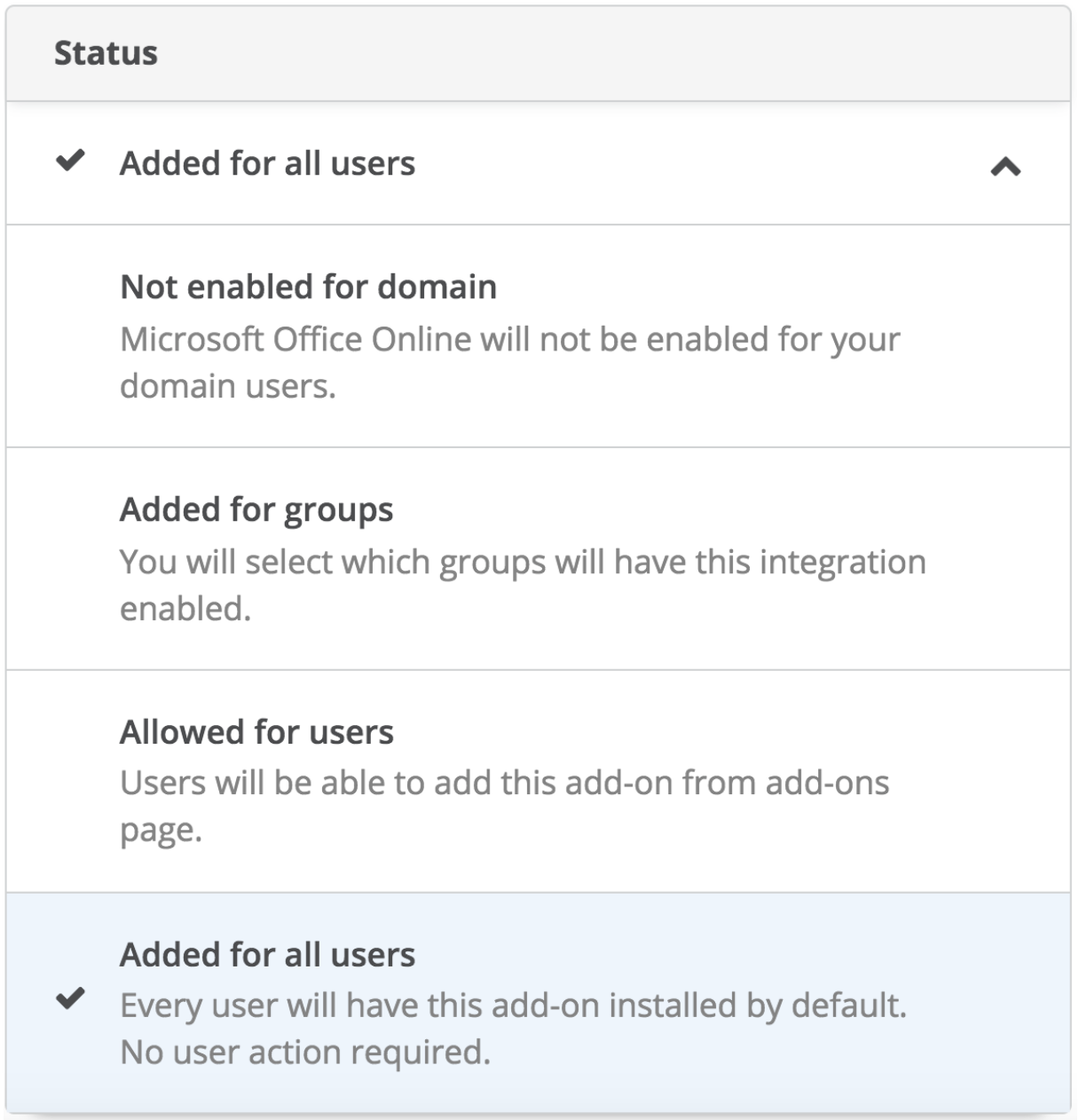 Once the administrator has enabled the App for your account, your users will be able to add it from the Apps & Integrations page or will automatically have it installed depending on the option selected.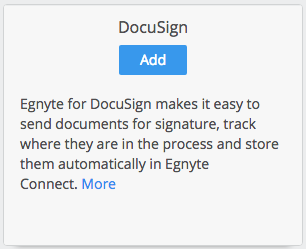 Connecting the Integration to Egnyte and DocuSign
To connect Egnyte and DocuSign, you need to allow the integration service to connect to both your Egnyte account and your DocuSign account.


Connecting To Egnyte
Once you have added the Egnyte for DocuSign select the gear icon and click Continue. A window will appear to connect your DocuSign account to your Egnyte account. Click Allow Access so Egnyte for DocuSign can access your Egnyte account.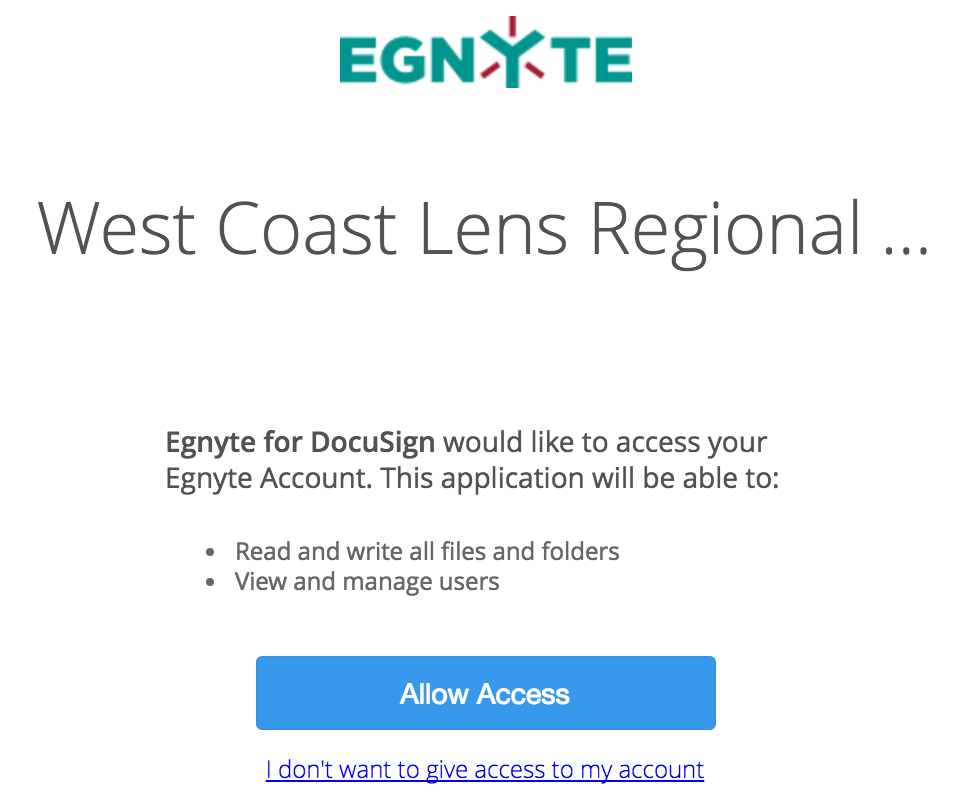 Connecting to DocuSign
You will be directed to DocuSign where you will be able to authenticate your account. You must have a DocuSign account to use this feature. If you don't already have a DocuSign account, you can sign up for one via https://www.docusign.com.
Log in with your DocuSign credentials.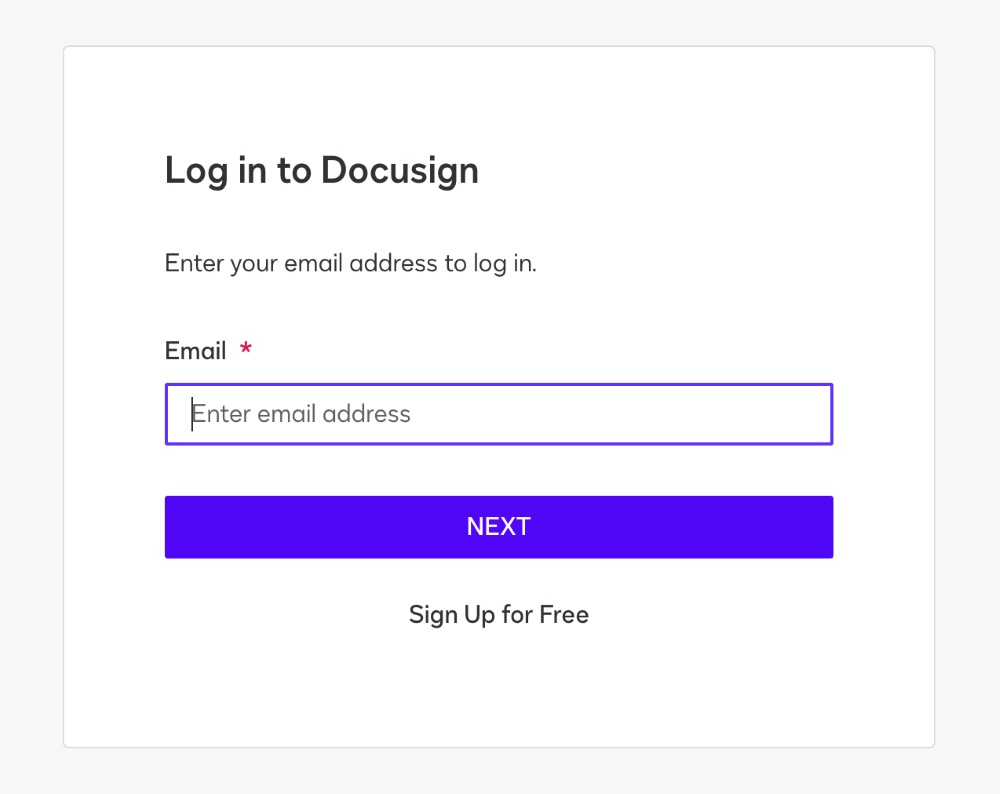 The Egnyte for DocuSign App is now enabled!
Finishing the Installation
After entering your email address and password, you should see the DocuSign app added on the Apps & Integrations page.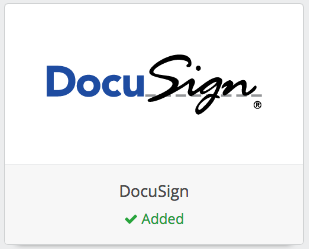 If you wish to change the DocuSign account connected to your Egnyte user profile, or if you ever want to remove the Web App entirely, you can do so from this part of the UI by clicking the gear icon.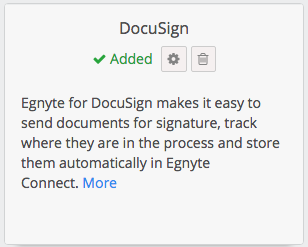 Note: If you close the browser tab/window before logging in or clicking the Cancel button, the app will still show as Added. In this case you can either use change account (as described above) to log in or just log in when prompted when you next attempt to send a document with DocuSign.


Using the DocuSign Web App
Sending a Document for Signature
After you configure the DocuSign Web App, a Send with DocuSign option will in the Share option in the file action menu. You can send files within any folder for which you have Editor permissions or higher.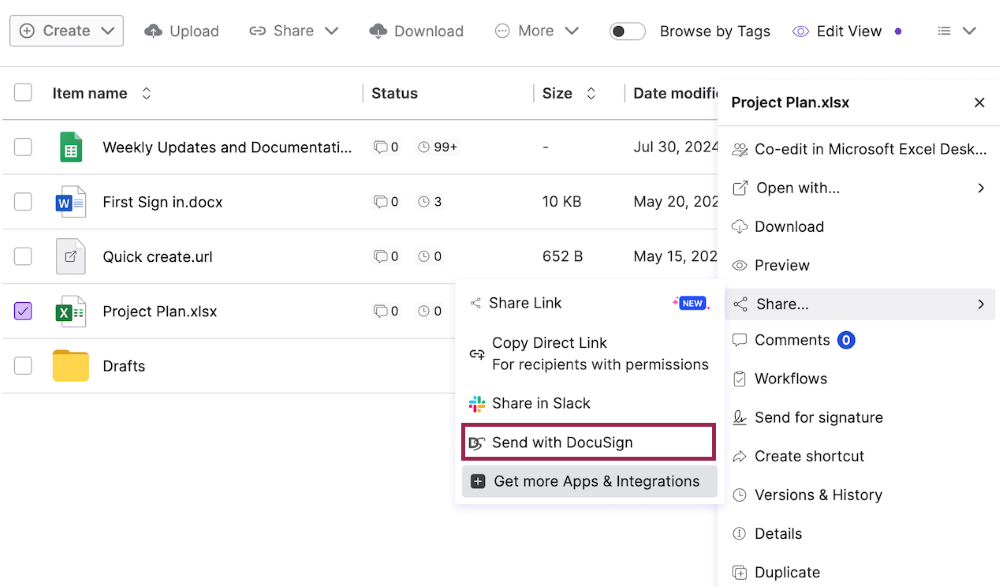 Sending with DocuSign is currently supported for these file types:
Microsoft Word documents (.doc and .docx)

Microsoft Excel spreadsheets (.xls and .xlsx)

Adobe Portable Document Format documents (.pdf)

Text documents (.txt and .rtf)

Images (.jpg, .tif, .gif and .png)
Clicking this option will open the DocuSign interface in a new browser window. DocuSign has a rich web interface that gives you many options for managing your signed documents. In this tutorial, we'll focus on a simple case where you just want to collect a signature from a single person. Detailed documentation on DocuSign's capabilities is available here.
In this simple case, you would specify a recipient for your document ...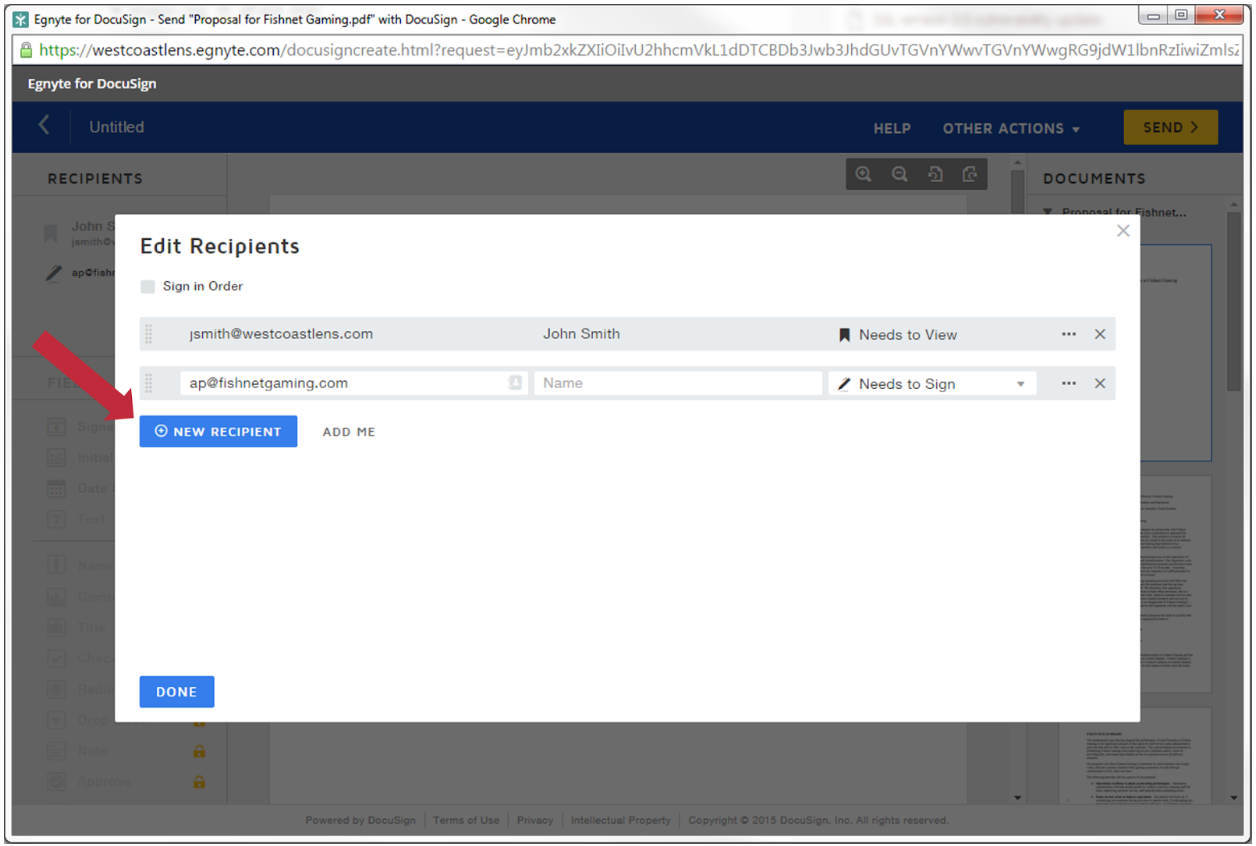 … indicate where you would like them to sign ...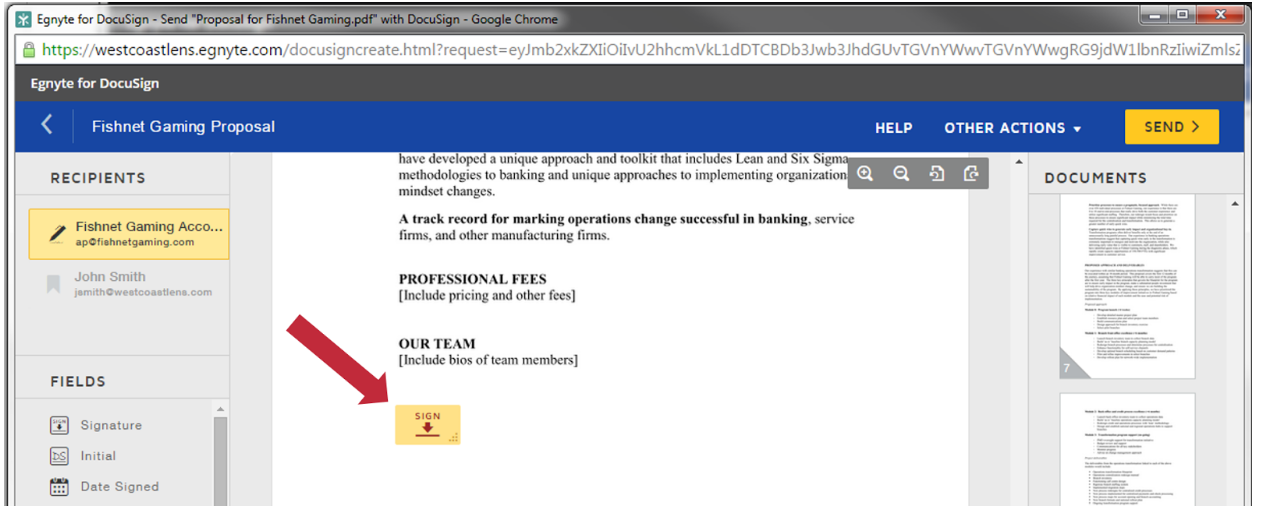 … and then send them an email with a link to where they can review the document online and provide an electronic signature.
Your counterparty will be asked to provide and confirm their signature from a screen that looks like the one below.

Once they confirm their signature, the document will be "completed" in DocuSign, and a signed copy of the document (in PDF format) will appear in your Egnyte account in the folder where the original document resides. The signed copy will have a note automatically added to it indicating who signed the document and the time and date of sign-off.
Note: We periodically check with DocuSign to detect when sign off has been completed, so there may be a slight delay of a few minutes before the signed copy shows up in your account.

Congratulations, you've just collected an e-Signature without having to leave your Egnyte account!


Send with a template
In addition to sending a regular file for signature, Egnyte now supports sending a template from the More menu. This kicks off a signature flow using your DocuSign templates. Once the document is signed, it is returned to the folder from which the "send template" workflow was launched.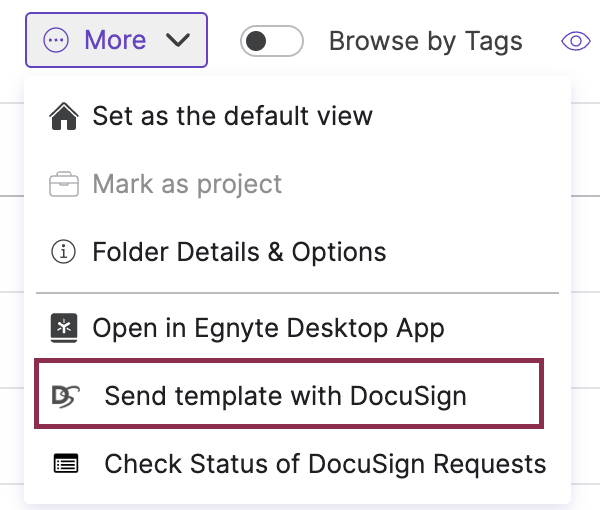 DocuSign Status Page
The More menu also has a DocuSign status page which shows the current status on recent DocuSign activity. This includes signature requests that are in a draft state, in process, and completed in the last week. From here, you can take some additional actions on the signature request like re-sending the reminder, voiding a contract, reopening a draft, and showing a signed document.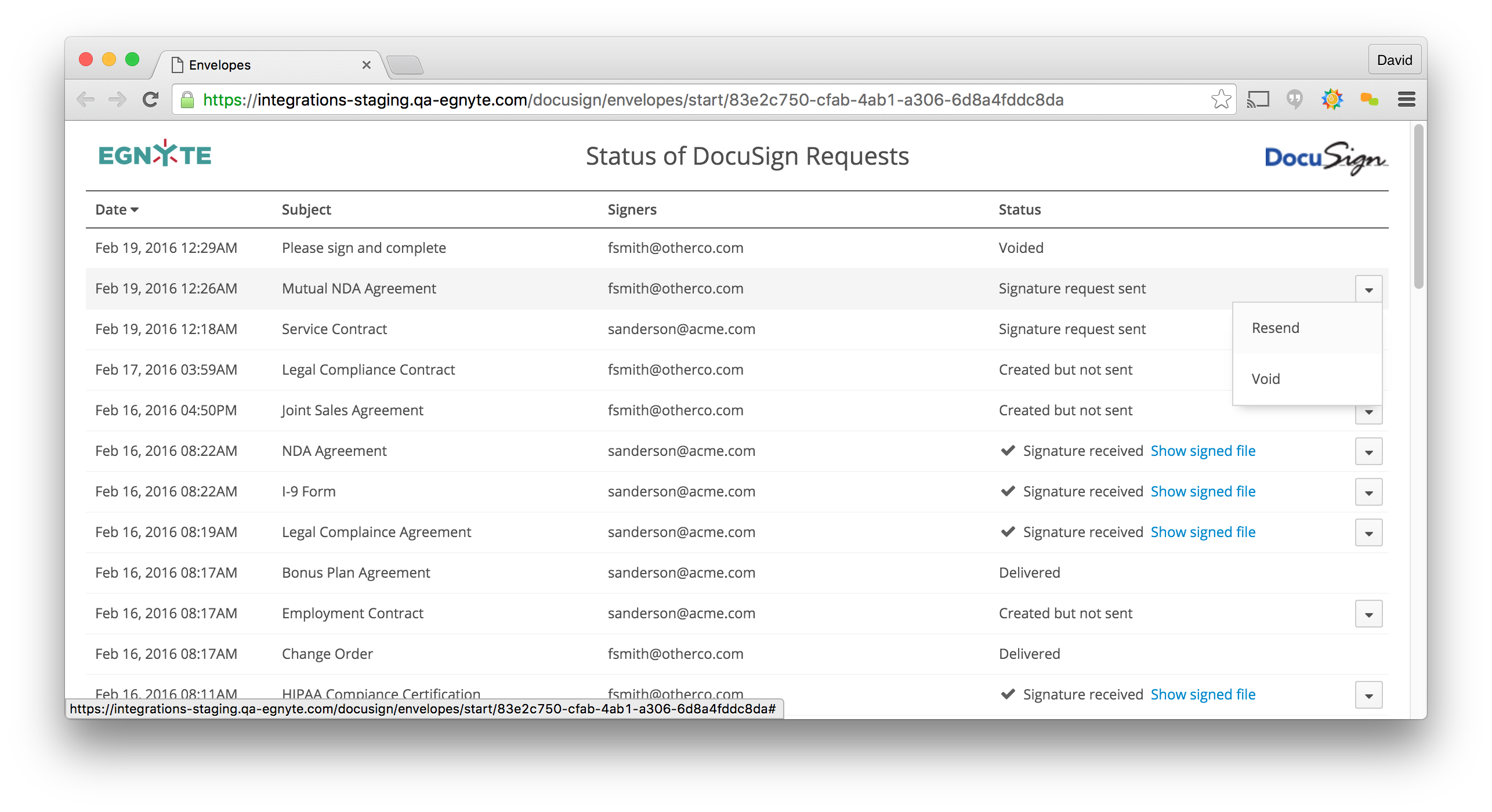 Import Bulk List Feature
Now you can send a DocuSign template using the IMPORT BULK LIST feature in DocuSign. All the signed documents from individual users will be saved back to the original Egnyte folder location as separate PDFs.
Step 1: Choose recipients on your DocuSign document
Step 2: Click IMPORT BULK LIST and upload a .csv file with your recipient list.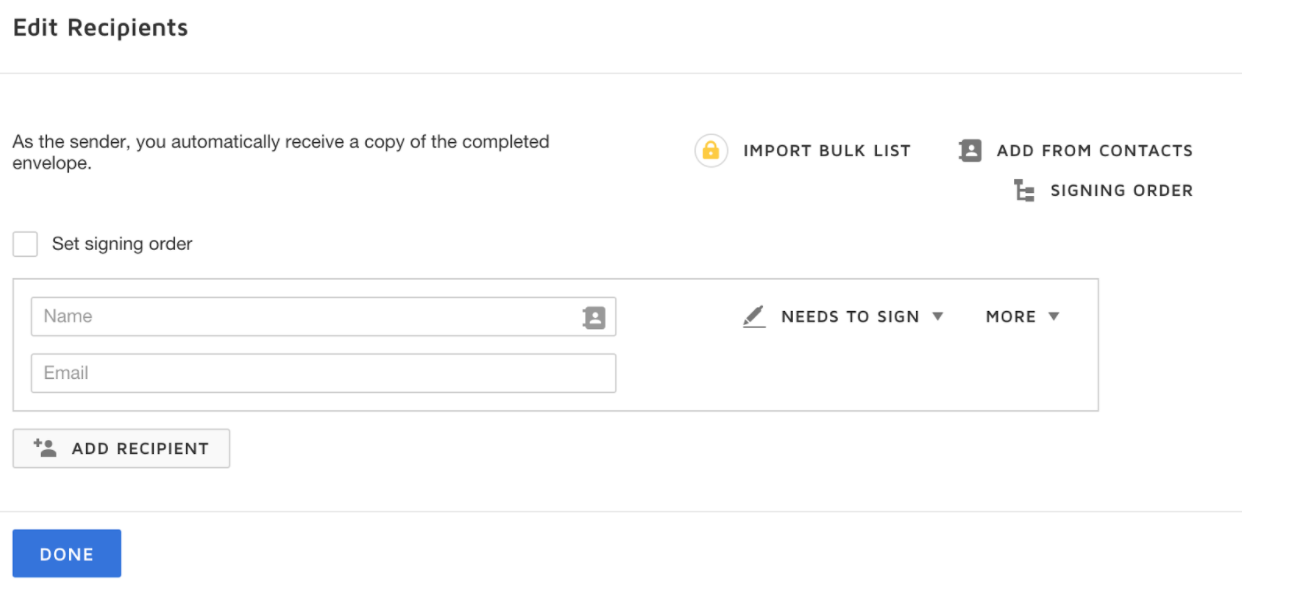 Step 3: Proceed with the rest of the process as you normally do and send out the document for eSignature.
The individual signed documents are automatically saved back to Egnyte as separate PDFs.