FTP access to your Egnyte account is available to Admins and Power Users. By default, these users can access FTP, but Admins can restrict access and/or require only secure connections.
FTP is NOT recommended as a migration tool. If you have more than 50GB data total to transfer, consider using Egnyte's Migration App or some other third-party tool designed to handle larger data migrations.
Settings
To change FTP access for your users, Navigate to Settings, select Applications and scroll down to the FTP section.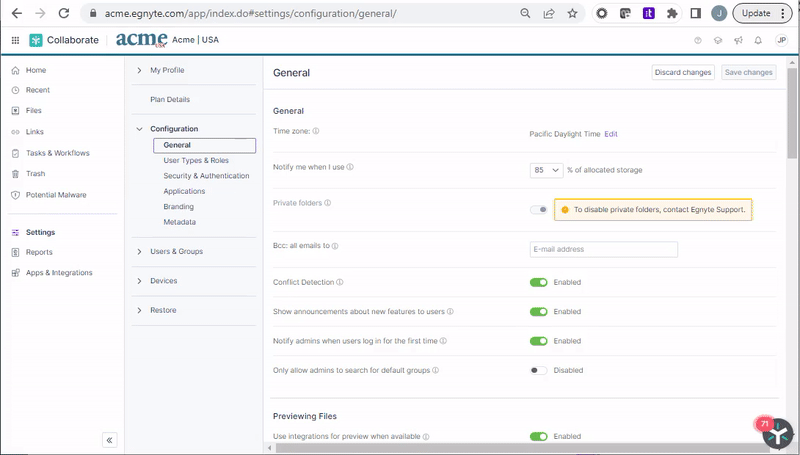 There are 3 options for customizing FTP access by your users:
Admins only: Only Administrators can connect and transfer files via FTP


Admins & Power Users: Administrator and Power Users can connect and transfer files via FTP.


Note: Power Users will experience error 421 FTP access is not available to this user if this setting is set to Admins only.

No FTP Access: To disable FTP access for all users, simply change the toggle to Disabled and click Save.

Administrators can also choose to allow only secure FTP connections such as FTPES (explicit FTPS) or SFTP. To require secure FTP connections, check the box next to the FTPES (SSL-based FTP) option and/or the SFTP (SSH-based FTP) options, uncheck the box for FTP, and click Save at the bottom of the screen. We recommend only allowing secure connections as normal FTP transmits usernames and password un-encrypted over the network and can therefore pose a security risk.