Release Date: August 28, 2023 Secure & Govern 19.4 Release
Support for Sharing Large Legal Holds
Currently the only option to share files under legal hold is the Download options, which is restricted to 1GB due to ZIP file limitations. Because the files are distributed across the file system, sharing them individually is not a reasonable option either. This release provides the ability to create a shared location where all files for a specific legal hold are copied and can be shared both internally and externally.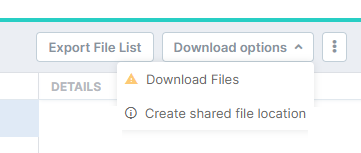 Legal Hold - Support for Deleted Users
Legal holds can now identify and hold files that were accessed by users that have been deleted from the system (Egnyte sources only)
Behavior-Based Ransomware - Custom Control of Detection Threshold
Customers can now control the detection threshold for behavior-based (zero-day) Probable Ransomware detections. By controlling the detection threshold, customers can control the detection sensitivity. The detection threshold defines the percentage of suspicious files required to create a detection. For example, Secure & Govern analyzes a folder which contains 10 files. If the detection threshold is set to 50 percent, a Probable Ransomware detection would only occur if 5 or more files were found to be suspicious.
The behavior-based detection threshold is set to 50 percent by default, but Admins can adjust the range from 10 to 100 percent. Lowering the detection threshold, from 50 to 30 percent, will increase detection sensitivity and increase the number of behavior-based Probable Ransomware detections. Raising the confidence range, from 50 to 80 percent, will decrease detection sensitivity and decrease the number of behavior-based Probable Ransomware detections.
For more information, see Customizing Suspicious Login Detections.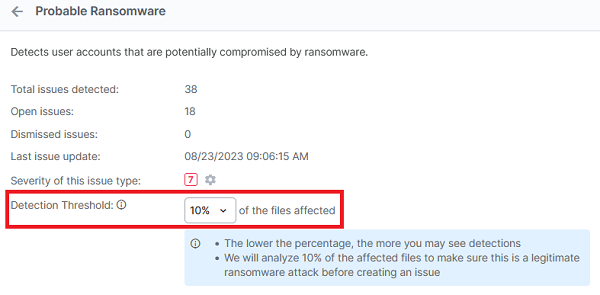 Granular Options For Custom Content Classification Policies
Users will now have the ability to select individual classification patterns within a criteria category when creating custom content classification policies.