Egnyte iOS Mobile App v. 8.21 | Release Date: August 08, 2023
Support for iOS Files App
The latest update to the Egnyte iOS app brings seamless integration with the File Provider and iOS Files app. This integration allows you to manage your Egnyte files alongside files from other cloud providers, making it even easier to organize and collaborate on your documents, images, and more.
To access the Egnyte integration with the File Provider and iOS Files app, make sure you have updated your Egnyte iOS app to the latest version (8.21). Once updated, follow these simple steps:
Open the iOS Files app on your device
From the Browse screen, tap the three-dot (ellipsis) menu in the top right corner and select Edit
Toggle Egnyte to On and tap Done
To access your Egnyte account in the Files app:
Find Egnyte under Locations
Tap on Egnyte to access your files and folders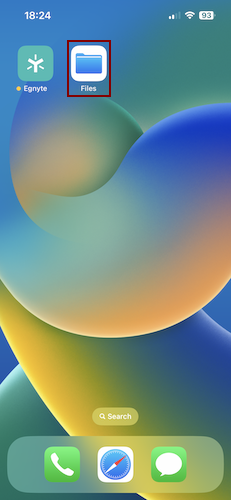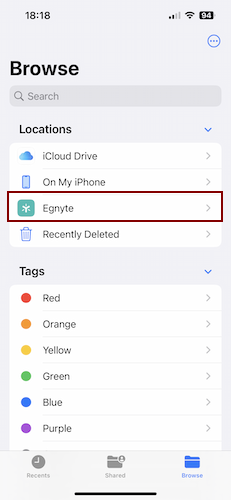 Once the Egnyte storage is selected in the Files app, the users can perform the following actions on their data (subject to permissions granted within Egnyte Storage):
Browsing and Accessing Files: Users can browse and access all their Egnyte files and folders directly within the iOS Files app
Opening Files: Users can open to preview supported file types stored in Egnyte (e.g. pdfs, images, videos)
Downloading Files: Users can download files from Egnyte to their iOS device, making them available for offline access
Uploading (Saving) to Files: Users can upload/save files from their iOS device directly to Egnyte storage through the Files app
Organizing Files: Users can create new folders, move files between folders, delete and rename files stored in Egnyte using the Files app's native file management capabilities
Dragging-and-Dropping: Users can use the intuitive drag-and-drop functionality within the Files app to move files between Egnyte and other cloud storage locations, as well as within Egnyte itself
Sharing Files: Users can share Egnyte files with others using the native iOS sharing options available within the Files app
Egnyte Collaborate features not listed above are not available on the Files app. These features include:
Accessing Egnyte storage via Files when a passcode lock is set up for the Egnyte app
Accessing files in the Egnyte folder via Files while offline
Searching to find any file within Egnyte folders
Managing folder permissions
Syncing tags or colors in the Files app
Commenting on files
Notifications
Reports
Account management
Egnyte application settings
Requesting files from others
Opening and previewing unsupported file types (e.g. dwg files)
Bookmarking folders and adding folders to Favorites
File versions
File and folder shortcuts
Special folder (e.g. project folder) indicators
Project folder (settings, dashboard, metadata)
Smart upload
Workflows
Updated Explore Tab
Version 8.21 ​​brings an updated Explore Tab that is available from the More menu from which a couple of out of date links were removed. The users are advised to navigate to the Explore tab when they want to access FAQs, send messages to request Support or to share feedback.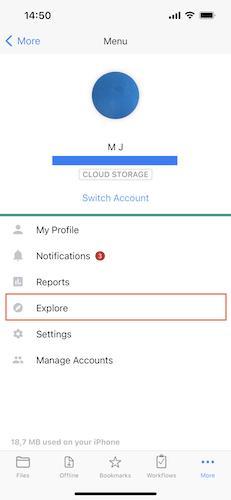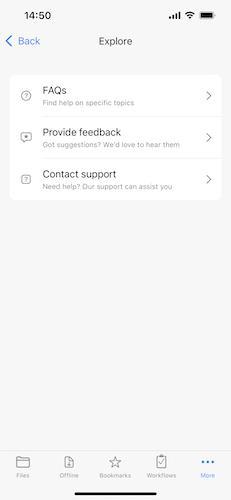 Issues Addressed
Fixed the issue where Egnyte Storage was grayed out when trying to save an iOS note to Files
Enabled copying files across storages in the Files app. Moving files is available within a storage and across storages it is, by design, automatically changed to copying.
Solved the problem that may have caused an uploaded file to be removed internally when upload failed due to connectivity issues
Fixed the issue that caused some users to get stuck in the login loop due to issues with one of the feature flags
Downloads
Go to Apple AppStore to download the latest version of the Egnyte iOS Mobile App (v8.21) or upgrade to the latest version on all your devices if you already have it.