Product: WebUI Release Date: August 2, 2023
Permission Change Notification (Limited Availability)
This new feature will enable the end users (both power users and standard users) to receive email notifications when the admins or folder owners make any changes to their permissions for a specific folder.
The email notification as shown below will be sent to the user when the permissions are granted to the user or when the user's existing permissions are either changed/revoked explicitly. For each permission change a separate notification will be sent.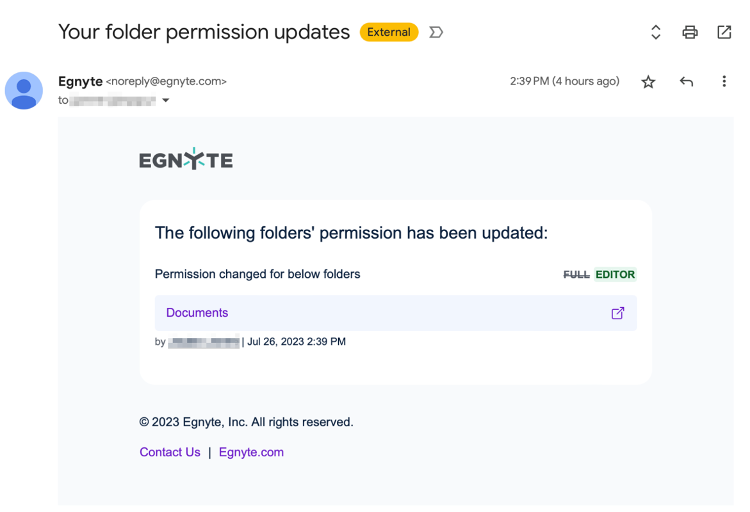 Note that email notifications will not be sent for the non-explicit permissions changes done via the user groups, through inheritance or through folder movements.
The users will have the option to disable this notification for themselves from their user preference.

This feature is currently in limited availability. Contact support@egnyte.com if you'd like to enable this for your domain.
Key Issues Addressed
Wrong Folder Count Displayed While Creating Folder-Scoped Metadata
There was an issue where incorrect folder count was being displayed when an admin tried to create a folder-scoped metadata section. This issue has been resolved.
Change the Default PDF Layout in the PDF Previewer
The default for PDF previewer was 'Fit to width'. This was causing some PDF files to be displayed with high magnification. The default has been changed to 'Fit to page'.
Additional Information and Resources
The current release contains a few improvements to existing functionality.
Minor performance and stability improvements

Minor logging and UI improvements

Minor bug fixes
The changes will be available to all users by August 3, 2023.