Once you select content classification policies, Egnyte Protect will start surfacing locations matching these policies in the Sensitive Content tab.
Filtering the locations list
You can narrow down the list of sensitive locations using filters from the collapsable Filters pane. Once you apply these filters, only locations matching all these filters will be displayed.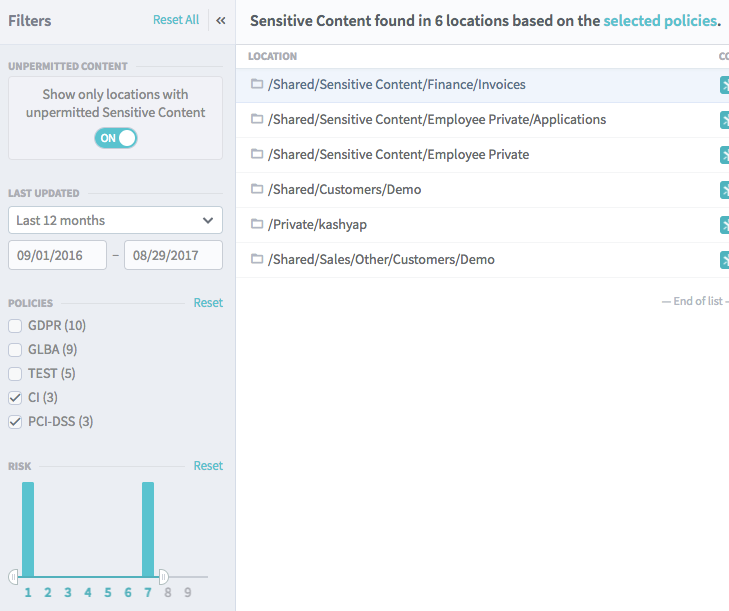 The available filters in the Sensitive Content View are:
the matched classification policies

the Risk score of the folder

the time when the details of the location, such as the Risk score or the matched classification policies, were last updated

whether the location contains any unpermitted sensitive content
Exporting the locations list
You can export the list of sensitive locations shown in the Sensitive Content tab as a CSV file. From the export dropdown, you can either export the complete list of locations or just the filtered list of locations currently shown in the tab.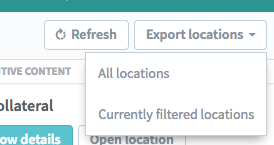 Permitting sensitive content
Not all locations with sensitive content pose a risk as some of them may be intended to have such content. For example, a Human Resources folder is likely to contain Social Security Numbers of company employees as it is the most relevant location for such content. You can tell Egnyte Protect to ignore sensitive content in such locations. This way, you can shrink down the list to just those locations which have unpermitted content.
1) In the Sensitive Content View, turn on the toggle to display only those locations with unpermitted content. This toggle is turned on by default.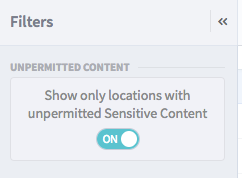 2) Click on the location's row to bring up its details. You can see the classification policies that have matched against content in the location.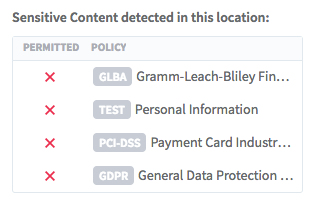 2) By default, no sensitive content is permitted in the location. If you want to permit content matching a policy, you can turn on the toggle for that policy.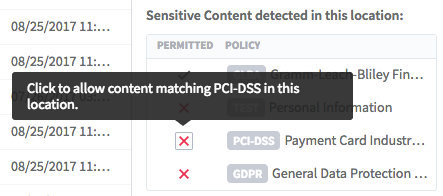 3) Once you've permitted a policy for this location, any new files matching this policy are considered to permitted in the location.
4) If you've permitted all the detected policies for a location, it will be hidden from your view as the location now only contains permitted content. Any new files matching the currently permitted policies will not bring the location back. However, if content matching some new unpermitted policy is found in the location, the location will come back to the view.

5) To view all locations with sensitive content, regardless of whether the content is permitted or not, turn off the toggle.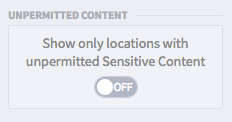 Using the above actions, you can reduce the risk of sensitive content exposure in your sources. The Sensitive Content tab is also periodically refreshed to reflect any changes you make in your sources. When you take actions outside Egnyte Protect, such as moving identified sensitive content to more secure folders, the list of locations with unpermitted sensitive content will get automatically shrunk down.