Overview
Create and edit metadata for files and folders within the Web UI.  Administrators can create sections for metadata through the Metadata API.  Using these sections, end users can create and edit metadata properties displayed in the sidebar and the folder details pane.
Use Cases
Contract Information
Annotate a contract with the date of the contract, who signed it, and the value of the deal.
Add Geographic Area of Project
Mark all files with the project's region to easily group all projects in the same area for planning purposes.
Image Details
Add descriptors to an image such as the creation date, location, and related project.
Administrator Setup with API
Administrators can create sections for metadata using the Metadata API.
Create and Edit Metadata in Web UI
Once the metadata sections are created, users can start adding metadata properties to files in the Web UI.  Simply open the Details pane of the desired file and added the desired properties.  To edit a property, click on the current value and make your modifications.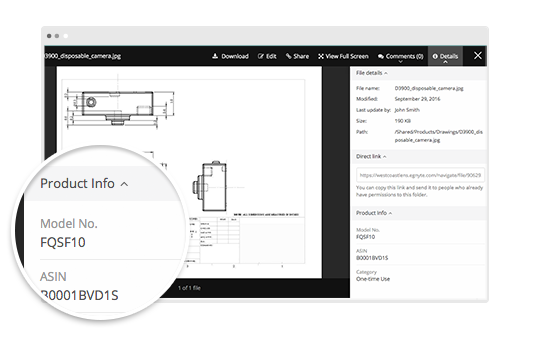 If you have any questions, please contact support@egnyte.com.