Egnyte for Slack provides you with the ability to integrate the power of file sharing capabilities of Egnyte into Slack, a messaging app for teams. Slack brings all the team communication together in one place, instantly searchable, and available wherever you go. This integration requires that you have a slack team account with the Slack Web or App installed. Get started with Egnyte for Slack by clicking on the button below. It adds the /egnyte bot for your designated Slack Team.

Features
Post/share a Link of a File from Egnyte Web UI right into your desired Slack Channel
From Slack, Share an Egnyte File in your Slack Channel
From Slack, Upload a local File to Egnyte and Share the Link to your Slack Channel Users
From Slack, Directly Navigate to your Egnyte Web UI to perform any task (for example, change File Permissions for your Slack Channel team members)
From Egnyte Web UI Share File Links to Private Channels
From Egnyte Web UI Share File Links to specific Slack users
Ability to share links of Type Public and Public with Domain Access (this allows the ability to share links safely even when Public link sharing is disabled at the domain level, a user can share the links, and only people who have valid domain credentials and access to the file can view the file)
Ability to Share Egnyte folder links to users with Domain Access into Slack from Egnyte Web UI
Ability to Share Egnyte folder links to users with Domain Access into Slack from Slack
Ability to Unfurl Egnyte Links in the Slack Channel
From Egnyte Web UI
To get started, install Egnyte for Slack in your Egnyte Builder and enable the App by configuring with your Slack credentials. Now you can select and post any file to your Slack channel associated with your Slack credentials. The Slack channel names are fetched directly from your Slack settings, and you have the option to choose any channel to post an Egnyte link of your file. You can also select a folder and post the link to Slack in the same way.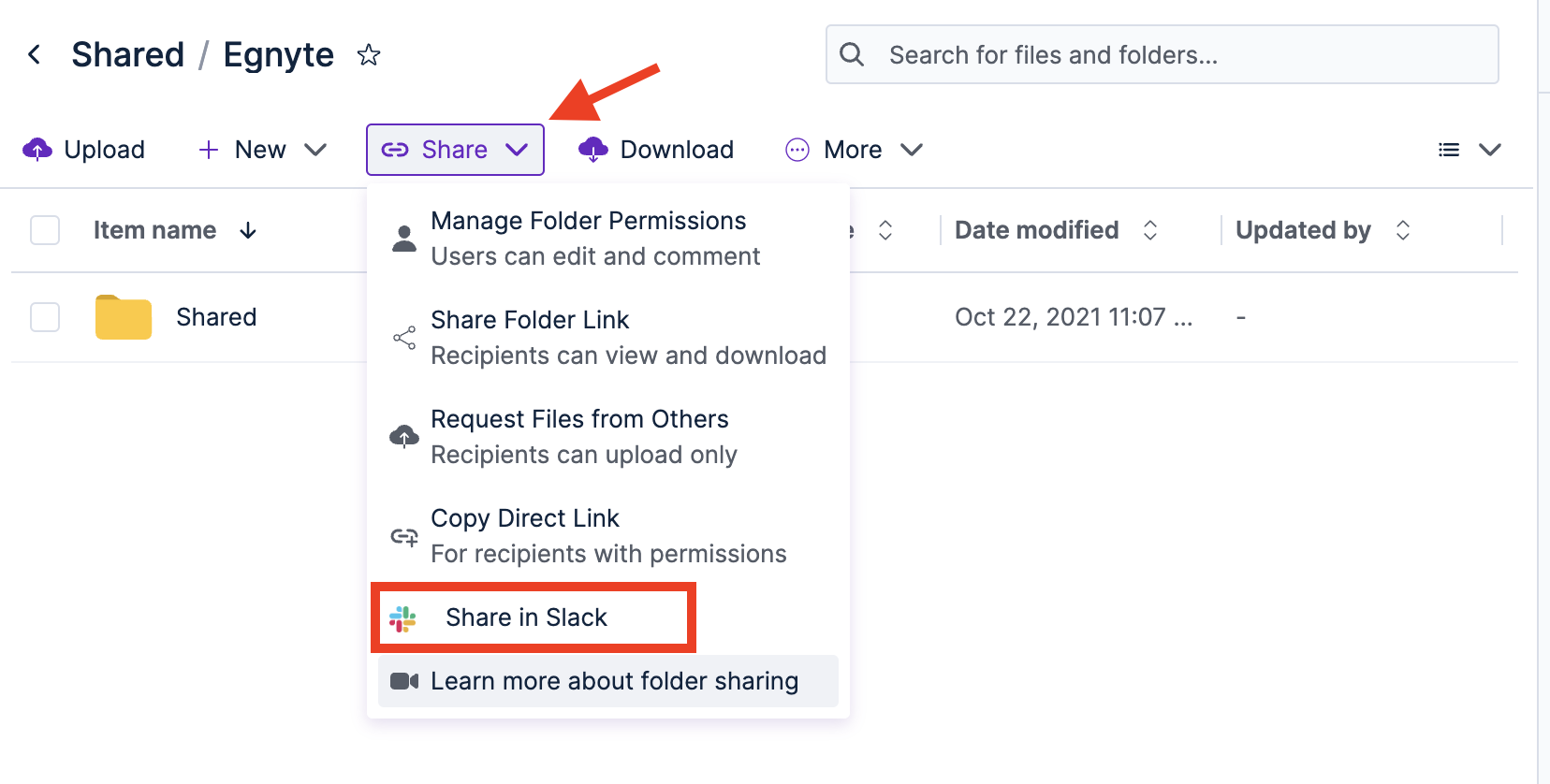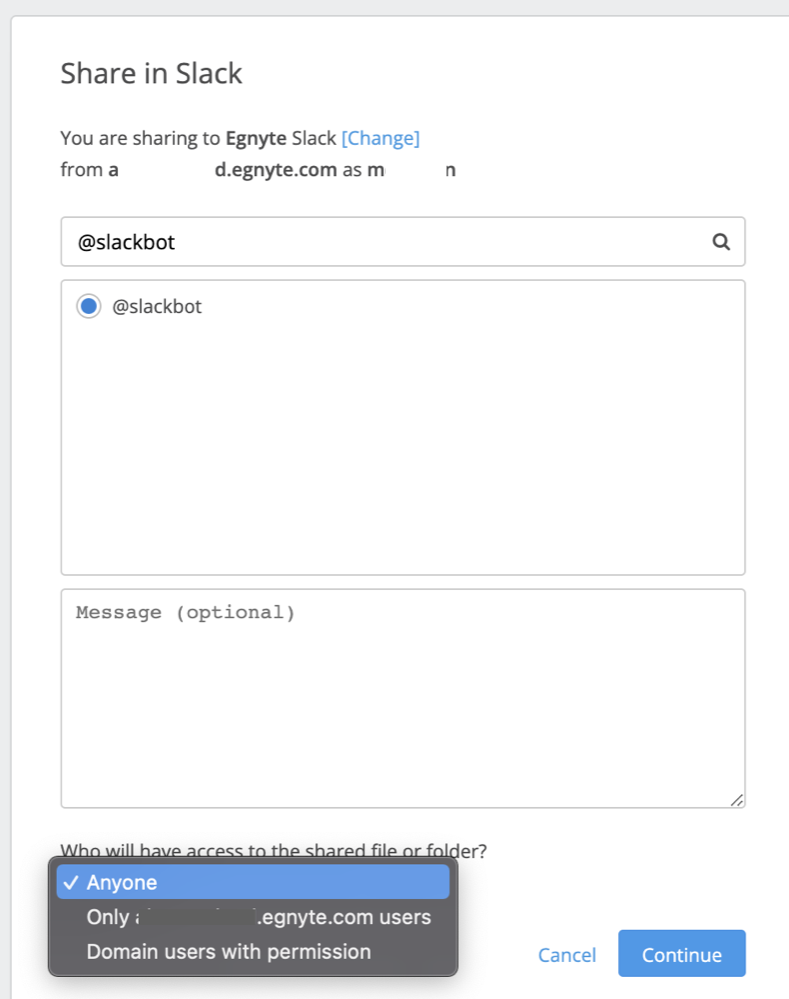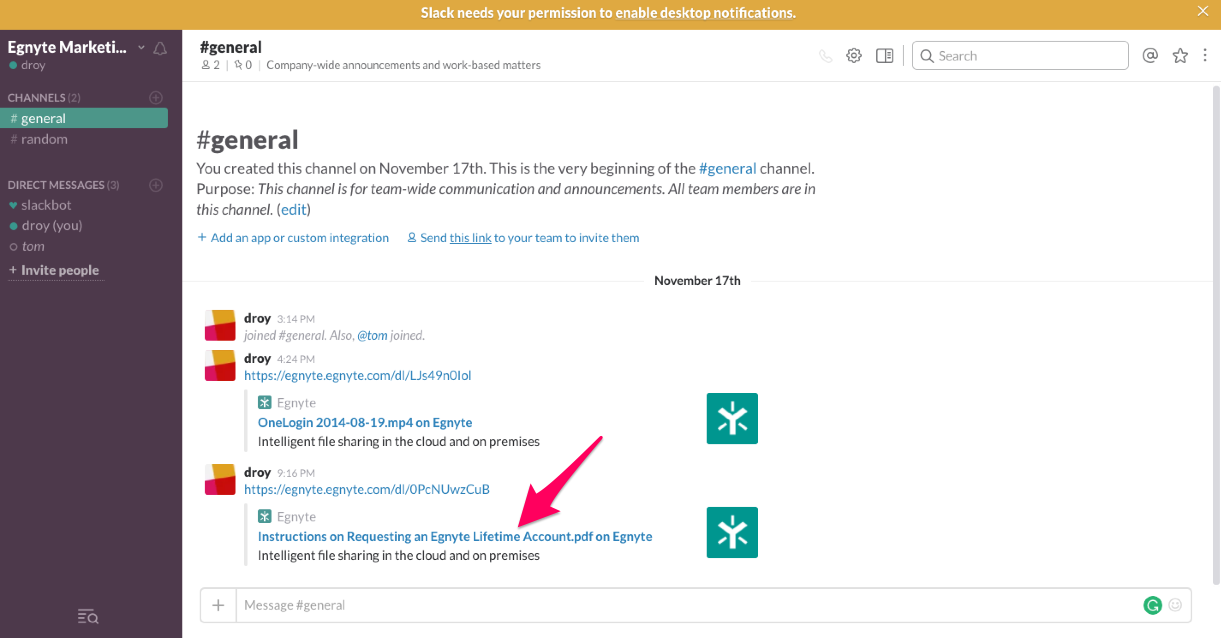 From Slack App (Web, Mobile, Desktop, Mac)
Once you Install the Egnyte App from your Slack App directory, it installs /egnyte command bot for Slack. From now on, when you are in any of your channels, just type /egnyte, and it will show links to actions you can perform. Please note that links expire after some time to ensure your security).
The Links will be shown as below: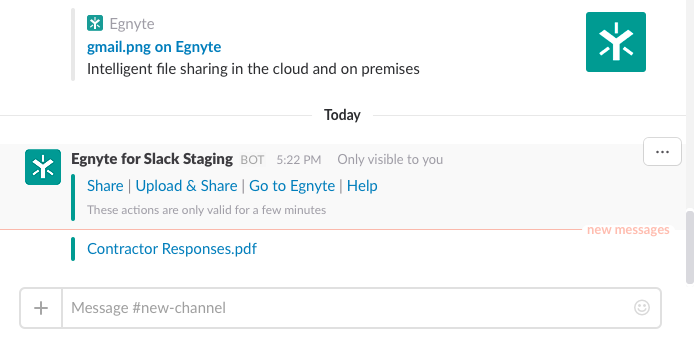 The first time you choose any of the actions, you will be asked to authorize the app to access your Egnyte domain.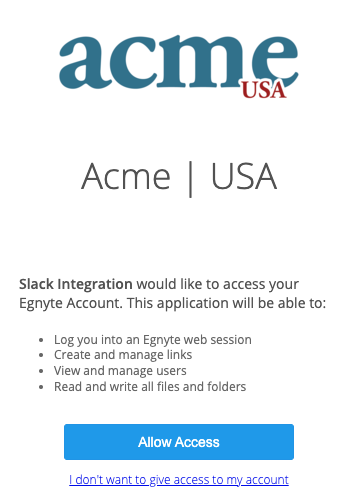 Share
This link enables you to share an Egnyte file into your Slack channel. When you click on Share, you will be taken to a new browser window (new tab if an existing browser is already open) and presented with a file picker. Choose a file to share its link into your Slack channel from which you issued the command. You can also navigate to the directory and click OK to share the folder link into Slack.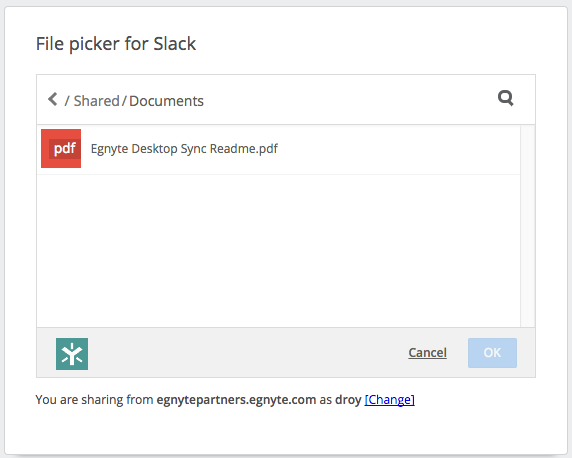 Once the file link is posted, you can close the browser window or tab.

Upload File
Upload file provides you the functionality to upload a file into an Egnyte folder and post a public link of that file into your Slack Channel from where the action link was clicked.
You are presented with a File Picker to choose your upload target folder in Egnyte.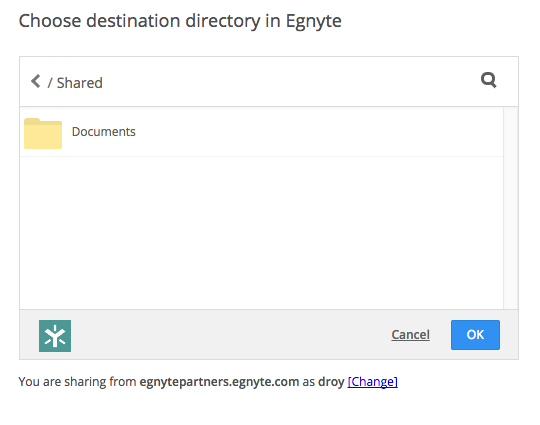 Select the destination directory.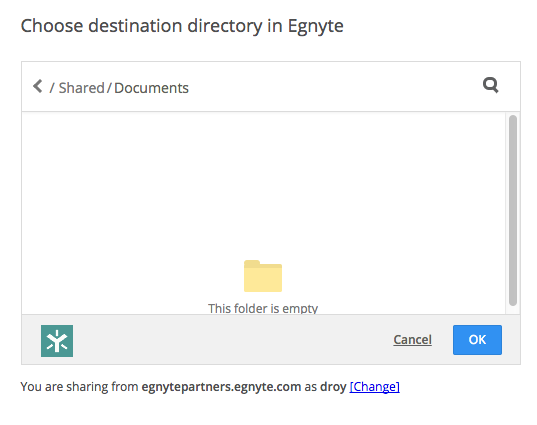 Choose your local file to be uploaded. Once uploaded, an Egnyte link is posted in your Slack channel.


Go to Egnyte
Go to Egnyte opens the Egnyte Web UI for you to perform any actions not covered by other links. For example, if one of your Slack channel users asks you to provide specific folder level permissions, you click on Go to Egnyte to give them permissions.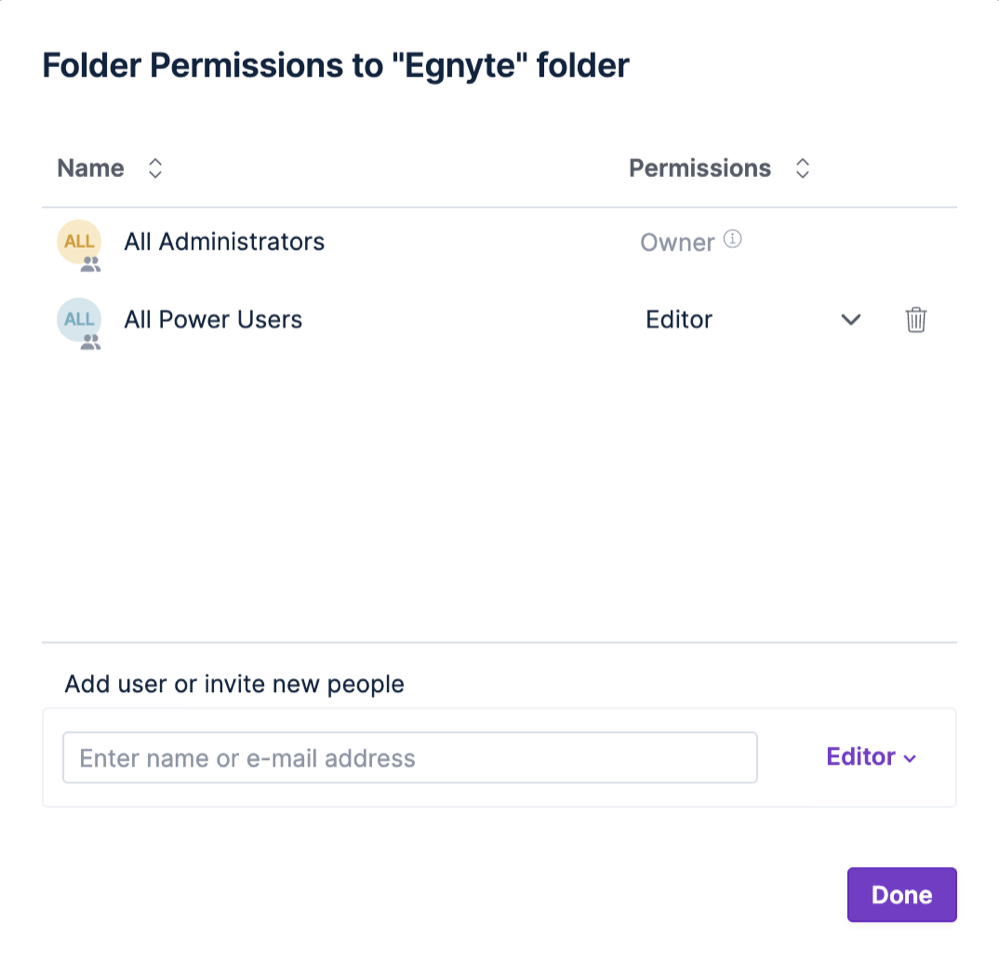 Unfurl Egnyte Links
Egnyte allows a user to unfurl Egnyte direct and share links in the Slack Channel. You can share links via the Egnyte /egnyte command or by copying a link directly into a chat.
Shared via /egnyte command

Direct Link Example

Limitation
The Egnyte integration can only be authorized to one Slack Workspace at a time. To authorize for a workspace, the user will need to authorize for that workspace to unfurl the link.