Audience
Any user of the Migration App.
This product is currently in Limited Availability. We invite any Customers interested in using the product to engage Egnyte Professional Services or their Customer Success Manager to have it enabled for their domain.
Context
If you have not run at least one migration job tied to a source for at least 30 days, the source is considered idle. After 60 days of inactivity, a source will be auto-retired.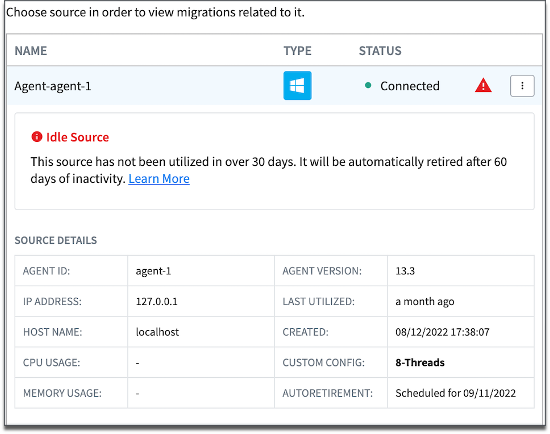 What Do I Need to Do if a Source is Marked Idle?
The Migration Dashboard will indicate if you have not run a migration job associated with a given source for at least 30 days. If you receive a notification that a source is idle, you have two options.
You may ignore it and the source will be auto-retired after 60 days of inactivity.

You may run any job associated with that source and it will start the clock again at zero.
What are My Options if a Source is Retired?
If the source has been retired, the date of retirement will be indicated at the bottom of the details drawer.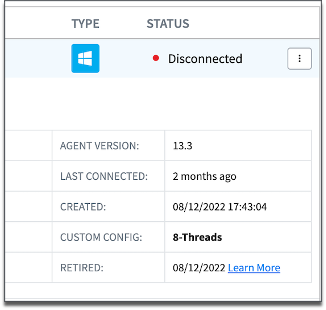 Retired sources cannot be returned to an active state, but you still have some options. If you wish to run migration jobs from a retired source, there are two ways to approach it.
Uninstall and reinstall the source using the same Agent ID. This will revive the associated migration jobs and allow you to continue running them. Depending on how long the source has been retired, this may not be successful, in which case you will need to resort to approach #2.

Install a new Agent on the source and recreate the jobs you wish to continue running.
Questions? Feature Requests? Other Feedback?
If you have feature suggestions or requests, feel free to submit them here, and make sure you mention Migration App in the text.
For more complex requests that would benefit from providing screenshots or other attachments, you may submit them to support@egnyte.com. Be sure to include Migration App in the email title. Our Support team will push your comments to the Product team for consideration.