Audience
Advanced users of the Migration App.
This product is currently in Limited Availability. We invite any Customers interested in using the product to engage Egnyte Professional Services or their Customer Success Manager to have it enabled for their domain.
Context
By default, the Agent running on the local Windows machine uses 4 transfers and 8 checkers (collectively referred to as the threads). Thread is a universal computing term, referring to one process in a multithreaded system that occurs simultaneously with other processes. "Checkers" and "transfers" in this context are the custom names of different threads implemented in the underlying technology. "Checkers" determine how parallel a given operation will run (e.g. when deleting files, how many deletes to do in parallel). "Transfers" control uploading (streaming) of files to the destination.
If you have Advanced Mode enabled for your domain, you can increase the number of threads and potentially improve your migration speed, assuming your Windows machine has enough compute capacity to accommodate the increase. This must be undertaken with caution, since allocating too many threads to Migration App will have a negative impact on the host machine's compute capabilities.
Enabling Advanced Mode
Before you can access Threads for a job in Migration App, you must have Advanced Mode enabled for your domain. To do this, submit a ticket to support@egnyte.com to request it. This Settings Update can take up to two full business days to be implemented.
Accessing Advanced Options
Once Advanced Mode has been enabled for your domain, go to the Migration Details page. In the left column, click on the arrow next to Advanced Options to open the drop-down menu.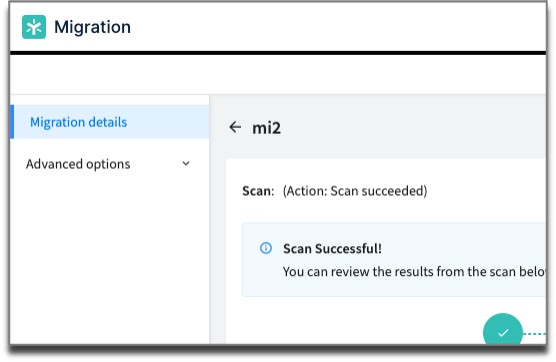 If a migration job is currently running a command, you may not modify any of the Advanced Options. You must wait until the command has completed before configuring advanced settings for the job.

Configuring Threads
Select Threads from the left menu.
Here, you can decrease or increase the number of transfers (from 1 to 10, inclusive) and checkers (from 1 to 20, inclusive) with a custom configuration. This can increase the speed of your migration job, assuming your Windows host machine has the compute power to accommodate the increase.
The recommended ratio for any configuration is 2x Checkers per Transfer.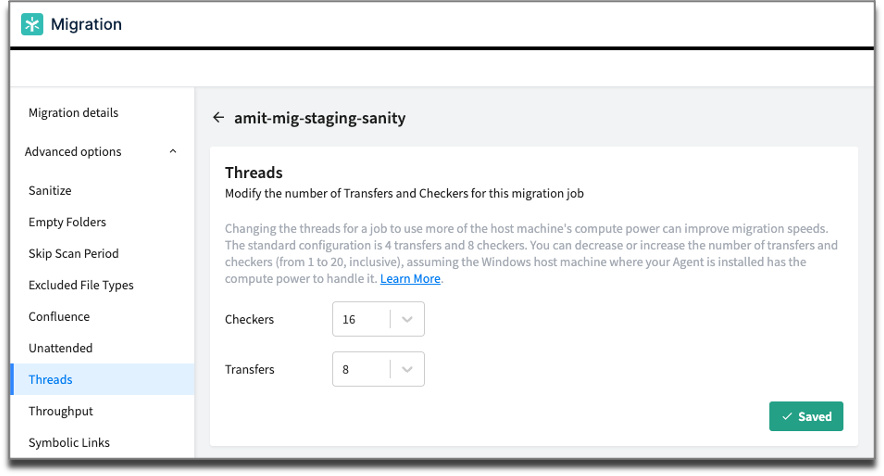 You may return to this menu at any time to change your selection. Remember that before you can make any changes, the migration job cannot have a command running.
Your threshold for this job is displayed in the right column of the Migration Details page for each job, under Other Details.
Questions? Feature Requests? Other Feedback?
If you have feature suggestions or requests, feel free to submit them here, and make sure you mention Migration App in the text.
For more complex requests that would benefit from providing screen shots or other attachments, you may submit them to support@egnyte.com. Be sure to include Migration App in the email title. Our Support team will push your comments to the Product team for consideration.