Audience
Any user of the Migration App.
This product is currently in Beta. We invite any Customers interested in joining the Beta program to engage Egnyte Professional Services for consideration.
Context
This product is still in constant evolution as we integrate feedback from our early adopters and identify areas for improvement. Therefore, during the Beta program for the Migration App, we may periodically request you to manually update the CMM Agent to continue using the application. Some of our code changes and feature releases render older versions of the CMM Agent unusable.
If you open your Migration Dashboard and see the following error message, you will need to update the Agent before continuing to work with existing Migration Jobs or creating a new one.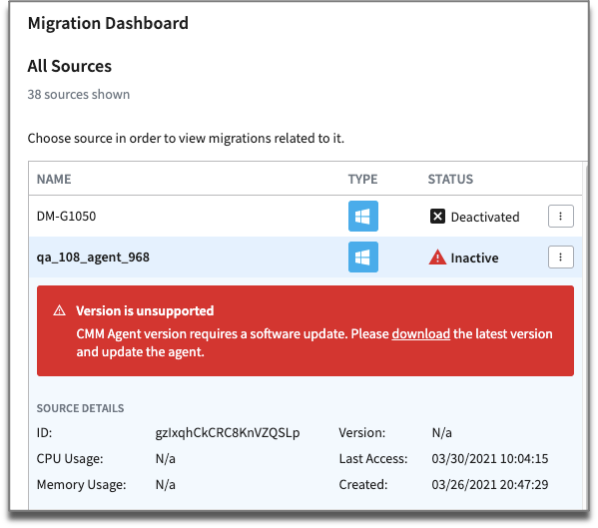 Updating the Agent
First, be sure to manually stop or wait for any active Migration Jobs to finish. If you don't, the Migration Job will be killed by the Agent Update and will not restart.
Using the link provided in the update message on your Migration Dashboard, click download to download a new version of the Agent to the machine where CMM Agent is presently installed.
Start the installer to replace the old version.
After successfully updating, the CMM Agent will automatically reconnect to Migration Dashboard.
The Agent cannot be updated while any Migration Jobs are actively running. Wait for any jobs to complete, or manually stop them before attempting an update.
The entire process only takes a few minutes, so you'll be back in business in a jiffy.
Confirming Your Agent Version
You can always open the System Tray to confirm the version of your Agent.