This product is currently in Limited Availability. We invite any Customers interested in using the product to engage Egnyte Professional Services or their Customer Success Manager to have it enabled for their domain.
Audience
Any Migration App user.


What if the agent installation fails?
Cloud Migration Manager Agent Setup involves a System Check. This checks for a variety of factors, any of which may give an error if not in compliance.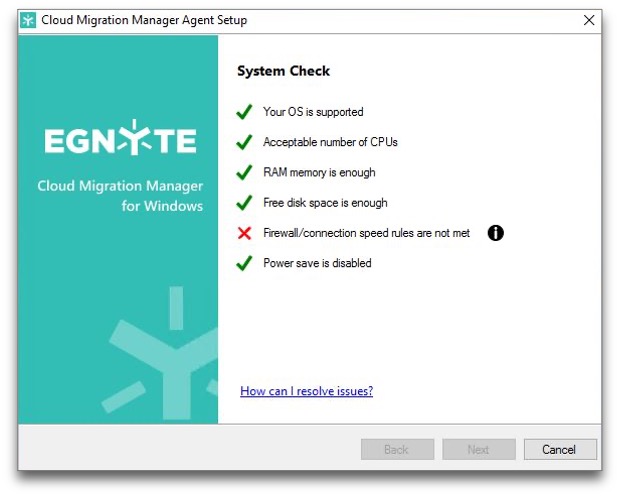 Please see below for each of the factors assessed during the System Check.
For supported OS, minimum CPUs, RAM, and available disk space see Migration Prerequisites.
Firewall/connection speed rules: See this knowledge base article Firewall Requirements for Migration App.
Power Save is Enabled: You need to disable the sleep mode entirely. Unfortunately, the way the power settings look depends on the Windows version. Go to your Windows search field and type Power. Open Power & Sleep settings. Every option for going to sleep or turning off the machine should be set to

Never.

If you have feature requests or suggestions, feel free to submit them on our Product Board, and be sure to mention Migration App in the text.
For more complex requests that would benefit from providing screenshots or other attachments, you may submit them to support@egnyte.com. Be sure to include Migration App in the email title. Our Support team will push your comments to the Product team for consideration.