How do I purchase Smart Cache?
Smart Cache is available with every Turbo or Storage Sync license that you have purchased.
How do I deploy and enable Smart Cache?
Smart Cache is only available for new device deployments of Turbo. Smart Cache capability is included for every Turbo or Storage Sync license that you have purchased.
The instructions to deploy Turbo VM on VMware are available here, and for Hyper-V are available here.
Important: Please make sure that groups are configured as listed in steps 8 and 9 of the "Configure Turbo" section of the product guide. This will enable users to connect to the Smart Cache device. Alternatively, you can also configure access via IP Ranges as described here.
During device configuration, an option to enable Smart Cache will be available, as shown below.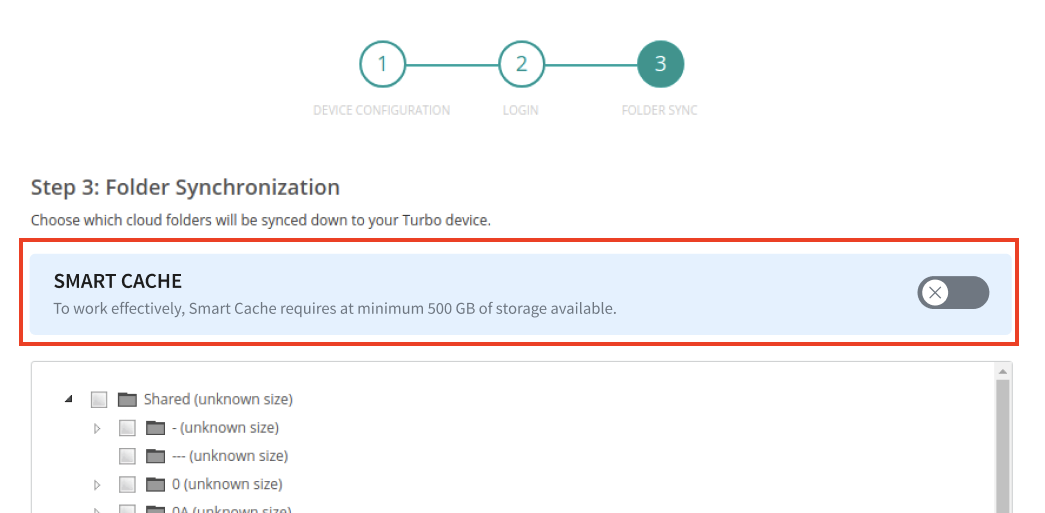 Smart Cache is enabled on the device below.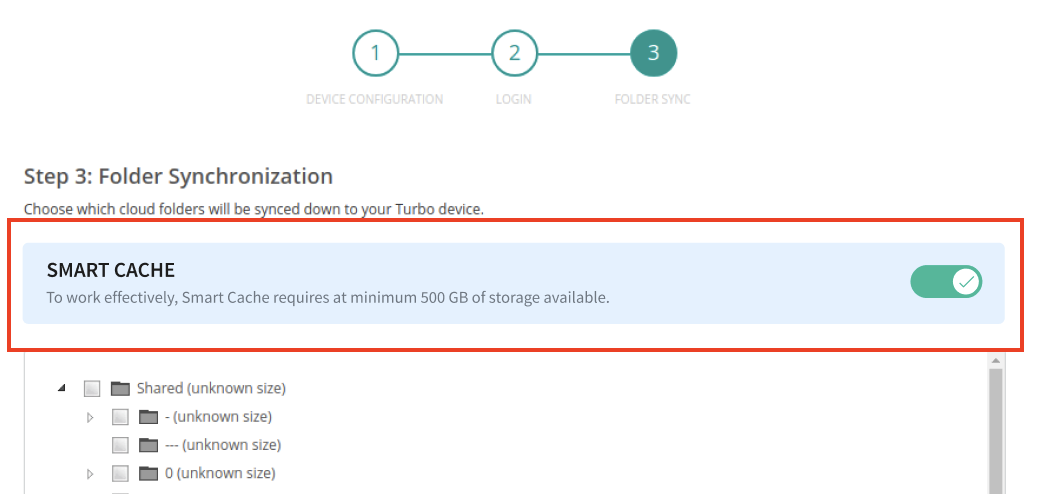 How do I determine the right size for the data disk?
IT administrators are recommended to determine - a) the amount of data that users are expected to access and b) the amount of new data that users are expected to create over a period of 90 days. Smart Cache will cache both accessed and new data for at least 14 days. In the future, the duration for which data resides in the cache may change, and you will need to reassess the disk size. Additionally, Smart Cache needs some storage for caching metadata and for its own internal use. Our recommendation is provisioning 2x that of the above estimated storage.
Sizing the disk is an extremely important consideration for Smart Cache. Provisioning a disk that is too small can lead to aggressive eviction of data from the cache and may result in occasional sync failures and errors.
The 2x recommendation is over and above any storage needed for folders that may have been selected for synchronization.
Are there any policies available for Smart Cache?
As of now, there are no user-defined policies available for Smart Cache. Data eviction and storage optimization are being managed based on the frequency of data being accessed and least recently used.
Can I pin folders with Smart Cache?
This functionality is not yet available via Smart Cache. However, if there are folders that need to be pinned, they can be selected from the folder picker in the device settings and synchronized down to Turbo.
Does Smart Cache support Offline mode?
Smart Cache by itself does not support offline mode yet. However, if certain folders need to be available in offline mode, you can pin them (see above).
How do I know if Smart Cache is enabled?
For Smart Cache enabled devices, the device dashboard will show an additional tab displaying device usage.