You can make your Egnyte account even more secure by using Two-Step Login Verification (TSLV) provided with our Advanced Security Package. TSLV requires a third piece of information, in addition to your username and password, to log you in. This includes logging in from the Web UI, the Mobile App, or the Desktop App. 
Egnyte has partnered with Twilio Inc., a leader in two-factor authentication, to secure your account with TSLV. If you have a smartphone, the Authy Mobile app's "Push" feature is not only the most secure option but the most convenient way to grant access to your Egnyte account right from your smartphone.
Egnyte has provided four different options to verify your login to make it easy to choose the most convenient method for you. We'll walk you through each option after providing instructions to enable TSLV on your profile. The last section will address administration features available to Egnyte domain Admins.
Skip Ahead to...

Enable and Register Two-Step Login Verification
If your account Administrator has not made TSLV mandatory, you can opt into the feature by clicking on your profile picture and then your name. From the My Profile tab, click My Preferences. In the Security section, select the toggle next to Two-step login verification and click Save at the bottom of the screen.




You will be automatically logged out of your account. Re-enter your username and password, and choose Get Started.



If TSLV has been required by your Admin, you'll see the screen below when registering.




You will be asked to specify a way to register your device. We recommend that you use the Authy Mobile App for authentication. If you do not have Authy Mobile App installed yet, you will see a description on how to install it on the next screen. Skip to step 8 to learn how to register using a phone number (SMS text or voice call).




Download the Authy App on your mobile phone.




Upon downloading the Authy Mobile app.

iOS: Click the + (add account) icon and then Scan QR Code to scan the QR code that displays on your computer screen. 

Android: Click the menu icon (three dots), Add Account, and then Scan QR Code. Upon scanning the QR Code, you'll receive a confirmation message when the Egnyte Domain was successfully added.


Enter the code you see in your Authy App.




You will see a confirmation of successful registration of the Authy app. Once you click Done, you'll be automatically be logged into Egnyte.




Alternatively, you can register your mobile phone by using a phone number with an SMS text or a voice call.




Select the country, enter your phone number, and click Next.


If you specified a mobile phone number, you would see two possible options to receive the code (for a landline number, there will be only the Use voice call option).


Enter the six digit code you received and click Next.




You'll be asked to download the Authy App to make logging in quicker and more secure in the future. We highly recommend using the app. If you would like to continue without using the app, click Skip.


You'll immediately be logged into Egnyte, and your phone number will be registered with us.
Login with Authy Push Notification
Begin by logging into Egnyte with your username or email address and password.

Once entered, you'll see a screen letting you know that Authy has sent you a push notification.




Open the notification from your notification tray to be directed to the mobile app. Tap Approve if the login date and time match when you were logging in.




Within a few seconds of tapping Approve, you'll be automatically logged into Egnyte.
Login with Authy Mobile App
Begin by logging into Egnyte with your username or email address and password.

Once entered, you'll see a screen asking for a seven digit code from your Authy App.




Open the Authy App. If you have more than one account registered with the app, you'll need to select the Egnyte domain account to locate the code.



The code changes every 20 seconds.

Enter the code from the Egnyte screen and click Next.

If the code is valid, you'll be granted access to Egnyte.
Login with Phone Number
Begin by logging into Egnyte with your username/email address and password.

Once entered, you'll see a screen for Two Factor Authentication. If you don't have the Authy Mobile App installed (recommended), click click the Use Phone number option.




If you have a mobile phone number registered, you'll have two options to choose from: Use text messages or Use voice call. If you have a landline registered, you'll only have the option to Use voice call. Make your selection and click Next.




Depending on the option you selected, you'll either receive a text message or phone call with a seven digit code. Enter the code and click Next.




Once the code has been verified, you'll be granted access to Egnyte.
Login through the Desktop App
Once Authy has been set up through the Web UI, you'll need to login through the Desktop App to verify your account if you were not logged in previously.
If you disconnect or remove the drive in the future, you may need to go through this process.
You can use the Mobile Push, Passcode, or Phone Number (VoiceCall or SMS) methods to verify your account.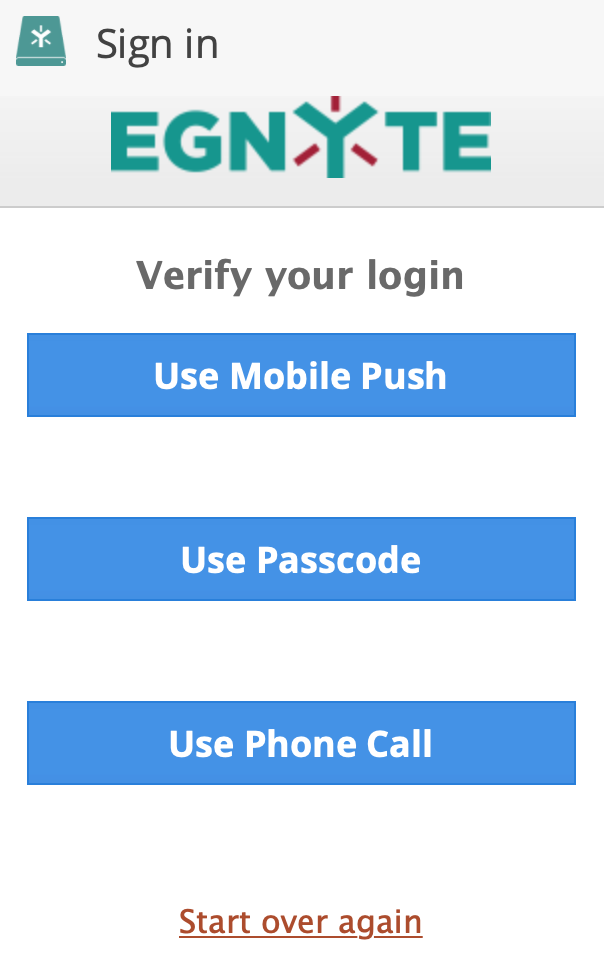 Admin Features
Administrators of accounts which have purchased the Advanced Security Package can mandate the use of two-step login verification for their users. This option can be found in Configuration settings under Security & Authentication in the Two-step login verification section. Your users will be required to configure TSLV upon their next login.



It's possible to limit which users are required to use TSLV. You can require this feature for All Users, Admins & Power Users only, or Standard Users only. If you apply this feature to a class of users, every user of that type will need to use TSLV.
You cannot grant exceptions.
If you only want to require specific users to use TSLV, you can enable two-step login verification from the Users & Groups tab by editing the user's profile.


Resetting a User's TSLV Settings
If a user loses the phone used for TSLV or needs to change the phone number associated with it, you can reset their account's TSLV by going to their user details screen and selecting the Reset option next to Two-Step Login Verification.
Even if you do not mandate TSLV, individual users in your Egnyte domain will still be able to opt in to the feature. If you no longer require users to have TSLV, users who previously opted in on their own will still have TSLV enabled.
Enabling the "Remember Me" and "Trusted Networks" Capabilities
If you would like to customize the level of security associated with TSLV, you can do so from the Security & Authentication settings. For example, you might not want to require login verification every time you log into Egnyte from your work computer but would want to require this when logging on from a computer in a hotel business center. We've also provided a Remember this Device setting that allows users to defer the requirement to verify their login for a certain device for a specified time period. Once you've turned the setting on, then you can set the duration of time for which devices can be remembered.
We've also made it possible for account Admins to enter IP addresses or IP address ranges in the Trusted Networks field. Users logging into Egnyte from these IPs will not need to verify their login.
You can enter individual IP addresses or ranges of IP addresses (including those indicated with CIDR Notation), but be sure to separate each address or range with a comma.
Additional Resources