Audience
Any user of the Migration App.
This product is currently in Limited Availability. We invite any Customers interested in using the product to engage Egnyte Professional Services or their Customer Success Manager to have it enabled for their domain.
How it Works
Migration App translates NTFS permissions to Egnyte during the Permissions Migration command in a three-step process.
First, it extracts the permissions from the Source.
Next, it maps those permissions to what they should look like at the Egnyte side.
Finally, it applies permissions to the files on Egnyte.
Note that during Steps 1 and 2, no information is provided to the User Interface. So until the system begins Step 3, nothing will display on the Migration Dashboard.
Permissions Migration can take longer than the original Data Migration, so you should plan accordingly.
Considerations
Before migrating permissions, it's ideal if both users and groups have already been created on the Egnyte platform, although you can just migrate empty groups.

You can also migrate Azure AD users and group permissions using this tool.

Migration App migrates permissions for folders. Files inherit the permissions of their parent folder.
Permissions Migration is an all-or-nothing command, which means it doesn't do "True-Ups." We recommend you run Permissions migration at the very end of a Migration Job, right before you cut over all your users from using the Source to using Egnyte.
The first two steps can take a considerable amount of time, and no information is available to be displayed on the User Interface until they are completed. This can be somewhat confusing, since other commands in Migration App, such as Scan, Sanitize and Migrate Data, provide both stats and a visual progress bar that corresponds to the status of the command.
Once permissions are scanned and extracted from the source and mapped to Egnyte (the first two steps), they are then applied at a rate of one folder per second, regardless of the number of permissions aligned with each folder.
Mapping
Permissions mapping is detailed below.
| | |
| --- | --- |
| NTFS Permission | Egnyte Permission |
| Full Control | Full |
| Modify | Editor |
| Write | Editor |
| Read | Viewer |
| Read & Execute | Viewer |
| Change Permissions | Owner |
| Take Ownership | Owner |
| File Owner | Owner |
| Delete Subfolders and Files | Full |
| Delete | Full |
| Create Files/Write Data | Editor |
| Create Folders/Append Data | Editor |
| Write Attributes | Editor |
| Write Extended Attributes | Editor |
| Traverse Folder/Execute File | Viewer |
| Read Extended Attributes | Viewer |
| Read Attributes | Viewer |
| Read Permissions | Viewer |
What if Some Users and Groups Have Not Yet Been Created on Egnyte?
If you run a Permissions Migration and any of the Users or Groups scanned on the Source are not found on Egnyte, the Permissions Migration command itself will complete successfully. But in the Migration Report, you can open up the "Missing Users" and "Missing Groups" worksheets to view a list of those Users and Groups not yet created on Egnyte.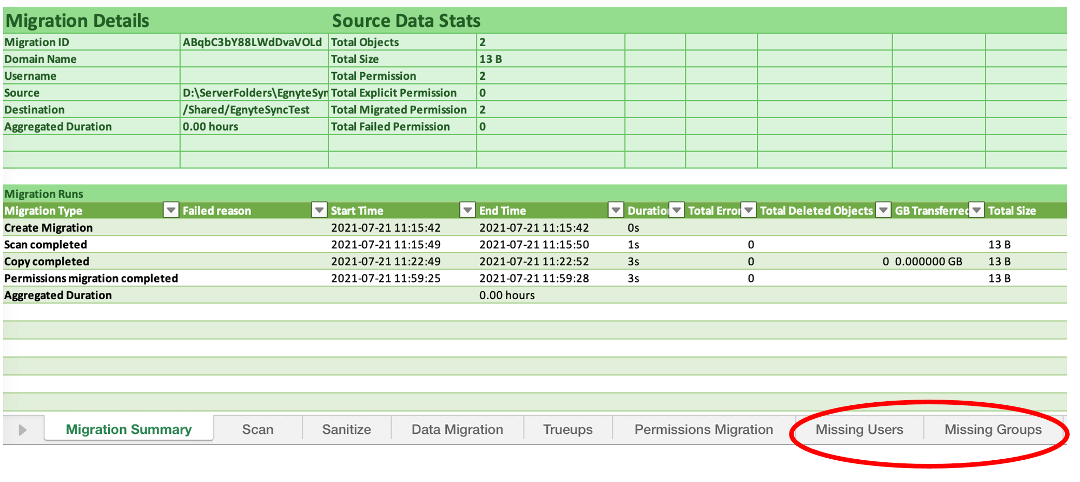 Once you create the missing Users and Groups on your Egnyte domain, you may run Permissions Migration again or manually apply the appropriate permissions.
Questions? Feature Requests? Other Feedback?
If you have feature suggestions or requests, feel free to submit them here, and make sure you mention Migration App in the text.
For more complex requests that would benefit from providing screen shots or other attachments, you may submit them to support@egnyte.com. Be sure to include Migration App in the email title. Our Support team will push your comments to the Product team for consideration.