This guide will walk you through how to set up SSO for Egnyte using Azure Active Directory.
Add Egnyte to your Directory
Configure SSO in Azure
Configure SSO in Egnyte
Assign Azure AD users to Egnyte App
Add Egnyte to your Directory
In the Azure Management Portal, click Active Directory.
Select the directory for which you want to enable directory integration.
Click Applications in the top menu.
Click Add --> Add an application from the gallery.
Search for and choose Egnyte. Once you click Complete, you will see the following screen.
Configure SSO in Azure
 Click Configure Single Sing-On and select Windows Azure AD Single Sign-On.
Enter the full access Url for your Egnyte account (https://mydomain.egnyte.com).
Keep this dialog box open.  You'll need the details here to configure SSO in Egnyte.
Configure SSO in Egnyte
Log into your Egnyte account through the Web UI.  Navigate to Settings --> Security.
 Fill out the Single Sign-on Authentication section using the following instructions.
Single sign-on authentication: SAML 2.0
Identity provider: AzureAD
Identity provider login URL: Copy the Remote Login URL from the dialog box in the Azure management portal
Identity provider entity ID: Copy the Entity ID from the dialog box in the Azure management portal
Default user mapping: Email address
Use domain-specific issuer value: Leave this setting disabled.
Configure User provisioning
In-order to enable Azure AD users to log into Egnyte, they must be provisioned into Egnyte. These will have to be done manually. 
To provision a user accounts, perform the following steps:
Log in to your Egnyte Egnyte company site as administrator.

Go to Settings > Users & Groups.

Click Add New User, and then select the type of user you want to add.
 4. Type the Email, Username and other details of a valid Azure Active Directory account you want to provision. You will then have browse to the user's details and switch their authentication to SSO. Click save once done.
You can also import users to Egnyte in bulk using the Import Users feature. 
1. Log into Egnyte through the Web UI.  Navigate to "Settings" --> "Users & Groups" --> "Power Users".
2. Click the "Import" button.
3. In the import dialog, click on "Download Sample File" to download the sample user provisioning CSV file.
4. Open the downloaded CSV file in Microsoft Excel and fill out the columns with the following values: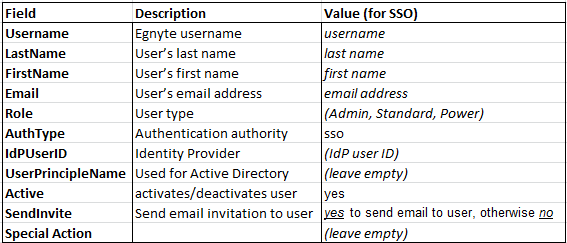 Here's an example of how it will look in Microsoft Excel:

5. Save the file in CSV format.
6. Upload the File to Egnyte by clicking on "Choose File" in the "Import Users" dialog and selecting the file you just saved.
7. If you are using the spreadsheet to create new employee accounts in Egnyte, select the checkbox "Allow the creation of new users".  If your employees already have accounts in Egnyte and you are now allowing them to have SSO access, select "Allow updating of existing users".  When updating existing employees,  you will only need to complete the Username, AuthType, and ldpUserID columns; the rest can be left blank.
8. Click "Import" and wait for the confirmation email that indicates your user import has completed.
Assign Azure AD users to Egnyte App
Return to the Azure AD management portal.
Navigate to the application page for Egnyte and click Assign users.  You will see a list of existing Azure AD users.
Pick the users you wish to add and select Assign from the bottom menu.
Test the setup by having a user login to Egnyte. All SSO authenticated users will be re-directed to your SSO page when attempting to login on Egnyte.