FTP access is limited to Admins and Power Users on the Office, Business, or Enterprise plans; trial users on these plans are limited to uploading 1 GB at a time via FTP.
1. Install Fetch
a. Go here to install the latest version of Fetch. Please note that Fetch is not free. 
2. Set Up Fetch
a. Host Name: ftp-[your egnyte domain].egnyte.com. For example, "ftp-premiumacme.egnyte.com"
b. User Name: [your user name] $ [your egnyte domain]. For example, "jsmith$premiumacme"
c. Connect Using: FTP with TLS/SSL
d. Password: your Egnyte password.
SSO authenticated users will have to set a "Non-SSO" password that is only used for FTP. This can be done from the My Preferences tab under My Profile.
 e. Set the "Default Upload Format" to "Binary (Raw Data)." You can do this from the "Upload" tab of the "Preferences" menu.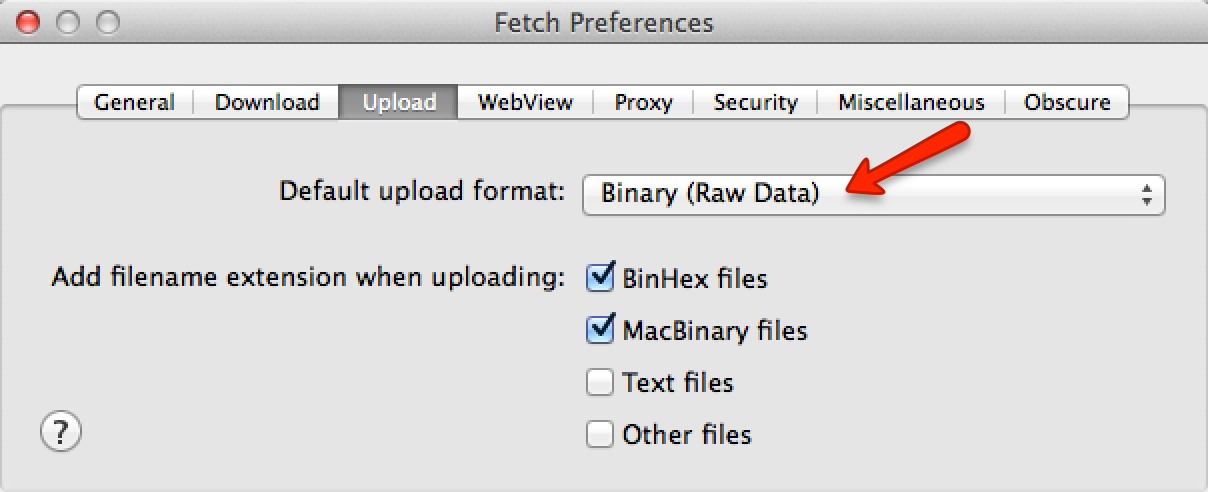 f. Timestamps are preserved as a default, but you can toggle them off and on from the "Obscure" tab of the "Preferences" menu.
3. Upload Your Files
You can upload files by dragging from Finder or your desktop into the folder trees visible within Fetch's folder browser, or you can use the "Put" feature to browse for files.
Firewall Recommendations
If your firewall has restrictions and blocks certain ports, you may need to allow outbound FTP port (21). Egnyte uses the following ports below for data transfer. 
10000-12000 & 20000-22000