Overview
Admins are able to control how employees access files in Egnyte. Admins can manage user access through four channels: FTP, Desktop Sync, Egnyte Drive, and the Web Interface.
FTP Access
FTP access is available to Admins and Power Users on the Office, Business, and Enterprise plans.  By default these users can access FTP, but admins can restrict access and/or require only secure connections.  To adjust FTP settings, go to:
Settings -> Configuration -> Applications

Standard FTP poses security risks by transmitting un-encrypted usernames and passwords over the network; we recommend selecting the box to allow only secure FTP connections. Your users will be required to connect to FTP using FTPS (FTP over SSL) or FTPES (explicit FTPS) protocols.
Desktop Sync and Egnyte Drive Access
Admins can control Desktop Sync and Egnyte Drive access to restrict employees from accessing files directly from their desktops. To modify access through these products, go to:
Settings -> Configuration -> User Types & Roles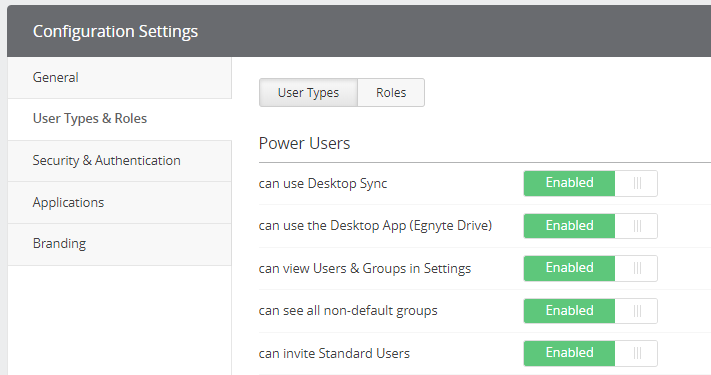 These options are enabled by default; unchecking the option will remove the download links that appear in the product Apps page and the promotional tips that appear on the right of the screen.
Individual Web Access & Desktop (Egnyte Drive) Access
The settings described above are applied on an account-wide basis. However, admins can restrict individual users from accessing files through the web interface or Egnyte Drive.  To modify web and desktop access, go to:
Settings -> Users & Groups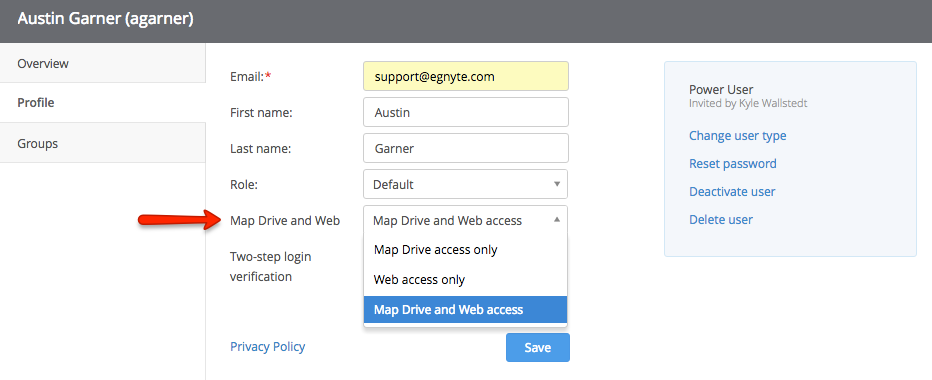 Select an employee's details from the list of users that appears. You'll see a drop-down menu labeled "Map Drive and Web", use this drop-down to control how the user can access Egnyte.
If you choose "Web access only", the employee will only be able to access Egnyte via a web browser. If you choose "Map Drive access only", the employee will have access to files through the Map Drive, but they will no longer be able to log in through the web interface.