Release Date: July 27, 2023 Secure & Govern 19.2 Release
Unusual Access - Prevent Delete Detections for Private Folders (Egnyte Sources Only)
Secure & Govern now allows customers to prevent Unusual Access delete detections for Private folders. By default, this option is unchecked which means all folders will be analyzed for Unusual Access delete detections. When this feature is enabled no delete detections will occur for any user when deleting files from Private folders.
To enable this feature, go to Settings\Analysis Rules\Unusual Access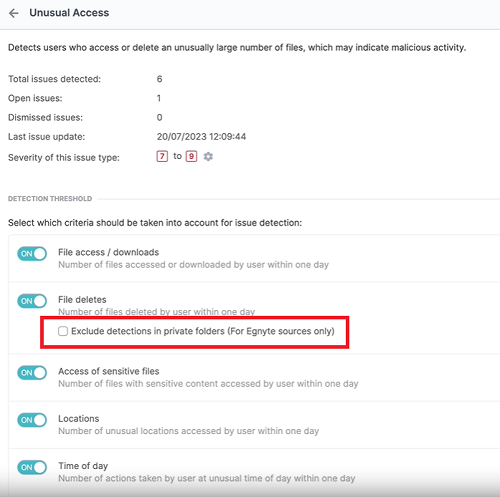 This is a potential insider threat security gap. Please make sure the proper approvals are in place before preventing Private Folder delete detections.
Ransomware - Include User & Entropy Detection Information in Export Report
User information, location information as well as detected folder and file information has been added to the Secure & Govern Probable Ransomware export report. The expanded report will help customers quickly analyze the potential attack and take remediation action. The following information has been added to the report.
Total number files detected in each folder
IP Address
Host/Device Name
Location
Entry Point (WebUI, Desktop App, etc...)
Operating System
File entropy check information
Support for Chile Jurisdiction
Support for Regulatory Compliance Policies and built-in patterns for Chile jurisdiction, including Chilean Data Protection Law (CDPL).