Desktop App Core for Mac 0.9.0 Release Date: July 26th, 2023
Adobe Apps Linked Assets Support
We have introduced an improvement to how linked assets are handled in Illustrator, InDesign and Photoshop. If a file has other assets linked, Desktop App Core will get a fresh listing on them to ensure the most recent file version is being used.
In order for it to work, users will have to grant access to Egnyte to control a given Adobe app, via prompt appearing after launching a file with linked assets. No additional installation steps are required.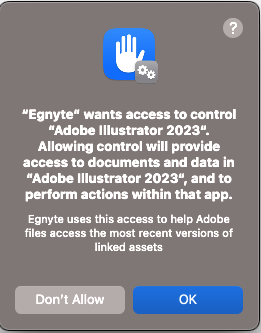 Permission can also be granted on user devices by setting it in the MDM configuration profiles, following this instruction.
Co-Editing Configuration Instructions for "Always Co-Edit" Policy
Additional messaging has been created for users with new Co-Edit active and set to "Always co-edit" policy, who have no Storage configured in MS Office apps. Message will provide hints that additional configuration is needed for collaboration with a link to the appropriate helpdesk article.
Files and Folders Shortcuts (Limited Availability) - "View in Cloud" Option Enabled
A "View in cloud" option for Egnyte shortcuts has been added. Using it will take the user to a target file/folder location in WebUI.
Key Issues Addressed
Fixed an Issue when Installing Desktop App Core Through PKG Failed Occasionally
There was a rare issue with the application not being able to start if installed through PKG. The issue has been resolved.
Fixed an Issue when Syncing for Offline Access was Stuck on Calculating
There was an issue with using offline/connected folders when the paths were longer than 103 characters. The issue has been resolved.
Known Issues/Limitations
Following Egnyte Desktop App features are currently not present in the Egnyte Desktop App Core (v 0.9.0)
Smart Cache connection
Configuration of data-usage throttling
These features will be added in upcoming releases of the Desktop App Core. Once Desktop App Core reaches full parity with the older Desktop App, this will replace the current version.
Other Notable Limitations
Desktop App Core will run on OS Monterey or higher.
There is a difference in Command Line Interface usage - this is described in this article
Custom Cloud Start Path can only be added via Command Line Interface and only during the drive addition step. After the addition, it cannot be changed.
If the Core version of the app is running alongside with current production Egnyte Desktop App, there might be some problems when connecting a drive that needs SSO.
The application checks for open files every 30 seconds and renews or closes locks depending on the file open. This means that files may remain locked for up to 30 seconds after closing the file.
Opening files from a third-party application's recently opened files feature (for example, recently opened files in MS Word) may result in opening an older version of the file (if the file has been changed by someone else and the user hasn't visited the folder where the file resides).
Some skips will remain on the list even after skipped files are removed from the cloud drive. Clicking "retry all" in the skips panel will resolve those skipped items.
Thumbnails/previews are available only for certain file extensions when listed in a folder and the rest after the given file is downloaded.
Context menu: There are some options for which the user does not have permission in the context menu and will no longer be made visible. For example, the rename and duplicate option will not be available in a read-only folder.
If the skipped file event is generated in the synced folder (for example file is skipped because of unsupported characters) - the file will be removed from the cloud until the skip is resolved.
No progress bar for syncing items inside the widget
Visual Indicator for collaboration or for locked files are not visible in folders synced for offline access.
If a user has installed Desktop App Core and legacy Egnyte Desktop App (Egnyte Connect), restart of Desktop App Core might be required in order for a co-edition prompt to show up.
If the Core version of the app is running alongside with current production Egnyte Desktop App, the connected folders feature might not function properly.